If you're planning a pleasant trip to Tanzania, you may want to read some details first, especially since this country has recently allowed using eVisas.
Tanzania is a destination that stands out for its natural landscapes, and although it's not the most popular country in the region, it has many secrets that can make it very attractive to any traveler. For that reason, if you're a citizen of the United Arab Emirates, you should not miss the opportunity to visit this place.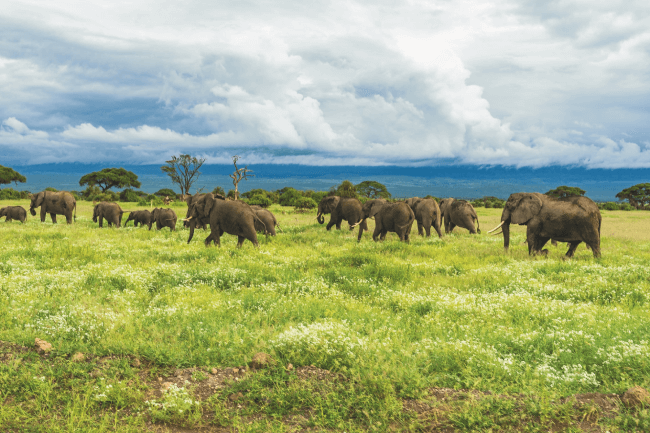 With your Arab passport, you can apply for a Tanzania eVisa and be ready for your next adventure in this country without so much effort.
In this article, you can learn more about the Tanzania visa for citizens of the United Arab Emirates. You can also apply for your Tanzania eVisa on this page with ease. Keep reading below for know-how.
Frequently Asked Questions
What is the Tanzania eVisa?
Your first curiosity might be to know what a Tanzania eVisa is, so we'll explain it to you below.
The Tanzania eVisa is an electronic document that works as a travel authorization. It's like a conventional visa, but the way to obtain it is electronic, so it's not necessary to go to the embassy to apply for it.
Another interesting detail about the eVisa is that you receive it by email, which activates an automatic link in your passport. The Tanzanian authorities will review the information available with this link (which is your general information like the full name) once you arrive in the country.
In any case, it's recommended to print the document that you receive by email for security reasons. But as you may have noticed, the eVisa is simply an online visa that facilitates your travel plans to Tanzania.
Do I need a Tanzania eVisa if I'm from the UAE?
If you have a UAE passport, then you need a Tanzania Visa for Citizens of the United Arab Emirates. But, for your convenience, you can get this document online by applying at iVisa.com.
This way, you can save much time and the trip to the embassy since you don't need a Paper Visa. The Tanzania eVisa is all you'd have to take on your trip to this country.
What documents should I get to apply for the eVisa?
At iVisa.com we worked hard to create an effortless online application form. That's why you won't need too many things to apply for the online Tourist e-Visa for Tanzania, only the following list:
Valid Passport: your passport must have a minimum of six months validity from your last day in Tanzania.
Flight Itinerary: you'll have to offer the Tanzanian Immigration Officials that you have a ticket of departure that's within

90 days Per Entry

.
Passport Digital Scan: you also have to upload a copy of your passport information page, and you'll have to carry two recent passport photos with you once you enter Tanzania.
Email Address: you'll get the eVisa via email inbox, which is why you need to have a valid email address.
Yellow Fever Certificate: if you've been to a country with a risk for yellow fever virus transmission, you'll have to show this certificate to the Immigration Officer once you arrive in Tanzania.
Means of payment: at iVisa.com, we accept many means of payment, including credit and debit cards like Visa and American Express.
How many Tanzanian eVisas are available?
With your United Arab Emirates passport you can apply for the following Tanzanian eVisas:
What is the price of the Tanzania Tourist eVisa?
You might want to get your e-Visa quickly, which is why we recommend you avoid going to your local embassy or consulate and apply for an e-Visa right now from your computer. We say this because at iVisa.com we can process your eVisa as fast as you want thanks to our 3 different processing times:
Standard processing option: this option allows you to get your eVisa in

10 Business Days

for a total price of

USD 151.99

.
Rush processing option: by choosing this processing option, you can get your eVisa in

7 Business Days

by paying

USD 208.99

.
Super Rush processing option: this time, you'll have to wait only

5 Business Days

, and you'll have to pay

USD 250.99

.
Click here to learn more about the Tanzania Visa for Citizens of United Arab Emirates.
How can I apply on iVisa.com?
You have to complete a simple 3-step method to get your eVisa in your email inbox asap. This method won't take you long, and remember that you can apply at any time at home:
Write your general and basic information in the first step and pick the processing time you prefer for your trip to Tanzania.
Check the information you wrote in step one before paying for iVisa.com's service using your preferred payment method.
Attach the items we ask you (we'll always let you know while applying) and send the form once it's done.
After that, you're ready to get your Tanzania eVisa according to the processing option you selected.
You can learn more details about the Tanzania Visa for Citizens of United Arab Emirates here.
Is it safe to use iVisa.com?
You can trust our services completely. We have high-security measures so that no data you offer us is leaked. Besides, we have at our disposal a work team that will be in charge of carefully processing your Tanzania eVisa so that you can obtain it quickly and efficiently.
Where do I find more information about this document?
If you still have questions about the Tanzania Visa for Citizens of the United Arab Emirates or any other travel document, then click on this link. This way, you'll receive other extra information about what we offer to facilitate your travel plans.
You can also contact us via online chat whenever you want.
If you're ready for your trip to Tanzania, then apply for your Tanzania eVisa here.