We know that traveling is important to you! That's why the iVisa team wants to keep you updated with the tourist situation in the world. If you are thinking of traveling to Thailand in the near future, we recommend you to read the information we have for you!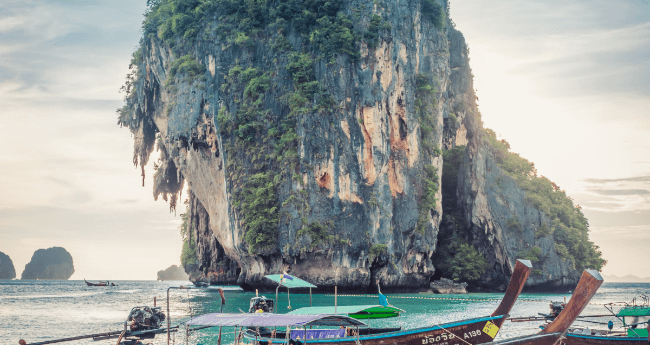 Following the new regulations that the Thai government has imposed on all travelers who want to enter this country, a Thailand Health Declaration will be requested by the immigration officers at all international airports in Thailand. Fortunately, our iVisa team can help you to process your Thailand Health Declaration in the fastest, unstressed, and easiest way possible ever! Apply for your Thailand Health Declaration (T.8 Form).
Frequently Asked Questions (FAQs)
Do Brits passport holders need a Visa to go to Thailand?
No! Fortunately, Brits passport holders do not require a visa to enter Thailand. But, as we mentioned before, bear in mind that you will need your Thailand Health Declaration. It is a necessary measure not only to protect the Thailand community also to protect yourself and your companion travelers.
What is the Thailand Health Declaration?
It's an official document that certifies a traveler was tested and is free of the new COVID-19. The Thailand Health Declaration (T.8 Form) is an electronic form that once is approved will have a QR that proves you are allowed to enter Thailand with no inconveniences. It must be presented upon arrival to the immigration officers so they can allow you to enter Thailand.
How long Britsh passport holders can remain in Thailand with this T.8 Form?
As British citizens are part of the countries that are exempt from a visa to visit Thailand, they can stay within the country for 30 days.
What do I need if I decide to apply?
Before applying, it is necessary that you carefully read the documents that you must gather in order to make your request with iVisa:
Passport scan: it has to be valid for at least six months from the planned date of arrival.
Payment method: it can be a credit or a debit card or a PayPal account is you prefer.
How long is the Thailand Health Declaration (T.8 Form) valid for?
Thailand Health Declaration expires in 14 days after arrival or until passport expires.
How long does it take to process this document and how much it costs?
iVisa offers you 3 processing speeds so that you can choose the best one that suits you:
Standard: takes 24 hours - USD 20.00

Rush: it is so faster and takes 4 hours - USD 30.00

Super Rush: fastest! 30 minutes - USD 55.00
How does the Thailand Health Declaration (T.8 Form) work?
Once you submit your application and we process it, we will send you a QR Code, which must be used to present to the immigration officers so they can allow you the entry in Thailand.
Does it take long to apply for the T.8 Form?
To apply and submit your application with iVisa will just take a few minutes! Click here to apply and get your Thailand Health Declaration!
I have decided to apply, how can I do it?
Follow these easy steps:
Fill out the form with your personal details and choose the procedure time that is best for you.

Double-check all the information provided and make the payment.

Upload the documents and then don't worry about anything. Everything will be in our hands.
What will happen after I submitted my application?
We will keep you updated on the process through your email! Once it's ready, we will send it right away.
How many times I can use my T.8 Form?
You are able to use it one time, it's only for a Single Entry.
I'm traveling with my children, do they need this document as well?
Of course! All travelers will need the Thailand Health Declaration including kids. Remember that this is not only a bureaucratic document, it protects your health.
I also want to apply for my family and friends, how can I do it?
Add more applicants to your application, you don't need to start a new one. Once you added them then complete the information.
Do Brits passport holders need a Visa if they are only transiting through Thailand?
No, if you are not going out of the transit zone, it won't be necessary.
How will I know if my application has been approved?
We will send you an email once it's approved. If you want to follow your application up, you can contact us.
I have made a mistake in my application, what can I do?
Don't panic! We can help you to solve this, as soon as you notice your mistake, please, contact one of our customer service team.
Can I trust iVisa to process my Thailand Health Declaration (T.8 Form)?
Of course, you can! We are 100% trustworthy. We want to make this experience easy for you, you can read what many of our customers say about us here
How can I contact iVisa if I have more questions?
Don't hesitate to contact us if you have any other doubt or need more information. Start chatting with one of our customer service agents at any time. They will be pleased to guide you.