In these moments where everything seems uncertain, the iVisa team wants to keep you updated with the current travel situation. So if you are planning to travel to Thailand in the near future, the best for you would be to prepare your trip on time so you will have everything you need for it. As you may know, Denmark passport holders don't require a visa to travel to Thailand but in this case, you will need something else.
The Government of Thailand has implemented a new step to prevent the spread of the new coronavirus (COVID-19), a Health Declaration it needs to be presented upon entry. Let me tell you that in iVisa, we can process this Health Declaration for you.
Once you get the QR Code of the Health Declaration (T.8 Form), you will have to present it to the disease control officials at the airport and they will finally determine if you can enter Thailand or not.
Continue reading this blog and you will find more information about this new requirement established by the government of Thailand.
Note: Since July 1st, 2022, the Thailand Pass is no longer necessary to enter the country.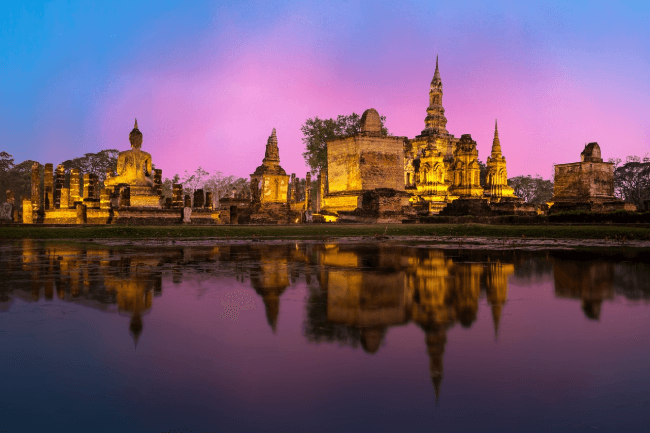 Frequently Asked Questions (FAQs)
I have Denmark passport, do I need a visa to visit Thailand?
Fortunately, you won't require a visa. Nevertheless, if you want to go to Thailand, you will have to obtain a Thailand Health Declaration in order that you can enter the Thai territory
What does the Thailand Health Declaration mean?
It is an official document that certifies the health status of a visitor. Besides, due to COVID-19, the government of Thailand has included this new requirement which is the health declaration so it must be shown to Immigration officers before entering the country of Thailand.
Do I need to show a COVID vaccination certificate to enter Thailand?
Full vaccination is not mandatory to enter Thailand, however, if you display your COVID vaccine passport or vaccination certificate, you won't need to present a negative PCR test nor to follow a quarantine.
Accepted vaccines are Sinovac, AstraZeneca, Pfizer, Johnson & Johnson, Moderna, Sinopharm, and Sputnik V.
You are considered vaccinated if all doses of a vaccine against SARS-Cov-2 have been administered at least two weeks before traveling.
Do I need a negative COVID-19 test result to enter Thailand?
COVID test prior to arrival: PCR or Professional ATK within 72 hours for unvaccinated travelers.
COVID test exemptions: Fully vaccinated travelers.
Is quarantine obligatory when I arrive in Thailand?
COVID quarantine requirements: There are no quarantine requirements.
How long can visitors with Danes passport be in Thailand with a Thailand Health Declaration?
It's vital that you know that the Health Declaration does not determine the time of your stay in the country of Thailand. This document can only be used for a Single Entry. That means that if you want to leave the country you will have to apply again.
Also, the Health Declaration will be valid for 14 days after arrival or until passport expires.
What are the documents required to apply?
All the documents you must gather are very easy to acquire. This is the list:
Passport: you have to scan the page where your photo and information appears.
Payment modes: use a credit, debit card, or Paypal to pay for your application.
What are the processing times and prices?
iVisa has designed 3 types of processing so that you can choose according to your needs. Each of the options has different prices. Remember that according to the type of processing you choose you will know the total amount to pay.
Standard processing: if you prefer this alternative, you will obtain your T.8 Form in 7 days. The payment will be USD 39.99.

Rush processing: wait only 5 days and your Health Declaration will be done. It will cost you USD 67.99.

Super Rush processing: if you need to acquire as soon as possible your Health Declaration, you have to opt for this alternative and it will be ready in 3 days. The total amount is USD 112.99.
How long does it take to apply for a Thailand Health Declaration?
If you want to apply with iVisa, you will only need 10 minutes of your valuable time to complete the online application form. This form is very simple but if you have any questions, you can contact our operators at any time.
How can I apply for a Thailand Health Declaration?
In this section, you have to fill in the online application with your information and also select the processing time that you want.

After that, revise your request and if you need to update something, just do it. Then, proceed with the corresponding payment.

To finish your application, upload your passport scan and you are done.
How many times can I be in Thailand with a Thailand Health Declaration?
It is extremely necessary that you know that this Health Declaration is not a visa, likewise, this will not determine the number of days that you can stay in the Thai territory.
However, let me tell you that if you acquire this Health Declaration, it will only serve you for a Single Entry and it will expire in 14 days after arrival or until passport expires.
Do I need to get a Thailand Health Declaration for my kids too?
Yes, all travelers including minors will be requested a Health Declaration to travel to Thailand without any inconvenience.
How can I apply for my family or friends?
If you want to apply for them, you just need to click here and enter all the information. In case you want to add more than one person, just click on "Add new applicant" and keep filling in the information. Remember that before applying for them, you must make sure that their passports have a valid date.
How do I know if my Thailand Health Declaration is approved?
We will keep you informed of your request. So, once we know that your application has been approved, we will immediately send you an email with all the necessary information.
Where can I get more info about this T.8 Form?
Our customer service operators are always ready to solve all your doubts by chat. If you want to read other FAQs related to the Health Declaration for Thailand, you can enter on this page.