During this year we had to face many problems due to the current worldwide pandemic. Travel has been especially affected, with restrictions and travel bans being set all around the world. One of those countries that have begun to implement a new set of restrictions to minimize the spread of the COVID-19 is Thailand.
In the case of French citizens, who plan to visit Thailand, they must know that a visa is not required to travel to this country as they can stay a total of 30 days. However, they will need to obtain the Health Declaration (T.8 Form), which is one of the new restrictive measures that the Thailand government has implemented in the last months.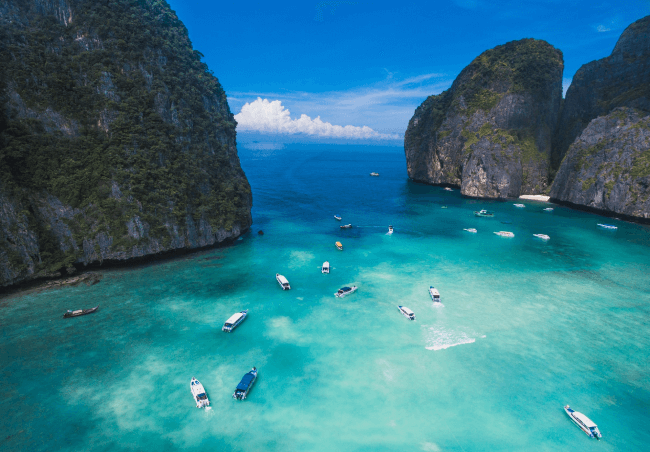 If you want to know how you can request and obtain this document with iVisa.com, in this article we will explain to you each step you must follow and all the requirements you must take into account before sending your online application with iVisa.com.
Frequently Asked Questions (FAQ)
What is the function of the Thailand Health Declaration?
This new required document has been created in order to minimize the transmission of COVID-19 in Thailand. The Health Declaration serves as a restrictive filter that each person must pass before entering Thailand. This means that once you arrive at one of the Thailand International Airports, the immigration officer will scan your QR Code of the Health Declaration in their system and they will confirm if you are in good health conditions to enter this country or not.
How long can French citizens stay in Thailand with the Health Declaration?
French citizens are a visa-exempt country for Thailand and can stay up to 30 days without a visa. Remember that the Health Declaration does not have a length of stay in Thailand as all is ruled by the permitted days that this country gives to all the visa-exempt countries, as French nationals.
What are the documents required to apply?
You only need to provide the following documents so you can apply online with us:
A valid passport scan: ensure it's valid at least six months before your trip.
Payment method: we accept all types of credit and debit cards. Paypal is also accepted
In iVisa.com we are accepting all types of credit cards, debit cards, and also Paypal. Remember to type the correct spelling of your email address since we will send you the QR Code of your Health Declaration in that way.
Do I need a negative COVID-19 test result to enter Thailand?
COVID test prior to arrival: PCR within 72 hours
COVID test after arrival: All travelers will be PCR tested on arrival.
COVID test in quarantine: Travelers on the Sandbox Programme will be PCR tested in quarantine on day 6/7 and unvaccinated travelers will be PCR tested again in quarantine on day 8/9.
Is quarantine obligatory when I arrive in Thailand?
Quarantine requirements for exempt travelers: 1 night in pre-booked hotel until a negative result from the PCR test on arrival is received.

Quarantine exempt nationalities: Australia, Austria, Bahrain, Belgium, Bhutan, Brunei Darussalam, Bulgaria, Cambodia, Canada, Chile, China, Cyprus, Czech Republic, Denmark, Estonia, Finland, France, Germany, Greece, Hungary, Iceland, Ireland, Israel, Italy, Japan, Latvia, Lithuania, Malaysia, Malta, Netherlands, New Zealand, Norway, Poland, Portugal, Qatar, Saudi Arabia, Singapore, Slovenia, South Korea, Spain, Sweden, Switzerland, UAE, UK, USA, and Hong Kong.

Sandbox programme nationalities Fully vaccinated travelers from the rest of the world are in the Sandbox programme.

Quarantine requirements for Sandbox programme travelers: 7 days in pre-booked hotel.

Quarantine testing for Sandbox programme travelers: PCR test on arrival and on day 6/7.

Quarantine requirements for all unvaccinated travelers: 10 days in pre-booked hotel.

Quarantine testing for all unvaccinated travelers: PCR test on arrival and on day 8/9.
What are the processing times and prices?
We are offering three types of processing times. Each one has its own price. Just remember that the faster you want to obtain the Health Declaration, the more money you will have to pay.
Standard: takes 24 hours to process your application with a total cost of USD 20.00.

Rush: we process your Health Declaration during 4 hours. This option cost USD 30.00.

Super rush: in just 30 minutes we process and obtain your QR Code. The total charge for this alternative is USD 55.00.
Click here and start your application now! If something is not clear to you, you can contact us 24/7 and we will absolve all your doubts instantly.
How much time do I have to invest to apply online for the Health Declaration?
It won't take you more than 10 minutes to complete all the steps of your online application.
How can I submit my online application form?
Follow these three easy steps that we have created for you:
First: fill in the form with your personal data as your name, last name, passport number, email address, phone number, and so on. In this part, you must also choose the processing time from the options mentioned before.

Second: after finishing to complete all the blank spaces, make a quick revision of the details provided and then proceed with the payment. Remember that you must have a credit/debit card or Paypal account on hand to make the online payment.

Third: finally, upload your passport scan and click on the submit button of your online form. That's it!
Easy, right? Now that you know how the online form has to be filled, you can apply for your Health Declaration here and follow all the steps we have explained you in this question.
How do I know if my visa is approved?
Once you have submitted your application, we will be informing you via email of its approval and sending you the QR code. This code has to be presented to the disease control officials upon arrival in one of the Thailand International Airports.
How many times can I use the Health Declaration (T.8 Form)?
The T.8 Form functions only once, which means it gives the traveler a Single Entry. In 14 days after arrival or until passport expires, the validity of this document will expire automatically.
Minors have to obtain their own Health Declaration too?
Yes, this document is a requisite for all people, regardless of their age, who plan to enter Thailand. Without this document, they won't be able to enjoy Thailand.
Is iVisa.com a safe website to process my T.8 Form?
Our company is known for taking care of its customers and their information. Through security programs that we use internally, we safeguard your personal information, preventing it from being exposed to the Internet. Find more details of the services we provide on our iVisa.com website. You can also see the testimonials that hundreds of happy customers post every time they use our online service.
I have more unresolved questions, where can I find more info?
Find out more about the Health Declaration here. If you want to get personalized assistance from one of our customer service agents, you can contact them through our live chat.