Traveling is our passion and we know that it is important for you as well. This is why we want to keep you updated! If Thailand is one of your next destinations to visit, you should bear in mind you will need a Health Declaration. This required document is a new measure that the Thai Government has implemented recently to decrease the coronavirus outbreak. To learn how you can apply for this document before your arrival in Thailand, you can read this article that explains to you each step you must follow in order to obtain your own Health Declaration (T.8 Form) for Thailand.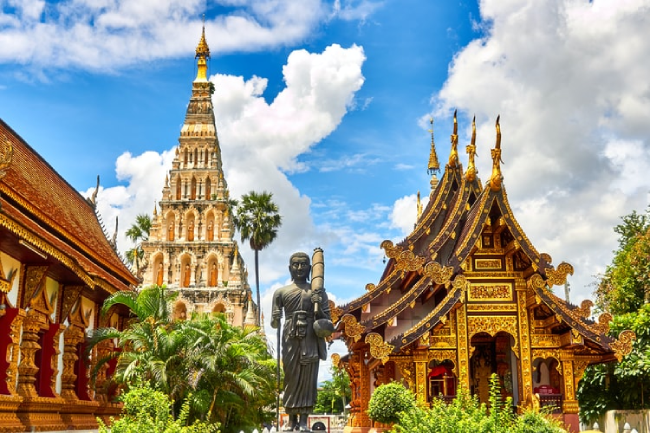 The Thailand Health Declaration from now on, will be required by immigration officers to all travelers in the international airports in Thailand.
Frequently Asked Questions (FAQs)
I have a German passport, do I need a visa to visit Thailand?
You are a lucky traveler, as a german passport holder, you don't need a visa to visit Thailand. Due to COVID-19, the Thai authorities request a Thailand Health Declaration.
What is a Thailand Health Declaration?
It is an official and legal document that must be presented by all travelers upon arrival in Thailand. In this Health Declaration, you declare your actual health condition.
How long can visitors with German passport stay in Thailand with a Thailand Health Declaration?
German passport holders can stay 30 days in Thailand.
What are the requirements to apply?
If you decide to apply with iVisa, you only have to send us the following documents:
A valid Passport Scan: it must be valid at least for six months.
Payment method: we accept credit and debit cards. Also, Paypal is if you prefer
How long is the Thailand Health Declaration valid?
It will be valid for 14 days after arrival or until passport expires and also it is essential to mention that the use of this Health Declaration is only for a Single Entry.
What are the processing times and prices?
Here you can check all the options:
Standard:

24 hours

-

USD 20.00

Rush:

4 hours

-

USD 30.00

Super Rush:

30 minutes

-

USD 55.00
How long does it take to apply for a Thailand Health Declaration?
It takes just a few minutes to submit your application! Click here to submit it.
How can I apply for this T.8 Form?
It's very easy you just need three steps. Start by Applying here and continue with the following process.
First: in the online application form you must fill in the blanks with all your basic information. Also, you need to choose the type of processing (standard, rush, or super rush).

Second: double-check all the details you have provided and then continue with the payment. We accept all credit and debit cards, including Paypal.

Third: just upload your passport scan and click on the submit button.
Do I need to get a Thailand Health Declaration for my kids too?
Yes! As long as they have an ordinary passport, all people traveling to Thailand will need a Thailand Health Declaration.
How can I apply for my family or friends?
Add more applicants to your application and complete the information.
Do I need a Thailand Health Health Declaration if I am in transit through Thailand?
If you stay in the transit zone, you won't need it.
How do I know if my T.8 Form is approved?
Once it's approved, we will send it right away to your email address. However, you can always follow up on your application.
What can I do if I make a mistake in my application form?
Do not worry! If this is your case just contact us and start chatting with one of our customer service agents. They will be glad to help you.
Can I trust iVisa to process my Thailand Health Declaration?
We are 100% trustworthy. We want to make this experience easy and simple for you. Check what many of our customers say about us on this page.
How can I contact iVisa if I have unresolved questions?
If you need more information you can always contact us and start chatting with one of our customer agents. They will be glad to inform you about every detail and guide you in the whole process.