Due to its proximity, Thailand has always been a favorite destination for travelers coming from Hong Kong, especially because Hongkongers do not need a visa to visit this country.
In order to encourage citizens from Hong Kong to travel to Thailand, the government of this country has released the Thailand Health Declaration T.8 Form which is now an important requirement for all travelers.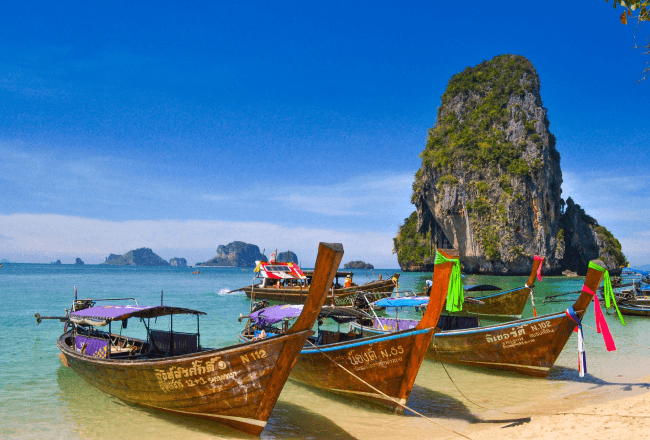 Fortunately, iVisa.com is now offering the service to process this document so you can obtain it in an easier way. Just apply here and forget about all the confusing information and bureaucracy you find in other pages.
In this article, we will detail all the requirements, fees, processing times, and all the information that is related to this new document: The Health Declaration (T.8 Form.)
Frequently Asked Questions (FAQs)
As a Hong Kong citizen, do I need a visa to travel to Thailand?
Based on the visa requirements for Hongkongers citizens, you are free to visit Thailand without a visa. However, as a consequence of the coronavirus, the Government of Thailand is now requesting all travelers to obtain the Health Declaration (T.8 Form).
What is the Health Declaration (T.8 Form)?
This is a new document required of all travelers and has been created by the Government of Thailand as a restrictive measure to be followed if anyone wishes to enter the country.
This document, besides being a registry for the Government, also serves as the passenger's contact information, in case something happens to the traveler or in case the traveler gets infected during his/her stay in Thailand.
Why do you charge a fee if the T.8 Form doesn't have a cost?
The Health Declaration has no cost but we charge a service fee which is a small price considering the time you will save at the airport.
Do I need a negative COVID-19 test result to enter Thailand?
COVID test prior to arrival: PCR within 72 hours
COVID test after arrival: All travelers will be PCR tested on arrival.
COVID test in quarantine: Travelers on the Sandbox Programme will be PCR tested in quarantine on day 6/7 and unvaccinated travelers will be PCR tested again in quarantine on day 8/9.
Is quarantine obligatory when I arrive in Thailand?
Quarantine requirements for exempt travelers: 1 night in pre-booked hotel until a negative result from the PCR test on arrival is received.

Quarantine exempt nationalities: Australia, Austria, Bahrain, Belgium, Bhutan, Brunei Darussalam, Bulgaria, Cambodia, Canada, Chile, China, Cyprus, Czech Republic, Denmark, Estonia, Finland, France, Germany, Greece, Hungary, Iceland, Ireland, Israel, Italy, Japan, Latvia, Lithuania, Malaysia, Malta, Netherlands, New Zealand, Norway, Poland, Portugal, Qatar, Saudi Arabia, Singapore, Slovenia, South Korea, Spain, Sweden, Switzerland, UAE, UK, USA, and Hong Kong.

Sandbox programme nationalities Fully vaccinated travelers from the rest of the world are in the Sandbox programme.

Quarantine requirements for Sandbox programme travelers: 7 days in pre-booked hotel.

Quarantine testing for Sandbox programme travelers: PCR test on arrival and on day 6/7.

Quarantine requirements for all unvaccinated travelers: 10 days in pre-booked hotel.

Quarantine testing for all unvaccinated travelers: PCR test on arrival and on day 8/9.
How long am I able to stay in Thailand with the Health Declaration?
The T.8 Form only allows you to enter Thailand with a Single Entry, which means you can only use it once. Also remember the Health Declaration form has a validity of 14 days after arrival or until passport expires.
IMPORTANT: the max stay in this country will depend on how many days does your visa allows you to remain in Thailand. In the case of Hongkongers, they can travel without a visa, but they are only allowed to stay up to 90 days.
What are the required documents to apply online?
In order to apply online, you need to send us the following documents:
Passport Scan: we only need the page where your photo and personal information appears.

Modes of Payment: we accept all credit, debit cards and also Paypal.
How long does it take to process the T.8 Form online?
As we explained previously, we only charge our service fee which will depend on the processing speed you choose. According to the speed, the processing time will change as well:
Standard Processing: it will take 24 hours to process your T.8 Form. Plus, the service fee is USD 20.00.

Rush Processing: the processing time for this alternative is 4 hours with a total service fee of USD 30.00.

Super Rush Processing: recognized as the fastest processing, here it only takes 30 minutes to process. The cost of this option is USD 55.00. May sound a little high, but it's really worth it.
Get your Health Declaration for Thailand in no time with iVisa.com's services.
How does the Thailand Health Declaration work?
The Thailand Health Declaration works as a health statement which will be evaluated by the immigration officers upon your arrival. They are going to do it by scanning the QR Code on your phone that you will receive from us.
How can I submit my online application for the T.8 Form?
The process is not complicated at all, just follow these three easy steps:
In the first part, you must fill out the form with your basic information related to you and choose a processing time.

Then, give a final review to your application and proceed with the payment.

Finally, upload your passport scan and submit your form. That's it!
After submitting your form with us, you only need to wait for our email message that we will send you as soon as we complete the processing with the Government. If you have any inquiries about the online application, you can contact us at any time.
Do my children need this document as well if they are traveling with me?
If your children hold their own Hongkonger passport, they will have to obtain their own Thailand Health Declaration (T.8 Form).
What can I do if I have made a mistake in my application?
First thing is to keep calm. Then, you just need to contact us through our live chat and one of our agents will give you the support you need.
Why should I choose iVisa.com to process my T.8 Form?
We have vast experience processing different travel documents for travelers around the world and we use easy-to-fill forms, so we can make sure to send your application following the government's regulations in order to increase the approval rate. In this way, we also ensure our customers get their official documents approved and they can keep traveling around the world. Do not worry about the personal information you provide on our website because we don't expose it on the Internet.
In case I have more questions, how can I contact you?
Our customer service agents are always ready to solve all your queries by chat. If you want to read other FAQs related to the Health Declaration for Thailand you can click here.