If you live in Macau and want to take a break from the current global situation, Thailand is always a great choice to relax. Due to its proximity, Macau citizens can travel there in less than 7 hours, even by ferry. Nonetheless, in these difficult times, we need to prioritize safety above all. Being aware of this, the Thai government has released the Thailand Health Certificate (T.8. Form) as one of their actions to decrease the spread of the novel COVID-19. This new certificate will identify if travelers are fit to enter the country by verifying their medical information. Here at iVisa, we are working hard to offer you a good service despite the current situation, that's why we can help you get your T.8. Form, you just need to apply here. Additionally, please check the frequently asked questions we have compiled for you: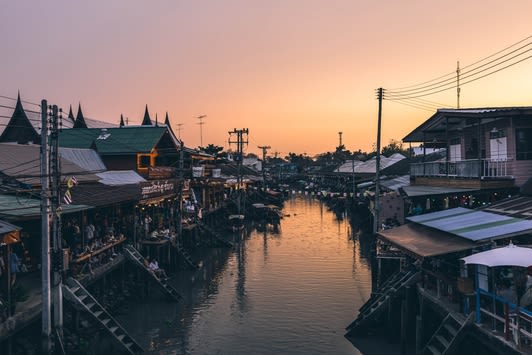 Frequently Asked Questions (FAQs)
Do I need a Visa to travel to Thailand if I hold a Macau passport?
According to the Visa policy of Thailand, Macau passport holders are free to visit its country without a Visa.
I don't understand why I have to pay if the Thailand Health Certificate (T.8. Form) doesn't have a cost, can you explain?
Of course! What we charge is our service fee for processing your T.8. Form. This is the only payment will make with us and, in exchange, you will avoid long lines at airport since you will have your certificate beforehand.
What is the Thailand Health Certificate (T.8. Form)?
The Thailand Health Certificate (T.8. Form) is an electronic health declaration issued by the Thai government whose main purpose is to identify if travelers are fit to enter Thailand in order to prevent the propagation of COVID-19. This certificate will be in a QR Code to facilitate its verification by the Immigration Officers.
If a decide to visit Thailand, how long can I stay there with the T.8. Form?
Bear in mind that the Thailand Health Certificate (T.8. Form) is only for your entry. Based on the Visa requirements for Macau citizens, you are allowed to stay in Thailand for up to 30 days without a Visa.
What documents do I need to submit my application?
You just need to have the following valid at the moment of submitting your application:
Passport Personal Details Scan
Does the Thailand Health Certificate (T.8. Form) have an expiration date?
The Thai government has not specified any validity period officially. Nonetheless, since the T.8. Form is only valid for 72 hours after issued, here at iVisa we consider this as the certificate's validity period.
Can you tell me if processing the T.8. Form takes too much and how much it costs?
Both the processing time and service fee change according to the speed you select. Below you will find the three different types of processing speed we offer:
Standard Processing: This is our regular processing. Here it will take 3 Business Days to get your T.8. Form. Plus, the service fee will cost USD 20.00.

Rush Processing: A little bit faster than the previous one. Here you will receive your T.8. Form in 2 Business Days. The service fee will also increase a little to USD 30.00.

Super Rush Processing: Our main star! Faster than the Flash, here you will receive your T.8. Form in just 1 Business Day. The price of USD 55.00 may sound a little high but it really worth it.
Can you explain how the Thailand Health Certificate (T.8. Form) works?
Sure! The T.8. Form is an electronic health statement you will need to show to the Immigration Officers upon your arrival in Thailand. They will scan the QR Code you will receive from us once your application has been approved.The T.8. Form will download itself when the officers scan the code.
Will it take me long to apply for the T.8. Form?
Not at all, you can start your application here and it will take you less than 10 minutes to submit it.
How do I start my application?
Well, it's really simple. You just need to click here and then proceed with the following:
In this first step you will need fill basic information about you and choose the processing speed you wish.
Then, you will have to review your application before making the payment.
I've completed my application, what comes next?
Next, you just need to focus on your luggage and stuff since we'll handle your T.8. Form. When we receive the approval from the government, we will send the QR Code to you by e-mail.
Can I use the same T.8. Form to visit Thailand multiple times?
Since this is a health declaration, it can only be used once per travel.
I want to travel with my children, do they need to obtain a Thailand Health Certificate (T.8. Form) as well?
If your kids hold their own ordinary passport, then they will need to apply for the T.8. Form as well.
I have relatives who also want to travel, how can they apply?
If they are travelling with you, you just need to add new applicants into your application form. Now, if you are only helping them to apply, just click here to fill the application with their information. Do not forget to make sure they have the required documents to apply.
Do Macau passport holders need a Visa if we are only transiting through Thailand?
That wouldn't be necessary since Macau passport holders can travel to Thailand Visa free.
How will I be notified if my application is approved?
During the whole process until the final response from the government, we will keep you informed by e-mail. However, you can also contact us through our chat if you want to know your application's status.
I have made a mistake in my application, is there a way it can be corrected?
Don't panic. If that happens, just contact us through our chat and one of our agents will give you the proper support.
Can I leave you in charge to process my Thailand Health Certificate (T.8. Form)?
We promise we will not disappoint you. Our large experience in helping travelers to get their Visas backs up as well as our customer's reviews. Although, the final response depends entirely on the government, we make sure to submit your application as compliant as it can be to increase the approval rate from the government.
Do you have any contact information where I can reach you?
We do! You can contact us through our live chat or send us an e-mail to help@ivisa.com. Moreover, you can give us a call to this number +1 (786) 460-2707 (8am-8pm EST).