At least 18 countries are eligible for the Thailand Tourist eVisa, which works through an online application process. This process is very easy to complete, especially if you use the services at iVisa.com. With our platform, you can apply for your eVisa within a few minutes. However, we suggest you read this article to see how to apply for a Thailand Tourist Visa safely and without mistakes.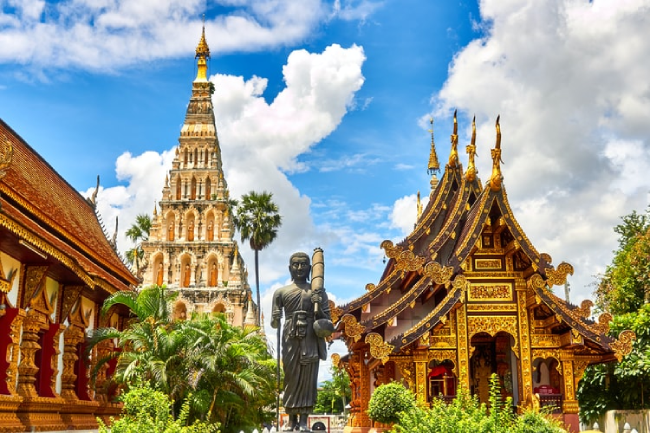 Please continue reading the questions below to learn more about the Thailand Tourist eVisa, its processing times, costs, and application process.
Frequently Asked Questions
What are the current Covid-19 restrictions to visit Thailand?
Since the Covid-19 information changes often depending on your country of origin and other circumstances, we highly recommend you to visit our Thailand Tourist eVisa page to obtain the most recent information about this topic.
If you want to see how to apply for a Thailand Tourist Visa, please read the next question.
What is a Thailand Tourist eVisa and How to apply for a Thailand Tourist Visa?
The Thailand Tourist Visa is an electronic document that permits you to travel to Thailand through an online pre-registration form.
To apply for the Thailand Tourist Visa, you must follow these steps:
Step 1: You must fill in our easy online application form and choose the processing time you prefer.
Step 2: You have to check the information to avoid mistakes and pay for your eVisa with your debit or credit card.
Step 3: Lastly, you must upload and attach the scanned copies of the documents we ask for and wait for your eVisa.
We will send the eVisa by email. Once you receive it, print a copy and take it with you to your trip.
Continue reading below to see more information on how to apply for a Thailand Tourist Visa.
What documents and/or items do I need to apply for the Thailand eVisa?
We strongly suggest seeing this check-list before applying for your eVisa because these will be the items and documents required by the Thai government:
Your current passport with at least 1-month validity (For the Indian passport it must be at least 6 months).
A 2x2 passport-style photo of you taken in the last 3 months.
Your confirmed travel dates.
Your airline confirmation (plane tickets).
Your accommodation information (for example, hotel reservations).
Credit/debit card to complete payments.
See more information on how to apply for a Thailand Tourist Visa below.
What are the cost/processing times?
We provide three processing rates to process your eVisa the fastest way possible. This way, you don't have to do all the process by yourself. As for the cost, it varies depending on the processing speed you select. For the 90 days after arrival, Single Entry visa, the options are:
Standard Processing Option:

USD $89.99

-

6 days

Rush Processing Option:

USD $142.99

-

4 days

Super Rush Processing Option:

USD $175.99

-

2 days
Is iVisa.com safe to use?
Do not stress about security when using our online services! We guarantee the safety of our database so that your details do not end up in the wrong hands. Additionally, you can always check our comments section if you have doubts about it!
To learn more about this topic: How to apply for a Thailand Tourist Visa, read below.
Where can I learn more about the Thailand Tourist eVisa?
To see more specifically how to apply for a Thailand Tourist Visa, we recommend you visit iVisa.com, or reach out to our agents via chat online if you prefer personal attention.
iVisa.com Recommends
Thailand's attractions are varied, and each one of them offers a rewarding and unforgettable experience in its way. Cities like Bangkok and Chiang Mai are modern centers full of vivid activities, but you haven't really visited the country until you've hiked in the mountains or relaxed at some of its crystal-clear beaches.
Speaking of beaches, we recommend you visit Railay Beach if you want to enjoy one of the most beautiful places in Asia. Considered by many as one of the best beaches in Thailand, Railay offers a nice spot of white sand, deep-blue waters, and a tranquil environment that you'll surely miss once you're back home.
If you prefer something more historical and architectonic, then do not forget to visit The Grand Palace in Bangkok. This is the must-see attraction in the city, and it's staggering in both historical meaning and craftsmanship.
Another spot you'll surely love in Thailand is the Sunday Walking Street, especially if you want to taste delicious food. Here you can try a lot of things, from the popular pad Thai and chicken satay to samosas and fried bananas.