During these times of uncertain travel, the government of Thailand has established a new set of requirements that all travelers passing through Thailand international airports must meet, so as to prevent further spread of the coronavirus. So due to COVID-19, the Thailand government has implemented the Thailand Pass.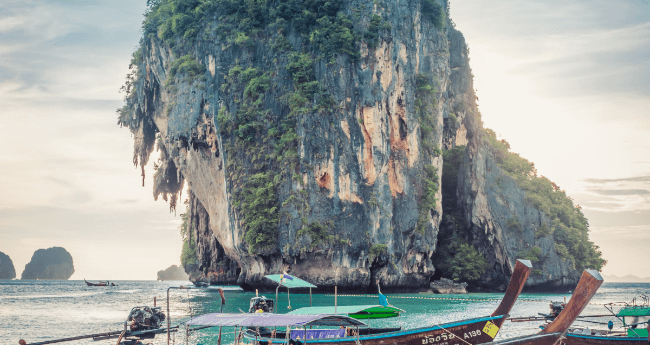 For that reason, let me tell you that iVisa.com has launched this new product which is the Thailand Pass so that many travelers have the ease of being able to travel to Thailand without any problem. It is normal that you think that this process will take you a long time, but if you choose iVisa.com to process this document, you just need 15 minutes of your valuable time. Besides that, we assure you that with our assistance we will be able to save you time and also stress from having to wait for the process at the airport.
All you have to do is submit your application with us, then once it's done and accepted, you'll receive a QR code that you can show to the Immigration Officers at the airport. Easy right?
IMPORTANT: We must add that the Thailand Pass is not a replacement for a visa. If you are not from a visa-exempt country you must also need to acquire a visa. In order to confirm if your nationality is eligible for an eVisa to Thailand, you can see our Visa Checker. Keep reading this article and get more information about this new required document.
Frequently Asked Questions (FAQs)
Why should I get a Pass?
This new document has been added to the list of requirements that Thailand is requesting from all travelers planning to enter their country. The main reason why this document has been added is to enable Thai officials to know if the person entering their country is in good health conditions. It is important that all travelers obtain their Thailand Pass in advance, as without this document they will not be able to enter the country.
How can I get a Thailand Pass?
You can request this document in a simple way:
Go to our iVisa.com website, fill out a simple three-step form, upload your passport scan, and that's it. We take care of the whole process that comes later, so you don't have to worry about the rest. We make it all a lot easier and you can receive the document in less time.
Do I need to show a COVID vaccination certificate to enter Thailand?
Full vaccination is not mandatory to enter Thailand, however, if you display your COVID vaccine passport or vaccination certificate, you won't need to present a negative PCR test nor to follow a quarantine.
Accepted vaccines are Sinovac, AstraZeneca, Pfizer, Johnson & Johnson, Moderna, Sinopharm, and Sputnik V.
You are considered vaccinated if all doses of a vaccine against SARS-Cov-2 have been administered at least two weeks before traveling.
Do I need a negative COVID-19 test result to enter Thailand?
COVID test prior to arrival: PCR within 72 hours before departure for unvaccinated travelers

COVID test exemptions: Fully vaccinated travelers.
Is quarantine obligatory when I arrive in Thailand?
Option 1 - exemptions from quarantine for unvaccinated travelers:
Travelers with a negative PCR test taken within 72 hours before departure.
Travelers must have proof of insurance with at least 10,000 USD coverage for medical treatments in Thailand (for non-Thais only.)
Option 2 - for unvaccinated travelers who cannot undergo an RT-PCR test result within 72 hours before traveling:
Alternative Quarantine (AQ) hotel confirmation for 5 days (including 1 RT-PCR test.)
Travelers must have proof of insurance with at least 10,000 USD coverage for medical treatments in Thailand (for non-Thais only.)
Take a PCR test on days 4 - 5 in Thailand during the mandatory 5-day quarantine at AQ hotel.
NOTE: Fully vaccinated travelers are exempted from quarantine requirements.
What are the required documents to apply online?
If you decide to get the Thailand Pass with iVisa.com, you must provide the following documents that we'll show you below:
Passport scan: we only require you to send the scan of the page where your personal information appears.
Payment method: we accept all types of credit and debit cards. In case you don't count on a card, you can also pay with Paypal.
Proof of Travel Medical Insurance
Medical proof of COVID-19 vaccination (if applicable)
Proof of Accommodation
Passport Personal Details Scan (Minor) (if applicable)
Proof of PRE-PAID Negative Test
Click here and apply with iVisa.com. In case you have any questions, don't hesitate to contact us at any time.
What are the processing times and prices?
In the following list, we show you the price of each type of processing time that iVisa.com offers for all travelers:
Standard:

7 days

, this is the cheapest option. It comes with a cost of

USD 26.00

.
Rush:

5 days

, in case you prefer to get your Thailand Pass faster, the cost is

USD 45.50

.
Super Rush:

3 days

, this is our fastest option. The total price is

USD 78.00

.
How can I apply online for the Pass?
The application form is very simple and you just need 15 minutes to complete it. Just follow these three steps:
Insert your personal information in the form. At this point, you have to choose the processing time.
Proofread your online application and proceed with the payment.
Attach the requested documents. Finally, click on submit and you are done. After that, we take care of the rest.
Don't think twice and apply with iVisa.com.
How many times can I use the Pass in Thailand?
This Pass is only valid for a Single Entry. This means that you can only use this document once. In addition, if you hold this document, you can use it for a max of 14 days after arrival or until passport expires.
Is it safe to use iVisa.com to get the Thailand Pass?
Here at iVisa.com, we have the experience of handling multiple varieties of travel documents for all kinds of nationalities. We work alongside the respective governments and embassies to ensure that everything is correct and that your documents are rapidly approved. If you still don't believe us, you can review the testimonials that thousands of clients have posted on our official website.
I have more unresolved questions, where can I find more info?
You can get in touch with one of our customer service representatives by a personalized chat or phone. We are here to help you with any inquiries you may have. You can also find more FAQs about this required document here.
Don't let these new restrictions stop you from continuing to travel the world and follow the protocols that some countries have implemented to maintain the safety and good health of their citizens and visitors. Obtain your Thailand Pass now and keep traveling!