Going to Thailand requires a little bit of planning, and one of the things you need to think about is documentation. Just like with most countries, you need a visa to cross the border to Thailand. One way to obtain this is to visit a Thai diplomatic mission. Many people do that, and they get their visas in a few days or weeks, depending on the processing time. However, some travelers opt for a visa on arrival. At the moment, only 21 nationalities are eligible for a visa on arrival, and if you are among them, you can apply online. Keep reading for more information.

Frequently Asked Questions (FAQs)
Can I apply for a Thailand Visa On Arrival?
It will depend on your nationality. Currently, there are only 21 nationalities eligible. If you would like to review if you are eligible you can use our online Visa Checker, choose your nationality and Thailand as a destination. You will have your answer almost immediately.
If visa cost is zero, why do I need to pay?
Make things easier for yourself, apply ahead of time and avoid waiting hours in the Embassy. Getting a Visa On Arrival with iVisa, only takes a few minutes of your time, and we handle the rest. That is the reason we charge you a small service fee. With our service you will be able to have your pre-registration for the Visa On Arrival in as little as 2 days.
What is a Thailand VOA (Visa On Arrival)?
Visa on Arrival (VOA) is a program where citizens from 21 countries can obtain their visas once they enter Thailand, at the immigration checkpoint.
Please note that we DO NOT issue the actual visas. It's a pre-registration service provided for certain nationalities, entering Thailand via Suvarnabhumi Airport, Don Mueang Airport, Phuket Airport, and Chiang Mai Airport, Chiangrai Airport, Hua Hin Airport, Samui International Airport, Sukhothai Airport, Surat Thani International Airport or U-Tapao International Airport.
Which countries are eligible for the VOA pre-registration service?
The following is a list of countries eligible for the Visa on Arrival pre-registration service: Australia, Bhutan, Bulgaria, China, Cyprus, Czech Republic, Estonia, Ethiopia, Fiji, Georgia, Hungary, India, Kazakhstan Liechtenstein, Malta, Mexico, Nauru, Oman, Papua New Guinea, Poland, Romania, Russia, Saudi Arabia, Slovakia, Slovenia, Taiwan, Uzbekistan or Vanuatu.
How long can visitors stay in Thailand with a VOA?
Visitors with a Thailand VOA can enter the country for a maximum of 60 days Per Entry. All visits are strictly limited to business or tourism, so you can NOT seek paid work or employment.
What are the documents required to apply?
To apply online with iVisa, we require the following documents:
Passport with at least 1-month validity.

FOR INDIAN PASSPORT HOLDERS: Validity must be of at least 6 months.

Address in Thailand (must verify address).

Credit/debit card or PayPal account for the payment.
We will provide your pre-registration document. Upon arrival you will need to present the following to receive your actual Visa:
Return flight ticket (within 15 days Per Entry).

Printed pre-registration document we provide (black and white is sufficient).

Immigration card (arrival and departure).

Cash for each traveler in your group (2,000 THB in Thai currency) for the visa stamping fee upon arrival.
How long is the Thailand VOA valid?
The Thailand VOA is valid for 90 days after arrival.
What are the processing times and prices?
To obtain your Thailand pre-registration document for the VOA with iVisa, we offer three options with different processing times and pricing:
Standard processing – your application is processed within 6 days, and the price is USD 77.49 (service fees included).

Rush processing – you will receive your pre-registration document within 4 days, and the total price of it is USD 137.99 (service fees included).

Super rush processing – this is the fastest option. You will get your document in only 2 days, and you will be charged USD 169.99 (service fees included).
Click here to start your application.
How does the Thailand VOA pre-registration work?
In 2015, Thailand set up a system to allow travelers from certain nationalities to apply in advance for their Visa on Arrival.
Travelers, travel agents, airlines and specialist service providers such as us around the globe can utilize the Thai eVisa system to process a pre-registration for the VOA. We input the applicant's data into the system and we're informed of the results of the program, once they examine it.
PLEASE NOTE: Our service does NOT provide an actual Visa. We will provide you with a pre-registration document that must be presented upon entry to receive your actual Visa on Arrival. For passengers who would like to apply for Visa on Arrival to travel in Thailand, there are two service counters provided by Suvarnabhumi airport before reaching to the Immigration on 2nd level.
How long does it take to apply for Pre-registration for the Thailand VOA?
Since you only have to fill in the application form online, it is going to require you less than 10 minutes. Once know that the condition of the application we'll inform you and take care of everything else.
How can I apply for a Pre-registration document?
The application for the document is really easy. It only has three steps:
The first step will ask you to fill in your general information. You will also need to choose the processing time from the options mentioned above.

The second step will ask you to revise step one and make the payment.

The last step consists of a questionnaire. Other documents may be required as well, but it depends on individual circumstances.
Click here to start. After you are done, you submit your form and wait for your document to arrive. In case you need assistance to fill your application, iVisa has a fantastic support service that you can call 24/7.
What happens after I have applied?
Once the aplication is finished, you are going to get your pre-registration in the email. No need to manage the embassy. We do it for you so that you do not lose precious time. Show your document on entry into Thailand to get your Visa on Arrival.
When I apply for a VOA using iVisa, am I getting an actual visa?
Our service does NOT provide an actual visa. We will provide you with a pre-registration document that must be presented upon entry. After, you will receive your actual Visa on Arrival. You will also receive your visa stamp when you arrive at the Visa on Arrival counters at Suvarnabhumi Airport. There are two service counters provided by Suvarnabhumi airport between Immigration Zone 1st and 3rd level. (Near Zone 2nd or Priority/Premium Lane).
How many times can I enter Thailand with an eVisa?
The Thailand eVisa allows Single Entry.
Do I need to get a Thailand VOA for my kids too?
Yes. All foreign citizens wishing to travel to Thailand require a visa, even kids.
How can I apply for my family or friends?
You are able to submit an application for loved ones or friends. Just be certain that you have all of the essential documents (you can see previously in this article). If you're applying for just 1 friend or relative, simply apply here presenting their information. In the event you want to apply for at least 1 individual, it is possible to do this by clicking 'Insert new candidate' from the application form and finishing the data necessary.
How will the Thailand VOA look like?
This is how your Thailand Visa On Arrival will like: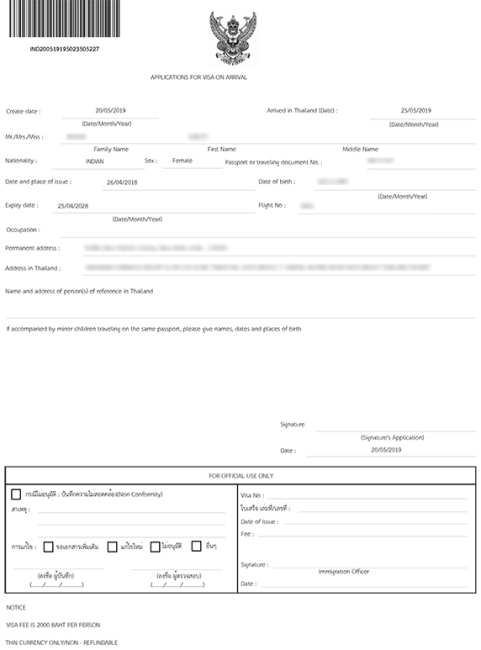 What can I do if I make a mistake in my application?
If you made an error when inputting your information online then please contact our customer service representatives when possible through online chat to help you.
Might we have already submitted your application, then you can't make any adjustments and you'll need to apply again but we won't bill you a different service fee.
Is it safe to use iVisa to get my pre-registration document?
Lots of people feel that online information escapes and their private info is in danger of getting into the incorrect hands. That is not true with our services. Security is provided by us for your data and we spend a great deal in our database's safety. Your information couldn't be safer.
I have more unresolved questions, where can I find more info?
For a faster resolution click here and start chatting with one of our customer service representatives. Alternatively, you can find more info and FAQs here.