We know that these are difficult times for everyone, for that reason, the Thai government is taking action to allow US travelers to visit its country in the safest way possible. They have released the Thailand Health Declaration which you can obtain through an online application form that we have on our website.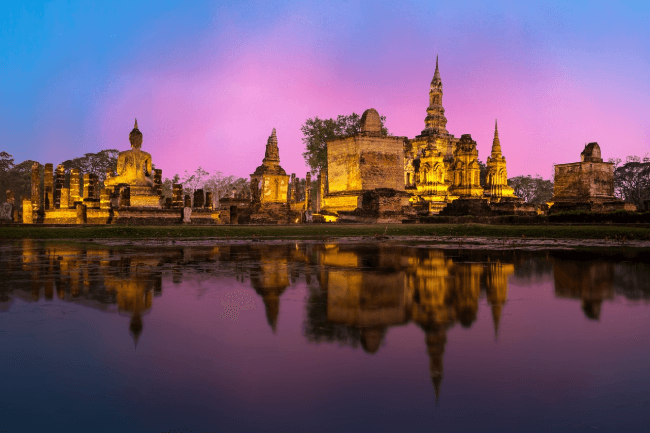 This Health Declaration serves as proof to confirm that travelers don't have coronavirus, facilitating their entry into Thailand and preventing the spread of this disease in this country.
If you want to know all the requisites you must meet before applying, keep reading this informative article.
Frequently Asked Questions (FAQs)
Do you need a travel visa for Thailand?
Yes, you may require a travel visa for Thailand depending on your nationality. The eVisa is available to certain nationalities that wish to enter Thailand for purposes of tourism. All other nationalities with visa free travel will require a Health Declaration (T.8 Form) to process into the country during COVID-19.
What are the Thailand visa requirements for US Citizens?
US citizens do not require a visa to travel travel to Thailand for short tourist trips that are under 30 days. However, US citizens will require a Health Declaration (T.8 Form) to process into the country during COVID-19.
What is the Thailand Health Declaration?
The Thailand Health Declaration is a new official and required document issued by the Thai government whose purpose is to reduce the spread of the COVID-19 in this country by a restrictive way of entry for everyone who plans to enter Thailand.
Do I need a negative COVID-19 test result to enter Thailand?
COVID test prior to arrival: PCR within 72 hours
COVID test after arrival: All travelers will be PCR tested on arrival.
COVID test in quarantine: Travelers on the Sandbox Programme will be PCR tested in quarantine on day 6/7 and unvaccinated travelers will be PCR tested again in quarantine on day 8/9.
Is quarantine obligatory when I arrive in Thailand?
Quarantine requirements for exempt travelers: 1 night in pre-booked hotel until a negative result from the PCR test on arrival is received.

Quarantine exempt nationalities: Australia, Austria, Bahrain, Belgium, Bhutan, Brunei Darussalam, Bulgaria, Cambodia, Canada, Chile, China, Cyprus, Czech Republic, Denmark, Estonia, Finland, France, Germany, Greece, Hungary, Iceland, Ireland, Israel, Italy, Japan, Latvia, Lithuania, Malaysia, Malta, Netherlands, New Zealand, Norway, Poland, Portugal, Qatar, Saudi Arabia, Singapore, Slovenia, South Korea, Spain, Sweden, Switzerland, UAE, UK, USA, and Hong Kong.

Sandbox programme nationalities: Fully vaccinated travelers from the rest of the world are in the Sandbox programme.

Quarantine requirements for Sandbox programme travelers: 7 days in pre-booked hotel.

Quarantine testing for Sandbox programme travelers: PCR test on arrival and on day 6/7.

Quarantine requirements for all unvaccinated travelers: 10 days in pre-booked hotel.

Quarantine testing for all unvaccinated travelers: PCR test on arrival and on day 8/9.
How long US passport holders can remain in Thailand with this Health Declaration?
The Health Declaration (T.8 Form) does not have a limited number of days for the traveler to remain in the country since this document can be only used once (when you enter the country.) This means that the Health Declaration gives you only a Single Entry.
As a US citizen, you do not require a visa for Thailand, so you can stay in the country for a total of 30 days.
What do I need to provide if I decide to apply online?
These are the documents we need in order to submit your application to the government:
A valid 6-month passport scan
A payment method
In iVisa.com, we accept all types of credit cards and debit cards. If you have a PayPal account, we also accept payments in that way.
Once you send us a reference email address, we will send you all the information related to your online application there. So be 100% sure that the email you will provide us has the correct spelling and is valid.
How long is the Thailand Health Declaration valid for?
The T.8 Form will expire in 14 days after arrival or until passport expires.
What are the processing times and how much does this document cost?
The processing time and service fee will depend on the speed you choose. We offer three different types of processing speed:
Standard: by choosing this option, it will take

24 hours

to process your QR Code. This alternative has a total service fee of

USD 20.00

.
Rush: faster than the previous one, you will receive your QR Code in

4 hours

. Moreover, the fee you will pay is

USD 30.00

.
Super Rush: we recommend this option if you are in a hurry since it only takes

30 minutes

to process. Although it costs

USD 55.00

, it's really worth it.
Click here to go to the Application Page.
How does the Health Declaration process work?
The Health Declaration is an electronic certificate you will need to show once you arrive in Thailand. The officers at the airport will verify it by scanning the QR Code you will receive once your application has been approved.
Does it take too much time and effort to apply for this document?
You can register your application while you listen to your favorite song. That's how fast and simple it is! Giving 10 minutes of your time will be more than enough to complete the whole online application form.
If I've decided to apply online with iVisa.com, how can I submit my form?
As we said, it's really simple. You just need to follow these three easy steps that we show you below:
1) In the first step, you will need to fill in your basic information and choose the processing speed you wish.
2) Then, you will have to review your application and make the corresponding payment.
3) Finally, upload your passport scan and submit your application form. That's it!
Once you finish your application we will send you a confirmation message on your email. If you are ready to apply, click here and obtain your Health Declaration now!
What will happen after I submit my application?
After you submit your application, we'll take care of the rest! We'll be in charge of sending your application to the Thai government and when we have received the approval, we will send the QR Code of the Health Declaration to you by email.
I'm traveling with my children, do they need this document as well?
Yes, they do. As long as the minors hold an ordinary passport, they will need to apply for their own Thailand Health Declaration.
Do US citizens need a visa if they are only transiting through Thailand?
No. Remember that US citizens can travel to Thailand without the need of having a visa. Even if they are only transiting, they don't need a visa.
Can I trust iVisa.com to process my Thailand Health Declaration (T.8 Form)?
Of course, you can! We have tons of experience in helping travelers to get their visas and health documents to multiple destinations. Even though the final response depends entirely on the government, we make sure to send your application as compliant as it can be to increase the approval rate and make our customers happy.
How can I contact you if I have more questions?
If you need further assistance, you can contact one of our customer service agents by clicking the button on the bottom right corner that says "Need Help?". To read more FAQs related to the Health Declaration, you can click here.