Experienced travelers always state that Thailand is well-known for the multiple attractions that make it unique. For that reason, the Thai government is taking action to help people to visit their country despite the current situation. One of them is the release of the Thailand Health Declaration (T.8 Form), which is a statement that proves the traveler does not have COVID-19 nor any of its symptoms. This way the Thai officers will make sure the safety of both visitors and their citizens.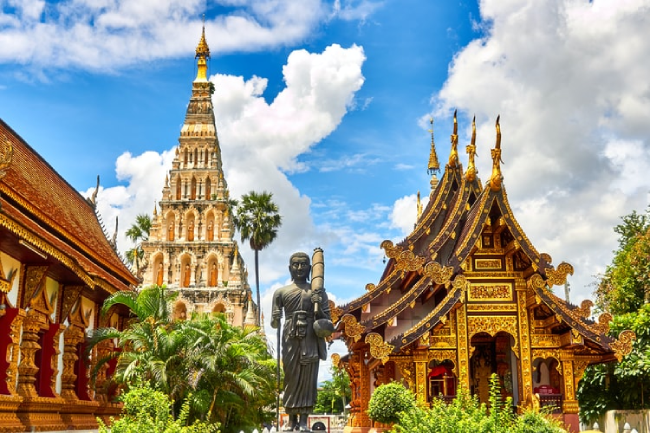 iVisa.com has included this new service in order to help travelers obtain this Health Declaration. Actually, this form is simple and does not require much time. So, if you decide to apply with iVisa.com, we will help you with the whole process.
In this blog, you will see a lot of information about this new requirement that the Thai government has established to be able to enter that country without any problem.
Frequently Asked Questions (FAQs)
What is the Health Declaration about?
It's a new document that the Thai government has implemented to visit this territory. This Health Declaration is used to verify that you are in good health so that you can enter Thailand without any problem.
I want to travel, what documents do I need to submit my application?
The documents you will need to have valid at the moment of submitting your application are the following:
Passport:provide a good scan quality of your passport and make sure your information page is visible.

Payment alternatives: iVisa offers different kinds of payments such as credit/ debit cards.
Do I need a negative COVID-19 test result to enter Thailand?
COVID test prior to arrival: PCR within 72 hours
COVID test after arrival: All travelers will be PCR tested on arrival.
COVID test in quarantine: Travelers on the Sandbox Programme will be PCR tested in quarantine on day 6/7 and unvaccinated travelers will be PCR tested again in quarantine on day 8/9.
Is quarantine obligatory when I arrive in Thailand?
Quarantine requirements for exempt travelers: 1 night in pre-booked hotel until a negative result from the PCR test on arrival is received.

Quarantine exempt nationalities: Australia, Austria, Bahrain, Belgium, Bhutan, Brunei Darussalam, Bulgaria, Cambodia, Canada, Chile, China, Cyprus, Czech Republic, Denmark, Estonia, Finland, France, Germany, Greece, Hungary, Iceland, Ireland, Israel, Italy, Japan, Latvia, Lithuania, Malaysia, Malta, Netherlands, New Zealand, Norway, Poland, Portugal, Qatar, Saudi Arabia, Singapore, Slovenia, South Korea, Spain, Sweden, Switzerland, UAE, UK, USA, and Hong Kong.

Sandbox programme nationalities Fully vaccinated travelers from the rest of the world are in the Sandbox programme.

Quarantine requirements for Sandbox programme travelers: 7 days in pre-booked hotel.

Quarantine testing for Sandbox programme travelers: PCR test on arrival and on day 6/7.

Quarantine requirements for all unvaccinated travelers: 10 days in pre-booked hotel.

Quarantine testing for all unvaccinated travelers: PCR test on arrival and on day 8/9.
How much the Thailand Health Declaration costs and in how many days I would get it?
Both the cost and processing time will change based on what you choose. Below you will find the ones we offer:
Standard: it will take 24 hours to obtain your T.8 Form. The cost is USD 20.00.

Rush: with this option, our service fee will increase to USD 30.00, but you will get your Health Declaration in just 4 hours.

Super Rush: we'll send your T.8 Form in only 30 minutes. The fee is USD 55.00, but we recommend this speed if you have to travel quickly.
What do I need to do first to apply for the Thailand Health Declaration?
The process is not complicated at all and you can do it while watching the news or your favorite TV show. In addition, if you have any questions while completing the form, you can contact our operators so they can help you. It consists of 2 simple steps:
First, you will be asked to fill in your basic information about yourself or the person who is going to apply. Moreover, here you can select the processing speed of your preference.

After that, just make a quick review of your application before making the payment.

The last step is to attach your passport scan and submit your online form.
Once you have completed the form, we will take care of the rest and when we have news about your request, we will let you know by email.
Do not hesitate and request your Health Declaration with us.
How much would it take to fill out all the online form for the Health Declaration?
Less than 10 minutes! That's how fast and simple our application is, you can start now by clicking here. Remember that before requesting your T.8 Form, you must have all the requirements that we mentioned above.
Once I have received my T.8 Form, how many times I can use it?
Since this document is issued for medical purposes, you can only use it for a Single Entry.
How can I apply for my friends or family?
If you want to apply for any other person, you just have to meet all the requirements that we mentioned above and then start completing the application by clicking here. If you want to add one more traveler, you just have to click on "Add new applicant" and fill in all the blanks.
Do my children need to obtain this document if they travel with me?
It is vital that every traveler including minors who intend to visit the country of Thailand have this Health Declaration.
Why should I choose iVisa.com to obtain my Thailand Health Declaration?
Besides our experience and the fact that our forms are the easiest to fill in the market, we make sure to submit your application according to the government's regulations to assure they approve your T.8 Form. Nonetheless, please bear in mind that the final response is on the government's hands.
Where can I find more information?
We have customer service agents waiting to help you through our live chat. Besides that, we invite you to read more FAQs.
Do not miss this opportunity and enjoy the beautiful country of Thailand complying with all sanitary measures. Acquire your Health Declaration now with iVisa.com!