Ethiopia is on the list of 21 countries whose citizens have access to apply for a Thailand visa on arrival . It means that Ethiopians are no longer needed to go to a Thai embassy to get their visa. Instead, they can get one at the immigration checkpoints.
What's even better is that if you're from Ethiopia, you can now apply online with the help of iVisa. iVisa offers an excellent visa expediting service that is meant to make your application process more comfortable. And in order to give you all the help you need, this article we'll inform you about the Thailand VOA, beginning with the questions that many travelers have made on the Internet.

Frequently Asked Questions (FAQs)
I'm from Ethiopia, do I need a Thailand VOA?
If you're Ethiopian, you have one of the lucky nationalities that can get a Thailand VOA. So yes, you need this e-Visa, but it's quite easy to obtain it.
What is a Thailand VOA for Ethiopians?
Visa on Arrival (VOA) is an official document that allows you to enter the country, and Ethiopia is one of the countries that have this permission to arrive in Thailand.
How long can Ethiopian citizens stay in Thailand?
As long as Ethiopian citizens apply for a VOA, they can stay for 60 days Per Entry.
What must I have to apply for this e-Visa?
You need to provide some valuable information so that iVisa can do its business. Basically, you need to provide the things from the list below:
Passport – you should have an easy time getting a passport, and if you already have one, take a look at when it expires. The passport needs to maintain its validity for another 30 days (at least) from your date of departure to Thailand.

Return flight ticket – the Thailand visa on arrival allows you to spend only 15 days inside the country. The immigration officer will ask you to show a confirmed return flight ticket within the 15-day period.

Proof of accommodation – you need to have a hotel reservation or a signed letter from a host that states you have a place to live while in the country.

Valid e-mail address – once you apply on iVisa, they will send you an application form that you need to fill in before your trip. They will send you the document above via e-mail, which is why you need to make sure that the address you provide is valid.

Means of payment – by applying online, you owe a service fee to iVisa. You can make the payment using a credit or a debit card, and if you have an account on Paypal, you can use that as well.
If you already have these documents, then you can apply online for your Thailand VOA.
What do I need to present when I arrive?
Once you arrive in Thailand, keep in mind to present the following documents in order to get the actual visa. This is just the final step of the process and is very simple:
Return flight ticket
Printed pre-registration document. We provide this document for you once you apply (a black and white copy is enough).
Immigration card
Cash for the visa stamping fee payments
At the immigration checkpoint, the officer will also ask you to state your purpose for visiting Thailand. This is made just to ensure that your business in Thailand does not exceed 60 days Per Entry.
What are the Visa costs and processing times?
It's important for you to remember that the Thailand visa for Ethiopian citizens is the same as for everyone else. It costs 2000 THB (approximately $65), and you need to pay for it at the immigration checkpoint in Thailand. However, iVisa's service needs to be paid when you apply online, and the cost depends on the processing time you select. Here are your options:
Standard processing – people who apply online often choose this option because it costs less than the other two options. The total amount is USD $98.99, and your application takes just 6 days to be processed.

Rush processing – this option shortens the waiting time to only 4 days. The cost, however, is a bit higher. This option costs USD $139.99.

Super Rush processing – this is the fastest option you can hope for. It costs USD $186.99, but your application is processed in as little as 2 days. It is ideal for people who want their visa as soon as possible.
When you arrive in Thailand, keep in mind that the service counter where you pay for your Thailand visa on arrival accepts only Thai currency. You can make direct ATM withdrawals, or you can exchange currency.
How long does it take to apply for a Thailand VOA?
A Thailand visa for Ethiopian citizens is now more accessible than ever. iVisa has created a simple but efficient online system that can spare you the trouble of going to an embassy or wasting time in line at the service counter in Thailand. It only takes 10 minutes to apply online, and with the small effort it implies, it is worth the money.
Note: you can apply online using iVisa only if you travel to Thailand by air and you land at Suvarnabhumi airport in Bangkok.
How can I apply for a Thai VOA?
iVisa offers you an application form uncomplicated to complete, so you can apply online quickly. It is broken down into these two simple steps.
First, you have to fill in your personal information and choose the processing time through the form.

Second, you have to review step one and proceed with the payment. After that, you have to submit your application, and you're done!
Getting a Thailand VOA for Ethiopian citizens is one of the easiest things you can do. It requires little time and effort, and you will be on the next flight out. It's definitely much better than visiting an embassy for a consular visa.
How many times can I enter Thailand with my Visa on Arrival if I'm Ethiopian?
With this e-Visa, you have Single Entry, so you can enter more than once. Just remember that your Visa on Arrival expires 90 days after arrival.
How does the Thailand VOA look like?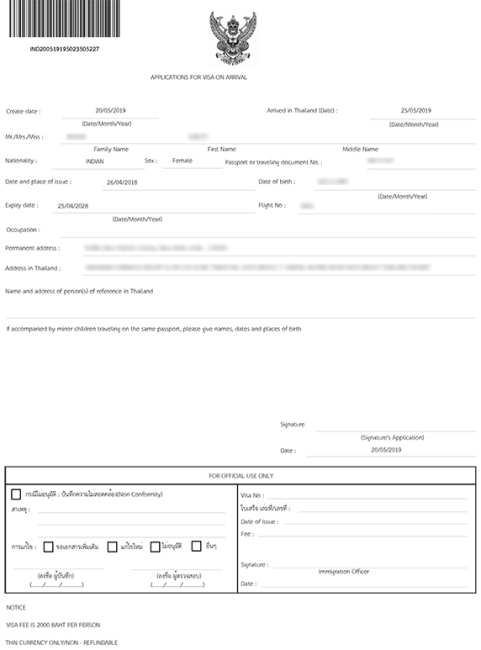 I still have questions, where do I find more information about this visa?
There's no problem if you still have some doubts. In that case, we invite you to contact one of our customer service representatives here. You can also check more information about this visa and Thailand turism clicking here.
You're one step closer to know this exotic paradise with iVisa. You need less than 10 minutes to get everything ready to visit Thailand, and just focus on your clothing and what great memories you'll get once you arrive in that beautiful country. Contact us today to apply for this e-Visa and start looking forward to your enjoyable trip.