Visa Policy for Thailand
When discussing the Thailand visa policy, it introduces the set of rules that a foreigner must follow to access the Asian nation. These measures can include and are not limited to what kind of travel documents and support documentation they will need.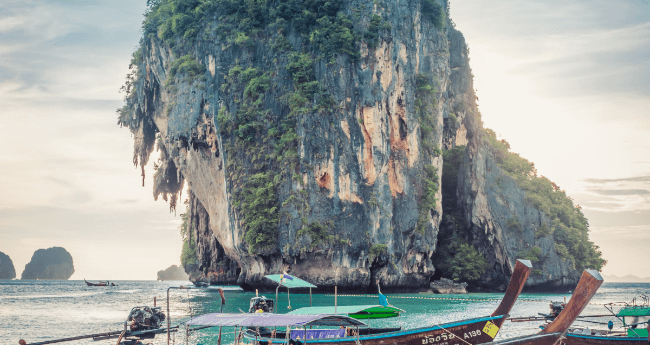 These regulations and requirements vary depending on the foreigner's nationality, trip intentions, and desired time to stay within the country.
According to the Thailand visa policy, passport holders from more than 50 countries can travel to Thai territory without a visa for tourism purposes. They will only have to present their valid passport for at least six months. Their adequate time to remain in the country may differ from 90 to 14 days based on their nationality.
Under 20 nationalities can get an electronic travel document and pick it up at any of the designated entry ports in Thailand, eliminating the necessity of applying at an embassy and going for a personal interview.
These same passport holders also have the option to obtain their visa on arrival, depending on their preferences. However, they will be required to pass through the visa process at any of the 48 immigration entry points.
The remaining travelers from more than 150 countries need a paper visa acquired from their closest or nearest consular body.
Foreigners usually do not need a transit visa when transiting through Suvarnabhumi Airport and Don Mueang International Airport for less than 12 hours. However, it will depend on the airline they will be using since it will determine if they require one or not.
If they want to stay working in Thailand, they must process and acquire a work permit.
Right below, there is available in-depth information regarding the Thailand visa policy, especially for tourism intentions:
Tourist visa Policy for Thailand:
The Thailand visa policy for tourist intentions refers to the requirements foreigners must meet to access the country for tourism.
The Thailand visa policy for tourism enables the following nationals from 50 countries to enter the country without holding a visa. Authorities will grant the allowed time to stay inside the countries according to their nationality. It will vary from 90 days to 14 days.
Andorra
Argentina
Australia
Austria
Bahrain
Belgium
Brazil
Brunei Darussalam
Cambodia
Canada
Chile
Czech Republic
Denmark
Estonia
Finland
France
Germany
Greece
Hong Kong
Hungary
Iceland
Indonesia
Ireland
Israel
Italy
Japan
Kuwait
Laos
Latvia
Liechtenstein
Lithuania
Luxembourg
Macau
Malaysia
Maldives
Monaco
Mongolia
Myanmar
Netherlands
New Zealand
Norway
Oman
Peru
Philippines
Poland
Portugal
Qatar
Russian Federation
San Marino
Singapore
Slovakia
Slovenia
South Africa
South Korea
Spain
Sweden
Switzerland
Turkey
Ukraine
United Arab Emirates
United Kingdom
United States
Vietnam
They may extend their stay for up to 30 days by applying for an extension at the One-Stop Service Centre for Visas and Work Permits in Bangkok.
From 2018, The Thai authorities started issuing electronic visas or eVisas on arrival. Some foreign citizens (under 20 nationalities) are eligible to apply for the eVisa via a simple online process and collect their eVisas at the airport.
Visa on arrival is also available for these foreign nationals.
The rest, citizens of more than 150 countries, must go through a regular visa process at any of the embassies or consulates of Thailand in the world. Thailand visa policy requires that applicants show proof of residence anywhere they are applying.
More information about the specific documents can be found in the next paragraphs:
eVisa on arrival for Thailand
From 2018, the Thai government began the implementation of the eVisa on arrival, aiming to eliminate the bureaucratic process to obtain a tourist visa.
The eVisa is the same as a normal visa, but eligible nationals can do the process from anywhere using their laptops, tablets, or phones. Nationals from these 18 countries are eligible to obtain an eVisa:
Bhutan
Bulgaria
China
Ethiopia
Fiji
Georgia
India
Kazakhstan
Malta
Mexico
Nauru
Papua New Guinea
Republic of Cyprus
Romania
Saudi Arabia
Taiwan
Uzbekistan
Vanuatu
The online process will demand: a digital copy of their main and cover passport page, a copy of their flight itinerary, and proof of accommodation (if applicable). Once the process is over, they will receive an email with their eVisa.
When they arrive in Thailand, they will need to show this document and to present their passport valid for at least 30 days and one blank page.
The eVisa is valid for 30 days and grants a single entry to stay up for 15 days.
Beware, the eVisa can only be used if foreigners are landing in these international airports:
Don Mueang (DMK)
Suvarnabhumi (BKK)
Phuket (HKT)
Chiang Mai (CNX)
Otherwise, they will have to apply for another tourism visa type according to their nationality.
Visa on arrival for Thailand
These same 18 nationalities can acquire a visa on arrival for tourism purposes outside these four international airports. However, they will have to show a verified address where they will stay (it can be the hotel) and proof that they have enough funds for their trip.
The visa on arrival allows eligible foreigners to access the country via major sea and land ports.
Embassy Visa for Thailand
The remaining nationals must go through a regular visa process that may include presenting for an in-person interview and delivering supporting documents.
Applicants should start this process in advance of their planned trip to ensure they have the right documentation to get their tourism visas.
Candidates will need to print out and complete an embassy visa application form to hand out for the interview. They must select the tourism visa type or another if it is the case. Thai authorities determine the visa validity period on an individual basis.
Other important visa information for Thailand
Some countries may require an additional yellow fever vaccination certificate to enter the Asian nation.
Passport holders from Australia, Brunei, Chile, China, Hong Kong, Indonesia, Japan, South Korea, Malaysia, Mexico, New Zealand, Papua New Guinea, Peru, Philippines, Russia, Singapore, Taiwan, Vietnam who has an APEC Business Travel Card (ABTC) containing "THA" on the back of the card can access Thailand visa-free for business trips for up to 90 days.
Foreigners wishing to work legally in Thailand must apply for a work permit. This document works as a license to operate a job for foreigners inside the country. A foreigner can obtain a work permit, if he owns a non-immigrant or a resident visa, his employer can provide the documents for the work permit, and the performed occupation is not prohibited to foreigners