iVisa | Updated in June, 2022 - Although it was part of the initiative during the pandemic to create a vaccination passport, it was halted and The Vaccine Certificate is no longer required by the government to enter Thailand. But you can apply for the Thailand Pass (which is still required) here.
If you're dreaming of traveling, we've got good news for you: it is possible nowadays. It might still be difficult to enter some countries due to the risk with the coronavirus, but since 'Health Declarations' have come into action, it's much easier to travel.
These 'Health declarations' are popular in many countries like Thailand. That's why you might have heard the term 'Thailand Pass'. This document is the same as a 'health declaration', but with the difference that it can also be used to inform the authorities that you've been vaccinated against coronavirus.
We can help you get this document easily and fast. To learn more about the process to obtain it, we recommend you read the information in the questions below.
Note: Since July 1st, 2022, the Thailand Pass is no longer necessary to enter the country.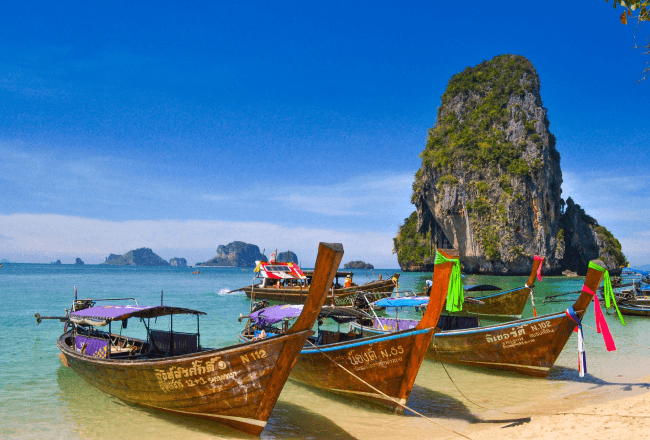 Frequently Asked Questions
WHAT IS A 'THAILAND PASS' AND WHAT OTHER ITEMS ARE NECESSARY TO APPLY FOR IT TO TRAVEL TO THAILAND?
The Thailand Pass is a travel document that must be filled out by visitors of all nationalities before their arrival in the country. The purpose of the form is to help the Thai government to manage the risks related to travel during the ongoing pandemic.
The Thailand Pass does NOT replace a visa in any way. If your nationality requires a visa to visit Thailand, you still need to get one.
However, we're happy to announce that we can offer you this document online. Please remember that you must have all of these items before entering Thailand:
The Health Declaration, available on our website.
Your valid and current passport.
Your valid email address so that you can obtain the updated information.
Your credit/debit card to pay for the document fees
Do I need to show a COVID vaccination certificate to enter Thailand?
No. COVID vaccines or vaccination certificates are not required to enter the country.
Do I need a negative COVID-19 test result to enter Thailand?
There are no testing requirements.
Is quarantine obligatory when I arrive in Thailand?
COVID quarantine requirements: There are no quarantine requirements.
HOW MUCH DOES THIS CERTIFICATE COST AND WHEN CAN I GET IT?
We told you before that the Vaccination Passport Thailand is the same as the Health Declaration, so the prices are also the same. In case there are changes related to this information, we'll let you know through our FAQ Page.
Standard Processing Time:

7 days

-

USD $24.99

Rush Processing Time:

5 days

-

USD $45.49

Super Rush Processing Time:

3 days

-

USD $76.99
HOW TO GET A VACCINE CERTIFICATE FOR THAILAND
It's quite simple to obtain a Thailand Health Declaration with our services. We remind you that this health declaration works the same as a vaccinate certificate, and it can be useful not only for the coronavirus pandemic, but also to not only to check you're not infected with coronavirus but also to confirm you haven't been infected with other diseases like Malaria and Yellow Fever.
To apply within a few minutes with us, you have to follow this 3-step process:
The first step is to complete the online questionnaire and select a processing speed according to your travel plans.
The second step is to check all the information you previously wrote to ensure they're correct. After that, follow up with the payment by using your debit/credit card.
The third step is to upload and add all the necessary items to the form so that you can complete the process successfully.
That would be all the things to do! After you're done, wait for your document via email inbox!
IS IVISA.COM SAFE?
Yes, iVisa.com is a company that's been issuing e-Visas and electronic documents for more than 6 years, meaning that we know how to deal with any danger related to the privacy of your information. Your details won't be at risk, especially because we have an automated system that doesn't retain any data. You can read our customer feedback here.
WHERE CAN I OBTAIN MORE INFORMATION ABOUT THE VACCINATION PASSPORT THAILAND?
Do not stress if you still have questions to solve! We're ready to help you understand the 'Vaccination Passport Thailand' better. For that, we invite you to check our FAQ page at any time. You're also free to contact us online if you prefer to obtain personal assistance.
iVisa.com Recommends
Thailand is a popular country in Southeast Asia. This country is popular for its tropical beaches, huge royal palaces, old ruins, and many temples that are dedicated to Buddha. In Thailand, you cannot lose the chance of exploring Bangkok, the ultra-modern capital city that's near tranquil canal-side communities. This city is also home to the 'Wats', a name given to any place of worship except a mosque. Some of them are Wat Arun, Wat Pho, and Wat Phra Kaew.
We suggest you remember that Thailand is divided like this: North, Northeast, East, Central, and South, each geographically distinct from the others. This is the easiest way to know what exactly you wish to visit in Thailand. Each province has its own unique cultural, historical and natural attractions, from the northern mountains (teeming with wildlife and home to exotic tribes) to the central plains, and the amazing beaches and islands of the south (including Phuket, Krabi or Koh Samui, among many others). Thailand is a pleasant place to visit at any time of the year.