If you're planning a trip to Trinidad and Tobago, then you should first read the Trinidad and Tobago Covid Test Requirements. These are important for you to enter this country safely and enjoy a pleasant stay. Luckily, you will be able to apply for the Trinidad y Tobago Travel Pass soon. With the help of iVisa.com, this process becomes easier than ever!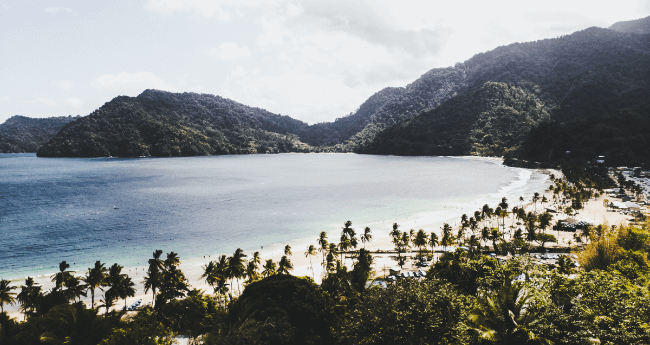 You don't need many items to get the process started. Besides, it is available completely online. Please read the questions below to learn more about it and see the current Trinidad and Tobago Covid Test Requirements.
Frequently Asked Questions
What are the current COVID-19 restrictions to visit Trinidad and Tobago?
The COVID-19 restrictions often change depending on specific factors like your nationality, which is why we encourage you to visit our Trinidad and Tobago Page to get the most recent information about this topic and see the specific Trinidad and Tobago Covid Test Requirements.
What is a Trinidad and Tobago Travel Pass, and how to apply for it?
The Trinidad and Tobago Travel Pass is an online-based travel document that permits you to visit this country by following the Covid-19 restrictions. You can apply for it with iVisa.com if you follow these 3 easy steps:
Step 1: Fill out the online application form and choose the processing time you prefer.
Step 2: Check the information to avoid mistakes. Also, pay the fees and attach the corresponding documents.
Step 3: Submit the form as soon as you finish paying and reviewing. After that, wait for your Travel Pass by email. Once you get it, print a copy to take with you on your trip.
What requirements are necessary to apply for a Trinidad and Tobago Travel Pass?
These requirements vary depending on your country of origin. Still, since it will be an online process, you won't need many items or documents. You only require the following:
Your current passport with a scanned copy of the information page.
A 2x2 professional passport-style photograph.
A debit or credit card for payments.
Your email address to receive the document.
Do you still have doubts about the Trinidad and Tobago Covid Test Requirements? Feel free to read the lines below.
What about the cost and processing times?
The price varies depending on the processing speed you choose while applying. For that, we have created three processing speeds, each one with different prices, but all of them include the government's fee so that you don't have to worry about it. These are the options:
Standard Processing Speed: If you prefer a low price and standard processing (

24 hours

-

USD 20.00

).
Rush Processing Speed: If you prefer paying a bit more for faster processing (

8 hours

-

USD 35.00

).
Super Rush Processing Speed: If you prefer to enjoy the fastest processing (

4 hours

-

USD 60.00

).
You may have no doubts about the prices now, but if you still want to learn more about the Trinidad and Tobago Covid Test Requirements, please read the following questions.
Is it safe to use iVisa.com?
Yes, it is entirely safe to use our website because we offer high-quality software that does not jeopardize any piece of information. Additionally, we have an incredible team that's always making sure that everything is correct. If you still have doubts, please go to our comments section to see what our customers think about us.
Where do I get more information about Trinidad and Tobago Covid Test Requirements?
In case you have any other questions about the Trinidad and Tobago Covid Test Requirements or the Trinidad and Tobago Travel Pass, then please enter our website or contact our agents if you prefer personal attention.
iVisa.com Recommends
Trinidad and Tobago are probably one of the best and budget-friendly destinations to enjoy the Caribbean. Both islands are famous for their excellent birding, with many bird species from nearby South America enhancing the biodiversity. Trinidad and Tobago is also a popular country thanks to its Carnival, celebrated on the Monday and Tuesday before Ash Wednesday.
Trinidad, near Venezuela, is the most famous island of the two, and it is also the southernmost of all the West Indian islands. Port of Spain, the capital, is renowned for its many great examples of colonial-style architecture, as well as a few tourist spots to explore. Here, you can enjoy the surrounding areas of Queen's Park Savannah, where you can find fancy mansions known as the "Magnificent Seven."
Trinidad is also home to the Caroni Bird Sanctuary, perfect for nature lovers. This series of mangrove-lined waterways is the nesting place of the national bird of Trinidad and Tobago, the scarlet ibis.
More things await you in Trinidad and Tobago, so be ready to enjoy!