The Trinidad & Tobago visa policy includes the set of laws and requirements a non-Trinidad and Tobago citizen must meet to gain access to the island. It states the kind of travel document a foreigner will or won't need to do so.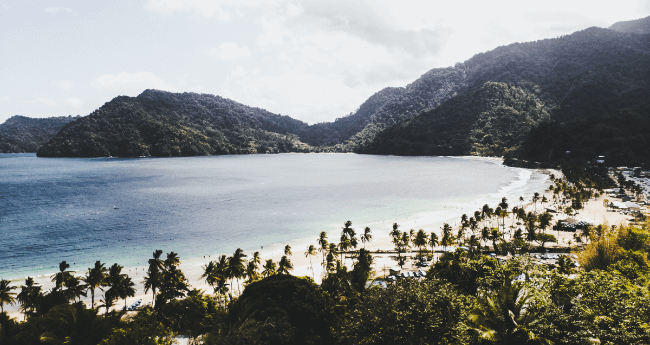 The Trinidad & Tobago visa policy has been defined by local authorities, who have established these terms according to the foreigner's travel purpose, nationality, and length of stay. Overall, this visa policy is not complicated but very simple.
Foreigners from more than 100 countries do not require a visa to visit Trinidad & Tobago. They will receive authorization to stay from 30 to 180 days depending on their nationality.
Citizens from three countries may have the option to obtain a visa on arrival. Once they land on the Island, they will have to pay a small fee to get it. The remaining citizens from not-listed countries will have to apply for a regular visa through their nearest embassy or consulate.
Some nationals from 13 countries listed as visa-exempted and non-visa exempted can apply for an extension for their stays, as long as it is for tourism purposes.
Foreign citizens who want to work in Trinidad and Tobago must apply for a work permit through the Ministry of National Security. The work permit must be processed if the foreigner aims to work for more than 30 days.
Visas for business intentions follow the same guidelines as the tourist Trinidad & Tobago visa policy that will be deepened in the following section:
Tourist visa Policy for Trinidad & Tobago
The Trinidad & Tobago visa policy for tourism focuses on the general rules foreign citizens are obliged to follow to gain access to this paradise:
Nationals from more than a hundred countries are exempted from having a visa to enter Trinidad and Tobago. Right next, there is a list available of these visa-exempted countries:
European Union/EFTA
Albania
Antigua and Barbuda
Argentina
Bahamas
Bangladesh
Barbados
Belize
Bosnia and Herzegovina
Botswana
Brazil
Brunei
Canada
Chile
Colombia
Costa Rica
Cuba
Dominica
Dominican Republic
Ecuador
El Salvador
Eswatini
Gambia
Ghana
Grenada
Guatemala
Guyana
Honduras
Hong Kong
India
Israel
Jamaica
Japan
Kenya
Kiribati
Lesotho
Malawi
Malaysia
Maldives
Mauritius
Mexico
Montenegro
Namibia
Nauru
Nicaragua
Pakistan
Panama
Peru
Russia
Saint Kitts and Nevis
Saint Lucia
Saint Vincent and the Grenadines
Samoa
Serbia
Seychelles
Sierra Leone
Singapore
Solomon Islands
South Africa
South Korea
Suriname
Tonga
Turkey
Tuvalu
United Kingdom
United States
Uruguay
Vanuatu
Zambia
Zimbabwe
These nationals will require a passport valid for at least six months, and they may also need their exit flight ticket to be granted entry to the islands and evidence they have enough funds for their entire trip.
The time allowed to stay for these visitors is determined according to the passport that the foreigner holds. It could vary from 30 days to 90 days. In case there is a need to extend the visit, they must apply for an extension with the Chief Immigration Officer.
The Trinidad & Tobago visa policy for tourism intentions also states that foreigners holding a passport from three countries may get a visa waiver through an embassy and obtain a visa on arrival.
Nationalities non-exempted from visas that cannot either get one on arrival will have to go through a regular embassy or consulate visa process. This type of process may require setting a personal interview and delivering support documentation.
Trinidad and Tobago Visa on arrival
Citizens from Australia, New Zealand, and The Philippines can get visas on arrival at any of the island entry ports.
These nationals will be granted a visa on arrival. It means that they won't need to secure this travel document for the islands before visiting them, as a visa will be provided when they reach their Trinidad and Tobago first port of entry.
Authorities usually issue on-arrival visas for 30 days, with a single entry.
Trinidad and Tobago Embassy and Consular Visa
As previously mentioned, citizens from countries that are not part of these lists must contact their nearest Trinidad and Tobago consular body to apply for a paper visa.
The application procedure takes about four weeks. So, it is advisable to take this time into account before establishing planned dates for the trip, especially when it refers to purchasing flight tickets.
Based on the Trinidad & Tobago visa policy, foreigners must provide the following document to get the visa:
A valid passport for a minimum of six months and two free pages.
The complete filled out and signed visa application form.
Two passport-size photos with a white background.
A notarized colored copy of the applicant's ID
The last three bank statements displaying the candidate's name.
Round-trip flight ticket or proposed itinerary alongside hotel reservations or invitation letter if staying with friends or family
The tourist visa is granted with a 30 days validity, and the candidate can choose between a single or multiple entries. However, the visa fee will increase for this last option.
Other important Trinidad and Tobago visa information
For foreigners looking to establish themselves on any of the islands to work, they must apply for a work permit through the Ministry of National Security.
Work permits are issued on a personal basis: authorities will analyze each candidate's profile and assign validity accordingly. They will review the company or institution's background, as described in the permit.
It is fundamental to keep in mind that work permits are only granted for foreigners who have skills or expertise not available in Trinidad and Tobago.
The tourist visa policy applies the same for foreigners who need to visit Trinidad and Tobago for short stays intending to do business.
Holders of diplomatic or service/official passports from Haiti and China do not need a visa to visit the island.