Shimmering desert sands, spitting camels and exotic bazaars filled with smokey incense and friendly market sellers are welcoming travelers back to Turkey now that the borders are open again. Before you set off, check that you have all the documentation you need for a relaxing trip. Apply for your Passenger Locator Form to meet COVID-19 controls and don't forget that American travelers will need a Turkey eVisa too. If you're wondering 'Do I need a covid test for Turkey?', we can confirm that all unvaccinated travelers will require either a negative antigen result dated within 48 hours of the departure date OR a negative PCR test result dated within 72 hours of the departure day. We recommend eMed's antigen test kit as the ideal home-testing solution for US residents.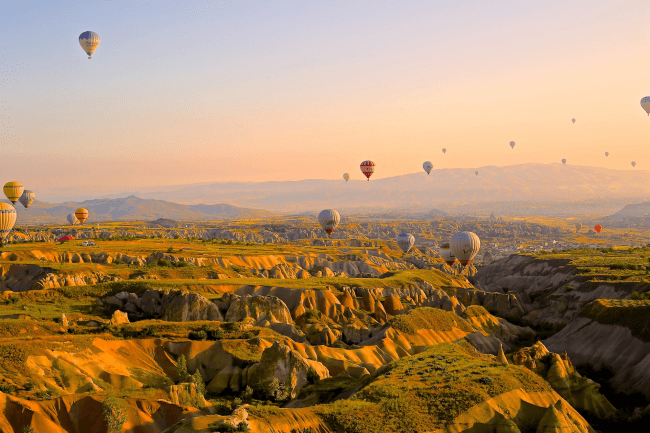 To check the answers to more questions like 'Do I need a covid test for Turkey?', check out the FAQ section.
Frequently Asked Questions
Do I need a COVID test for Turkey?
Arrivals who are not fully vaccinated will need to get a COVID-19 test before their trip. Here are the details:
COVID test prior to arrival: PCR within 72 hours or antigen within 48 hours
COVID test exemptions: Children under 12 and travelers with proof of vaccination/recovery.
Do I have to quarantine when I get to Turkey?
Quarantine requirements: There are no quarantine requirements upon arrival unless the passenger displays COVID-19 symptoms.
Do I need a COVID vaccine or vaccination certificate to enter Turkey?
COVID vaccination certificates are not mandatory to enter Turkey at this time, however, travelers must meet one of the following in order to visit this country:
Proof of vaccination: vaccines approved by the WHO are accepted in Turkey. Travelers are considered vaccinated if all doses of a vaccine against SARS-Cov-2 have been administered for at least two weeks before traveling.
Proof of recovery within the last 6 months starting from the 28th day of the first PCR positive test result.
Proof of testing. Check the testing FAQ for more details.
Do I need a negative test result to leave Turkey?
No, you don't. If you're leaving Turkey, you do not required to present a negative test result.
Don't leave it to the last minute to find out the answers to questions like 'Do I need a Covid test for Turkey?'.
Do I need to pay to enter Turkey?
If you are applying for a Passenger Locator Form with iVisa.com, take a look at the processing charges below:
Standard Processing (

USD 24.00

): Get your document in

24 hours

.
Rush Processing (

USD 42.00

): When your vacation is rapidly approaching, get your document in

4 hours

.
Super Rush processing (

USD 72.00

): If your trip is urgent, with Super Rush you'll have it in

30 minutes

.
Check out the iVisa.com website to read up on more hot topics like 'Do I need a Covid test for Turkey?'.
How can I apply for the Passenger Locator Form?
Filling out an iVisa.com application form is so simple, you're sure to wonder if you're doing it right. But it really is easy! Our goal is to simplify the process so that more travelers can enjoy peace of mind on their getaway.
It's as easy as one, two, three.
First: Complete the application with your personal information.
Second: Pay the processing fee, but only after you've checked your answers to make sure everything has been spelt correctly.
Third: Upload any required documentation and submit the application.
US residents- buy the antigen test kit before you visit Turkey.
How long does it take to apply for a Passenger Locator Form?
Completing the Passenger Locator Form at iVisa.com should take less than 10 minutes.
If you want to read more blogs like 'Do I need a Covid test for Turkey?', head on over to our blog page.
Is it safe to apply at iVisa.com?
We believe that all travelers have the right to a safe, comfortable journey so we focus on making the application process easy to understand and clear. We detail the most up-to-date testing and quarantine news and encourage our customers to check all requirements before departure. COVID-19 testing has complicated travel so we recommend the eMed antigen test kit for US residents as a great solution to testing dilemmas.
Where can I find out more?
You can count on the iVisa.com website to keep travelers informed about the important topics like 'Do I need a Covid test for Turkey?', and the iVisa.com customer service team is always available to chat if you have any questions or concerns.