What rules and entry restrictions do citizens of Ireland need to be aware of when planning their trip to Turkey? Here's everything you need to know about Turkey's COVID-19 protocols.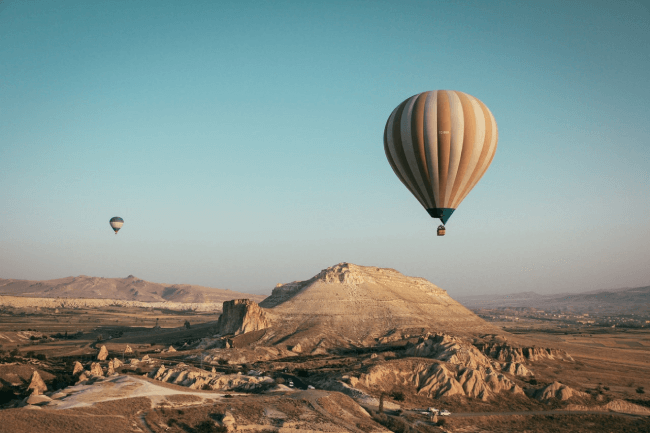 Where's the best country to visit two continents at once? Turkey, as Istanbul, is in Europe and Asia simultaneously. From beautiful palaces to fascinating mosques and natural attractions, the country has tons to offer.
iVisa has made navigating the new entry restrictions and rules for international travel easier by compiling a complete guide with travel advice. Here's everything you need to know to travel from Ireland to Turkey, including how to fill out the Turkey Passenger Locator Form.
If you're unsure if you'll need a visa for your trip, please use our Visa Checker Tool to ensure you have everything.
Do you require a visa for Turkey from Ireland?
Ordinary Irish passport holders are exempt from requiring visas to enter Turkey for up to 90 days in any 180-day period. However, official passport holders (those with diplomatic, service, special and official passports) are required to have a visa to enter Türkiye.
Holders of a'Travel Document' issued by Ireland (a 'Travel Document' is an official document that assists qualifying non-Irish nationals who have a residence permit in Ireland to travel) require Turkish visas. They should contact the Turkish Embassy in Dublin, as they may be refused entry on arrival to Turkey by border police and local authorities without a visa.
The Turkey Passenger Locator Form
The Turkish government introduced a Turkey Passenger Locator Form, an electronic travel document, to combat the spread of Coronavirus as it works to reopen the country for international travel.
If you're considering a trip to Turkey, be sure to start by applying for the Turkey Passenger Locator Form. This form is necessary for traveling safely and securely during the COVID-19 pandemic. It is a mandatory requirement by local authorities in Turkey.
Requirements for the Turkey Passenger Locator Form
To apply for the Turkey Passenger Locator Form, you will need:
Passport page information with at least six months validity.

Email address.

Payment method- It can be a credit or debit card.
Process of applying for the Turkey Passenger Locator Form
The application process for the Turkey Passenger Locator Form is quite tedious. However, iVisa has simplified it. You will need to follow these steps:
Fill out the application form.

Select the processing time.

Double-check your personal or financial information.

Make the payment.

Scan and upload the required documents.
Cost & processing time for the Turkey Passenger Locator Form
The cost of the Turkey Passenger Locator Form depends on how quickly you want it processed. iVisa offers three options to choose from:
Standard Processing: Takes

24 hours

and costs

USD $33.49

.
Rush Processing: Takes

4 hours

and costs

USD $59.99

.
Super Rush Processing: Takes

30 minutes

and costs

USD $97.99

.
COVID-19 travel restrictions for Irish travelers visiting Turkey
Currently, COVID-19 restrictions for foreign nationals arriving in Turkey have been lifted by Turkish authorities. Travelers from Ireland coming to Turkey no longer need to reveal their vaccination status nor produce negative PCR test results.
However, COVID-19 entry requirements may change at short notice. Therefore, you should check the specifics with your airline before you travel.
Within Turkey, including in major cities, tourists, citizens, and residents are no longer required to wear masks when taking public transport, including flights in the country. Transiting travelers should check travel restrictions, visa requirements, and PCR test requirements for their destination country.
Here are some answers and travel advice regarding frequently asked questions about Covid-19 regulations in Turkey:
Do I need to be vaccinated to enter Turkey?
The Turkish government determined that the COVID-19 vaccination certificate is not required to enter Turkey. However, it's still highly recommended to be vaccinated before your trip.
Do you need a Covid-19 Test to enter Turkey?
There are no testing requirements for Turkey currently. However, as previously advised, please follow up on the latest Turkey travel updates or contact your local embassy or airline.
Do I need to quarantine on arrival in Turkey?
There are no quarantine requirements upon arrival unless the passenger displays COVID-19 symptoms.
What happens if I test positive in Turkey?
If you test positive for COVID-19 while in Turkey, you must self-isolate for seven days according to their health system rules. The isolation automatically ends after the maximum period of seven days unless you still have symptoms.
You may get an antigen test on the fifth day, and the isolation ends if the result is negative. Close contacts who are fully vaccinated are not required to self-isolate.
Government authorities will place you in a designated hotel if you do not have a place to stay. Your details will be taken, so your isolation can be monitored. Plan ahead and make sure you:
Can access money.

Understand your insurance cover.

Make arrangements to extend your stay.
Other Travel Requirements
Remember that if you are visiting Turkey, your passport should be valid for at least six months from the date you arrive. It also needs a full blank page for the entry and exit stamps. You can find more detail about the requirements to enter Turkey on the Turkish Ministry of Foreign Affairs website.
When visiting Turkey from Ireland, remember to apply for the Turkey Passenger Locator Form and check the Visa Checker Tool to ensure you have all the necessary documentation and meet all their foreign affairs regulations.