Istanbul Atatürk Airport (Turkish: İstanbul Atatürk Havalimanı) is Turkey's largest airport. It is located on the European side of the city, approx. 24 km west of the city center and serves as the main hub for Turkish Airlines.
The first rule to save time at Istanbul airport is to have all the required documents depending on your nationality. iVisa can help you check what documents you need and also make sure that everything is correct and up to date. This way you'll fly through the queues.
To get a brief idea of the airport map, it consists of 2 different units:
Terminal 1: Domestic departures and arrivals, check-in counters, security checkpoints, shops, etc.

Terminal 2: International departures and arrivals, with immigration. This is where you will land when arriving in Turkey on an international flight.
You can walk from the domestic to the international terminals within 5 minutes or so. The International terminal also offers direct access to the Metro Station via escalator.
Remember that you need to have an eVisa to enter the country.
See here for a detailed version of the Istanbul Airport map:5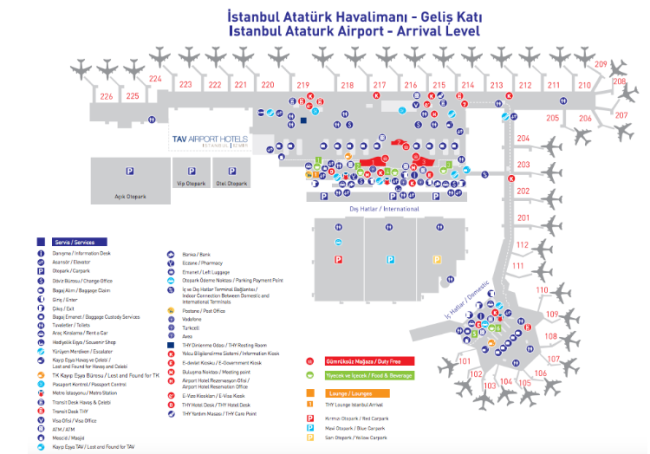 HERE ARE OUR TIPS FOR A STRESS-FREE ARRIVAL AT THE AIRPORT:
Remember that prior to departure, your airline/cruise ship check-in agent will ask to see your eVisa for Turkey before checking in. You can apply with us and receive your tourist visa within 24 hours. This will save you a lot of time and hassle at the airport.
It is also advisable that you take a hard copy with you as proof of visa payment as failing to show this can sometimes result in you missing your flight connection. Check the stamp in your passport as this indicates how long you can stay in the country.
You can take a taxi, use public transport or arrange a pickup for the city center. There are ATMs located inside the airport so make sure to have Turkish Liras before leaving the airport.
Overstaying in Turkey is not recommended. You can get into a lot of trouble, paying fines, and unnecessary stress. Make sure you have the right documents and everything is in order before your trip! That's what iVisa is here to help you with.
IMPORTANT: The yellow fever vaccination, hepatitis, and rabies vaccines are not required for visiting Turkey but it's suggested that you consult your medical doctor in time to get the correct vaccination and take your vaccination card with you as proof.
Frequently asked questions about the Turkey eVisa
DO I NEED A VISA TO VISIT TURKEY?
Some nationalities do need a visa. You can check your eligibility for the eVisa here.
WHAT'S A TOURIST EVISA?
It is an authorization document that allows visitors to enter Turkey and it is electronically linked to your passport.
WHAT ARE THE DOCUMENTS REQUIRED TO APPLY?
Before application, we recommend that you put together all the documents you are required to provide. This is a short list, and it is likely that you already have everything you need:
Valid passport – Your passport or travel document with an expiration date at least 60 days beyond the "duration of stay" of your eVisa.

A passport scan – We only need the information page of your passport. Here you will find instructions on how to make the best passport scan for your application.

E-mail address – When applying with iVisa, your visa will be sent to you via email, so make sure that you include a valid e-mail address you have access to.

Supporting documents – Certain nationalities require a supporting document such as a visa or residence permit from the Schengen, US, UK, or Ireland. To view which nationalities, please visit our application page and enter your nationality.

Means of payment – iVisa accepts multiple methods of payment such as credit and debit cards. Do not forget to double-check the spelling before submitting your application.
HOW LONG IS THE TOURIST EVISA VALID FOR?
The Tourist eVisa is valid for 180 days after arrival from the date of application.
WHAT ARE THE PROCESSING TIMES AND PRICES?
One of the common concerns about electronic visas is the cost. With iVisa, applicants have three available options when it comes to processing time and this will determine the price. The three options are:
Standard processing – your visa application is processed within 24 hours, and the price is USD $104.49 (service fees included).

Rush processing – you will receive your visa within 4 hours, and the total price of it is USD $143.49 (service fees included).

Super rush processing – this is the fastest option. You will get your Tourist eVisa in only 30 minutes, and you will be charged USD $187.49 (service fees included).
HOW CAN I APPLY FOR A TURKEY TOURIST EVISA?
The application for Turkey Tourist eVisa is really easy. It has only two steps:
The first step will ask you to fill in your general information. You also need to choose the processing time from the options mentioned above.

The second step will ask you to revise step one and make the payment. It's advisable to purchase your Turkish eVisa in ample time before you visit, we recommend at least a week before.
Click here to start your application.
WHAT HAPPENS AFTER I HAVE APPLIED?
Once the application is done, you will receive the Tourist eVisa by email. No need to deal with the embassy. We do it for you so you don't lose valuable time. Next, present a printed version of your Tourist eVisa along with your passport once you enter Turkey.
I HAVE MORE UNRESOLVED QUESTIONS, WHERE CAN I FIND MORE INFO?
For a faster resolution click here and start chatting with one of our customer service representatives. Alternatively, you can find more info and FAQs here.