Turkey is an incredible country with a privileged location where Asia and Europe meet. The fabulous nature and past Empires have shaped the Turkish landscape that attracts tourists every year. Traveling to Turkey is the best decision you can make so have a look at the top 7 spots in Turkey and check out some cultural tips for true immersion.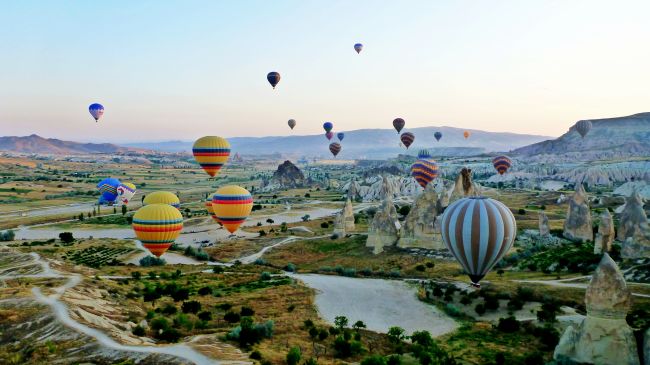 1.Pamukkale
This incredible natural wonder which means 'Cotton Castle' in English has crystalline white terraces that descend in the form of a cascade, made out of white travertine rock. An incredible spectacle brought to you by Turkish nature. Also, go to the top and get a glimpse of the Roman spa Hierapolis.
2.Ephesus
Have you ever imagined how the Romans used to live? Then don't keep thinking about it but visit it and see for yourself. Ephesus is a Roman metropolis, the most complete one in Europe, where you can actually experience the golden Roman era. Visit the Temple of Artemis or the Library of Celsus to have a deeper look into Roman life.
3.Capadoccia
This is the most famous place to take a hot air balloon tour and explore the unique natural landscape. Centuries of natural processes have shaped this incredible place with fantastic formations that resemble a moon-like environment. Odd hills that open paths to mushroom-shaped pinnacles are just a few of Capadoccia's characteristics. As well, previous civilizations carved entire cities in the soft rock, complementing the natural look.
4.Istanbul
Istanbul is the economic, social, historical, and cultural center of Turkey. The Byzantine and Ottoman Empires ruled Istanbul and left behind majestic historical buildings. Explore the Topkapi Palace, Hagia Sophia (which has recently been converted back into a mosque), and the Blue Mosque, among other impressive sites.
5.Antalya
Antalya gathers an excellent coast city vibe. This Mediterranean city has a great mixture of history, beaches, and city services for all tastes. The beaches are perfect summer destinations with restaurants, bars, and even water parks nearby. Visit the Old Town or the Antalya Museum for a cultural break and wander around this marvelous place.
6.Mersin
If you want to continue exploring Turkish history, then Mersin should be a stop on your journey. In this important Mediterranean port, you can find the Mamure Castle and Soli Pompeiopolis, which are the testimony of a fantastic medieval past.
7.Bodrum
Home to the Bodrum Cup where participating sailors around the world get together for an annual competition. Get a sailing trip and explore the nearby islands with peaceful spots to swim and snorkel. You can also walk around the small town admiring the blue-framed windows in every street.
After this list, you should be packing your bags and planning your itinerary. But don't rush your journey as we bring you some tips to navigate the local culture in Turkey:
Breakfast is the most important meal of the day. If a local invites breakfast, you should expect a feast. Sharing food is very important in Turkish culture, so be prepared to eat plenty of delicious food. A regular Turkish breakfast will have eggs, tomatoes, butter, jam, olives, cheese, soups, and more.
Traffic is a little chaotic so always check the cars before crossing the street. Even with traffic lights, it's wise to confirm cars are stopping before you intend to walk.
You will drink a lot of tea! Tea is a sign of hospitality and if Turkish people invite you a cup of tea you can't refuse. Enjoy this fabulous drink in Turkey, it's delightful.
Remove your shoes before entering a Turkish home. Don't worry, families will give you a pair of slippers to walk around the house.
Get a Nazar (the evil eye) as a souvenir. These small blue eyes made out of glass are said to protect you from the 'eye' of envious people. You will find it in newborn babies' clothes or the doors of local homes.
Politics is a sensitive topic, therefore, refrain from discussing current political events and don't express any criticism about Mustafa Kemal Atatürk, the founder of the Turkish Republic.
The Turkish culture is fascinating and we know you are ready to take a direct flight to Turkey. But, before traveling check if you have a valid document to travel to Turkey, this will usually depend on your nationality. Most cases only require a passport. On other occasions, a visa will be the answer, so research carefully your options to obtain a Turkish visa.
Don't miss the chance to travel to Turkey so you can enjoy exceptional sites combined with an amazing culture.