Turkish passport holders have not so many issues when planning a trip, as they have a long list of countries that don't require a visa to enter. Turkish passports are ranked in the 52nd position of the Henley Passport Index, which means Turkish have certain freedom when we talk about travel visits. The Turkish passport even has a better position than other countries like South Africa and India. Nevertheless, it's important to mention that for some countries, Turkish citizens could need to apply for an eVisa, a Visa on Arrival, or a Health Declaration.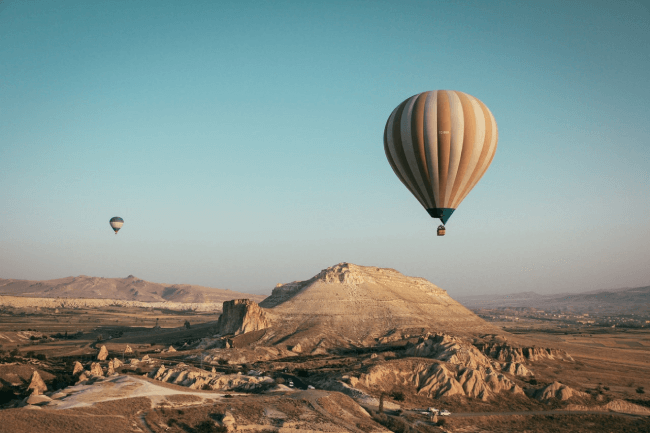 As for the number of Turkey Passport Visa Free Countries, there are at least 111. This means that, as a Turkish citizen, you don't have to get a paper visa to visit these places. However, for these countries, you can stay there only for 30, 60, 90, or 180 days. Since so many nations are accessible to Turkish citizens without a visa, it's a lot easier to understand the situation by seeing the countries for which Turkish need a visa to visit.
Moreover, many countries allow Turkish citizens to enter by having a visa on arrival. By using this program, the Turkish must have a visa to enter the destination, but they can get the visa on arrival. This means that they don't have to go through an application process before traveling there because they can obtain the visa on arrival at the airport. Taking advantage of this program is helpful as it requires less effort and paperwork for the traveler. The visa on arrival is nothing else than a stamp or sticker placed into the passport to work as official permission to enter certain countries. It's advised to always have this visa and the passport on hand in case it has to be verified by the officers in the country.
Another great alternative for Turkish is the electronic visa or eVisa. It works quite similar to the paper visa, but with an easier process. To obtain this document, all you have to do is to fill in an online form and then pay a small fee (depending on the service) to receive it via email inbox. This process doesn't demand much time, and the best part of it is that you can do it at home.
Some countries ask Turkish citizens to have an electronic visa before entering, so we strongly recommend you to check the list below or use our visa checker to confirm if you need that document or not.
What if my desired destination is not on the list?
There's nothing more disappointing than wanting to visit a country so much and see the big obstacle: you need a visa to get there.
Applying for a visa can be a nightmare most of the time, but with iVisa.com, the work can be a lot easier. We are experts at assisting you obtain the travel documentation you need simply. Our full service includes all of these benefits:
Application forms with simple language. The forms include an easy-to-understand language.
Team of experts to review your documents. We'll check the entire application to ensure it is error-free.
100% government compliant photos. You can always use our photo service to get exactly the right photo, all from the comfort of your home. All you have to do is to take a selfie and our experts will ensure it meets the correct requirements for your visa type.
Guidance every step of the way. Our 24/7 customer service center is ready to help you on your application journey.
Don't let a visa requirement stand in your way. Take advantage of our Visa Checker to see if you need a visa and let us assist you every step of the way.
List of Visa Free Countries for TURKISH Passport holders
111 countries are available for Turkish citizens as they're part of the Turkey Passport Visa Free Countries. However, some of them require you to have an eVisa or visa on arrival, so better check the list below carefully:
Andorra
Antigua and Barbuda
Argentina
Albania
Azerbaijan - Visa on arrival
Bahamas
Bahrain - Visa on arrival
Barbados
Belarus
Belize
Bolivia
Bosnia and Herzegovina
Botswana
Brasil
Brunei
East Timor - Visa on arrival
Dominica
The Dominican Republic - Visa on arrival
Ecuador
El Salvador
Indonesia - Visa on arrival
Turkmenistan - Visa on arrival
Morocco
Fiji
Ivory Coast - e-Visa
The Philippines
Guatemala
The Republic of South Africa - Visa on arrival
South Korea
Georgia
Haiti - Visa on arrival
Honduras
Hong Kong
Iraq - Visa on arrival
İran
Jamaica
Japan
North Cyprus
Cambodia - Visa on arrival
Montenegro
Qatar
Kazakhstan
Kenya - eVisa
Kyrgyzstan
Colombia
Comoros - Visa on arrival
Kosovo
Costa Rica
Lebanon
Madagascar - Visa on arrival
Macau
Macedonia
Maldives
Malaysia
Mauritius
Mexico - eVisa
Mongolia
Moldova
Nicaragua
Niue
Uzbekistan
Palau
Panama
Paraguay
Peru
Rwanda - eVisa
Samoa - Visa on arrival
Sao Tome and Principe
Saint Kitts (Saint Christoper) and Nevis
Saint Lucia
Saint Vincent and Grenadines
Senegal - eVisa
Seychelles
Serbia
Singapore
Sri Lanka - Visa on arrival or E-visa
Siria
Swaziland
Chile
Tajikistan - eVisa
Tanzania - Visa on arrival
Tayland
Taiwan - Visa on arrival
Togo - Visa on arrival
Tonga - Visa on arrival
Trinidad ve Tobago
Tunisia
Turks and Caicos
Tuvalu
Ukraine
Oman
Uruguay
Jordan
Vanuatu
Venezuela
The British Virgin Islands
Zambia - Visa on arrival
Zimbabwe - eVisa
Although you will not need a visa to enter any of these countries, a health declaration might be required due to the COVID-19 pandemic.
Now that you have a destination in mind, review our Universal Travel Checklist and get prepared for your next trip!