If Turkey is your next destination, then you must pass by Cappadocia. Indulge in this magical landscape with rocky valleys and fabulous wavy hills. Take the famous air balloon tours and explore this site. Turkey is a fantastic country with plenty to offer.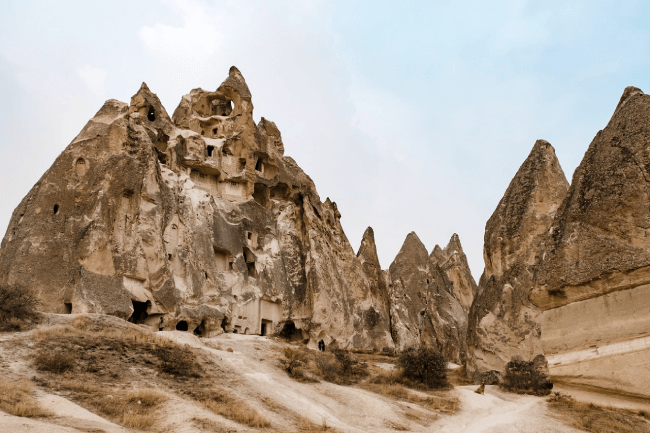 Algerian citizens can visit Turkey with an electronic visa. iVisa.com has the right expertise to help you with the Turkey visa process. iVisa.com offers a fast, simple, and reliable product.
We detail further information about the Turkey visa next.
Frequently Asked Questions
What is a Turkey visa?
Nowadays, it's much easier to travel to Turkey. The Turkish immigration has issued electronic visas since 2013, which means travelers can apply online for a Turkey visa. There is no longer a need for interviews at the embassy or long paper forms.
The whole process is digital! Explore more digital services here!
Do I need a Turkey visa as an Algerian citizen?
Yes! Algeria is among the 90 countries around the world eligible to apply for a Turkey visa. Algerian citizens only need to complete an online application, and they will be ready to enter Turkey.
Let iVisa.com help you with this travel requirement!
How long is the Turkey visa valid for?
The Turkey visa is valid for 180 days after arrival, but Algerian nationals can only stay a maximum of 30 days in Turkey. Also, the visa document is valid for a Single Entry.
iVisa.com has all the tools to help you!
What documents do I need to provide?
Algerian citizens must provide personal information and the following requirements:
Passport that must be valid for over 6 months from the date you intend to enter Turkey.
A valid email address.
Payment methods, you can pay the iVisa.com service with a credit/debit card or a Paypal account.
Supporting documents, a few nationalities will be required to provide a visa or residence permit from Schengen countries, USA, UK, or Ireland. If you want to know if your nationality needs these documents, then go to the Visa Checker.
What are the processing times and prices?
Standard service, the most affordable option.
Rush service, pay a higher fee and we will work faster on your travel requirement.
Super Rush service, the fastest alternative for our professional service.
Remember that the final price will be the government fee plus the price from iVisa.com.
What is the Turkey visa process?
Algerian citizens need to complete these three steps:
Fill out the electronic application with personal information and select a processing time (Standard, Rush, or Super Rush).
Review your details and pick a payment method between a Paypal account or a credit/debit card.
Upload any supporting documents required.
Are you not sure about something? Get in touch with our support agents.
How will iVisa.com send the Turkey visa?
As stated, the Turkey visa is an online process, so expect to receive the Turkey visa electronically. iVisa.com will use the email address in your application to send you the Turkey visa. Print the visa document, and show it upon arrival in Turkey.
Is the Turkey visa valid for transit purposes?
The Turkey visa is only valid for tourism or short business reasons. In case you are transiting, you don't need a Turkey visa.
If you arrive at an airport, stay within the international transit area. If you enter Turkey through a seaport, then you get up to 72 hours to visit the country without the need for a visa.
What happens if my Turkey visa expires while I'm still in Turkey?
You must leave Turkey to apply for a new electronic visa, in case it expires while you are in the country. You cannot apply for a new visa while you are still in the country.
Don't hesitate to contact us now! We will help you with the visa process.
Can I trust iVisa.com?
For sure! Travelers around the world keep trusting iVisa.com with electronic visas to Turkey and other countries. iVisa.com has top-notch systems and a highly trained team that will keep all your information safe.
Algerian nationals can explore our comments page and find out more information about iVisa.com services.
I have some doubts. Where can I acquire more information?
Contact us! We will help you with all your questions. Our customer support agents are available 24/7.
Don't miss the chance to visit Turkey! Start your Turkey visa with iVisa.com.