Do you want to travel to Turkey? Did you know that you need an eVisa to enter Turkey? Algeria is one of the countries that need a Turkey eVisa before planning your trip. At iVisa.com we offer the online service to apply for your Turkey visa for Algerian citizens, it is an extremely easy and friendly process.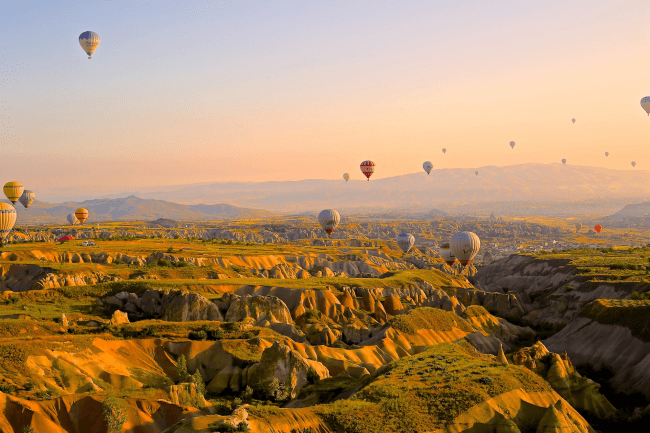 If you want to learn more about how to apply to a Turkey eVisa, take a look at our FAQs.
Frequently Asked Questions
What is the Turkey eVisa for Algerian citizens?
Since 2013 the Turkish government has issued an electronic visa for all travelers visiting among over 100 countries eligible for Turkey eVisa. This document is an authorization document that allows you to enter the country. It is important to know that this document is an individual authorization, each party of the group must apply separately and wait for their Turkey eVisa.
This eVisa is only valid for tourism or short business reasons. If you are only transiting, you don't need a Turkey visa for Algerian citizens.
How long is the Turkey eVisa valid for?
If you have a Turkey visa for Algerian citizens, this eVisa is valid for 180 days after arrival. However, you can only stay for 30 days total within 90 days, depending on your nationality.
What do I need to apply for a Turkey eVisa?
For applying for a Turkey visa for Algerian citizens you will need to present the following documents:
Valid passport with at least 6 months of validation.
An e-mail address
Payment method you can choose between your credit/debit card.
Some nationalities will be required to provide a visa or a residence permit from Schengen countries, the USA, UK, or Ireland.
How long would it take for iVisa.com?
At iVisa.com We work with 3 alternatives for you to choose from for acquiring your Turkey visa for Algerian citizens.
Standard Processing Alternative: Being this is a cheaper alternative

USD $104.49

you will get your documents in

24 hours

.
Rush Processing Alternative: This will take around

4 hours

to deliver and you will pay

USD $143.49

.
Super Rush Processing Alternative: If you are traveling in the next hours, this is the best option for you, you will get your eVisa in

30 minutes

And for that you will pay

USD $187.49

.
What is the process for acquiring the Turkey eVisa?
You only have to follow these 3 user-friendly steps.
Step 1, fill out the electronic application form, and select the processing option.
Step 2, re-examine all your information so you can continue the process, and select the payment method.
Step 3, upload the required documents.
Can I trust iVisa.com?
Of course! Thousands of people have already trusted iVisa.com and have traveled with the security and calm they deserve. Our data analysis and application processing system ensures that you receive your documentation before your trip.
What happens if I have any more questions?
If you have any questions regarding our services or about the Turkey visa for Algerian citizens, you can contact our customer service team. They will be willing to answer any questions 24 hours a day, 7 days a week.
iVisa.com Recommends
If you are going to Turkey, you have to schedule a visit to Istanbul. This place is known for being for more than 1500 years, the capital of the Roman, Byzantine, and Ottoman Empires. With one part in Asia and the other in Europe, Istanbul is the only city in the world built on two continents. It is İstanbul's endless variety that fascinates its visitors. The museums, churches, palaces, grand mosques, bazaars, and sites of natural beauty are countless. As you relax on the western shores of the Bosphorus at sunset and watch the red evening light reflected on the other continent, you may suddenly and profoundly understand why so many centuries ago settlers chose to build a city on this remarkable site. Also, as an imperial capital of 1500 years, İstanbul is rich in architectural monuments reflecting its past splendor. At every turn in the city, one can happen upon Roman, Byzantine, and Ottoman palaces, mosques, churches, monasteries, monuments, walls, and ruins. The most impressive place to visit is the Hagia Sophia, which is referred to as the 8th Wonder of the World. Book your trip and you will not regret it!!