Turkey offers incredible cuisine for all tastes. The famous Kebabs come from Turkey. This mouth-watering dish contains marinated grilled meat with the right ingredients to make it unique. In Turkey, you can also enjoy delicious sweets, fantastic coffee, and plenty of other dishes that have no comparison. This country is great to start a food journey!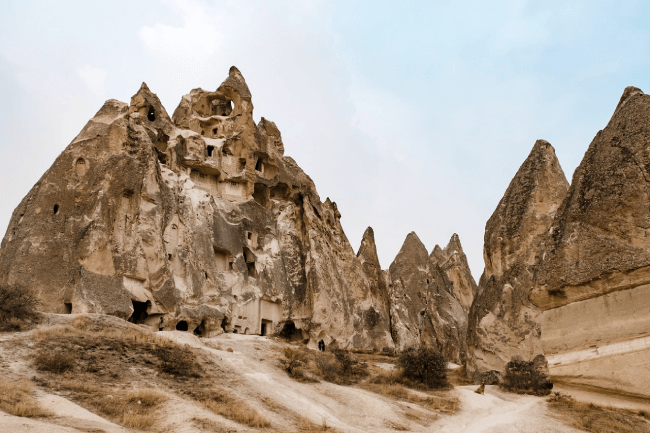 But, to begin your adventure, you cannot forget about your travel arrangements, especially when we talk about documentation. It's very likely that to enter Turkey you use a Turkey eVisa.
Bahamian citizens looking to travel to Turkey are eligible for the electronic visa. The easy process is fast, simple, and reliable when using iVisa.com.
Continue reading the questions below to learn other useful details about the Turkey visa for Bahamian.
Frequently Asked Questions
What is a Turkey eVisa and why is it important?
Turkey has implemented a digital system to obtain electronic visas for international travelers. Now, incoming visitors only need an Internet connection and a few minutes to complete an electronic questionnaire. It's as easy as it sounds!
Make your way to the application page and get ready to travel soon!
Is the Turkey visa for Bahamian mandatory?
Yes, it is, but the good news is that Bahamian citizens only need a Turkey eVisa. If you have a Bahamian passport, you must obtain an electronic visa to enter Turkey. With this option available, you don't have to worry about appointments at the embassy or extensive paper forms. You only need to complete an electronic application. This way, your visa will be ready in no time.
How long is the Turkey eVisa valid for?
Once you get this document, you can use it for up to 180 days after arrival. Plus, you can stay a maximum of 90 days in Total in Turkey and enjoy Multiple Entry to the country.
If you need help while applying, contact a support agent.
You can also find more information about the Turkey visa for Bahamian here.
What information is necessary to apply?
All the applicants should provide personal information and details about their Turkish trip, meaning that you should focus on this while completing the form. But, you also have to offer the following items:
A passport with at least a 6-month validity from the date you're planning to visit Turkey.
A valid email address where you'll be able to get your Turkey eVisa.
Payment methods, use a credit/debit card or a Paypal account. iVisa.com has a small price for processing the Turkey visa.
Some countries must give a visa or residence permit from Schengen countries, the UK, Ireland, or the US. Bahamian citizens don't need to present these documents, but if you want to check for other nationalities, go to the application page.
What is the price of the Turkey visa for Bahamian?
Something important to mention is that the Turkey eVisa is not free, it has a price. Even so, this price isn't expensive and varies depending on both your nationality and the speed you want in your document. If you want it as quickly as possible, you will have to pay more. iVisa.com offers three alternatives:
Standard option, in just

24 hours

you can get the Turkey eVisa for a

USD 45.55

fee.
Rush option, pay

USD 65.55

and only wait

4 hours

for your travel requirement.
Super Rush option, in the incredible time of

30 minutes

and price of

USD 85.55

, so you can travel to Turkey sooner.
Contact one of our customer service agents if you have any questions about this process or the Turkey visa for Bahamian.
What steps do I have to follow to complete the process?
You can get your eVisa quite fast if you go through the next three steps:
Answer the questions in the electronic form and don't forget to choose an option for the processing time.
Confirm your information is correct. After that, proceed to pay with a Paypal account or a credit/debit card.
Attach any supporting documents required to complete the process.
You don't have to make an appointment at the embassy after that, we take care of the rest of the process.
How will I get the Turkey eVisa?
As the Turkey eVisa is an electronic process, you will obtain your document electronically. Expect an email from iVisa.com with your Turkey visa. After receiving it, print the visa document and have it with you when entering Turkey as border control authorities will request it.
Do I need a Turkey visa for Bahamian if I stay in the transit lounge?
Travelers who are only in transit in Turkey don't have to apply for a Turkey visa. Take into consideration that if you enter through a seaport, the government allows Bahamian citizens to visit nearby cities for a maximum of 72 hours without needing a visa. If you decide to stay longer than that period, you need to apply for the Turkey eVisa.
Can I trust iVisa.com to get my eVisa?
Of course! You can trust iVisa.com with Turkey eVisa or any other travel requirement. iVisa.com has a trustable platform and a trained team that works 24/7 to bring you the best service for your electronic visas. It's your chance to try our services and travel to Turkey soon!
Check our customers' opinions, and confirm that iVisa.com has the best service at the moment.
I have some doubts about the Turkey visa for Bahamian, how can I get further details?
Get in touch with our customer support agents, who can solve any doubt you have in mind.
If you are not sure what travel document you need for your next trip, go to the iVisa.com Visa Checker, and we will help you with your procedure.
Also, navigate the application page, where you can find more details about the Turkey visa for Bahamian.