Turkey is a fantastical land and if you are a citizen of Bahrain hoping to take a trip there, there's news for you! Bahrain is among the 90 countries around the world eligible to apply for a Turkey visa for Bahraini (eVisa).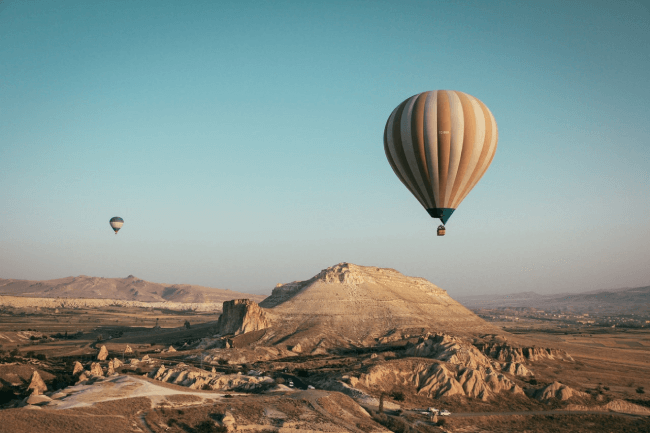 Bahrain citizens only need to complete an online application for a Turkey visa for Bahraini a few days before the date of departure. It is a mandatory document for all Bahrainis to have this document and iVisa.com recommends applying for it in advance to avoid any last-minute hiccups. Apply in Advance
Frequently Asked Questions
For how long is the Turkey visa for Bahraini valid?
The Turkey visa for Bahraini (eVisa) can be applied for way in advance of the trip but it is only allowed for tourism purposes. That is why it remains valid for no more than 180 days from the day of arrival.
How long can I stay in Turkey with my Turkey visa for Bahraini?
The Turkey visa for Bahraini strictly allows Bahrainis Multiple Entries and a stay of up to 30 days , per entry, in Turkey. In case you want a longer stay, apply for other types of visas.
What are the restrictions due to coronavirus?
For the safety of residents as well tourists, the Turkish Government has implemented certain restrictions on travel that can be seen below.
All passengers arriving must present a negative PCR test result taken in the last 72 hours prior to arrival in Turkey
All vaccinated passengers are allowed without quarantine.
All Flights from Bangladesh, Brazil, South Africa, India, Nepal or Sri Lanka are suspended until further notice.
Passengers who have been in Bangladesh, Brazil, South Africa, India, Nepal or Sri Lanka in the last 14 days in addition to the negative test.
Passengers arriving from Afghanistan and Pakistan and passengers who have been to these countries in the last 14 days are required to stay under quarantine for 10 days.
All passengers entering Turkey must have a Travel Entry Form.
Get prepared for your Turkey visa for Bahraini and Apply Now
What documents should I gather to apply for the Turkey visa for Bahraini?
To apply for a Turkey visa for Bahraini via **iVisa.com, you will need to enter your name, date of birth, nationality in addition to the following documents :
An original Bahraini passport valid for at least 1 month when entering Turkey with two blank pages available for stamping.
Two passport-style photos with white background. iVisa.com experts analyze your photos to make them government compliant and avoid delays in your application.
A fully paid return ticket to Algeria or to an onward destination for a date before the Thai eVOA expires.
A proof of address where the applicant will stay in Turkey.
A proof of sufficient funds to last the duration of the trip.
A valid e-mail id where you can reserve updates on your application.
A payment method i.e., a debit/credit card or PayPal.
What are the fees to apply for the Turkey visa for Bahraini?
iVisa.com likes to give its customers enough options. To obtain your Turkey visa for Bahraini you have three effective options to choose from :
Standard Processing that gets you your visa at a very low cost and at an ideal time.

USD 103.00

-

24 hours

Rush Processing Option that gets you your visa faster but requires you to pay a higher price.

USD 123.00

-

4 hours

Super Rush Processing Option that gets you your visa immediately at added costs.

USD 143.00

-

30 minutes
Is it safe to apply for an E-visa for Turkey via iVisa.com?
It is natural for people to hesitate while sharing their personal details. But iVisa.com offers high-end security that disables all third-party interferences. At iVisa.com your personal details are safe with us.
Where could I find more information?
We take pride in our productive customer care service which will always be ready to help you. Ask questions anytime, from anywhere and they will help you with all your queries about Turkey visa for Bahraini.
iVisa.com Recommends
The greatest attractions in Turkey are the monuments that tell the story of a time incomparable. Sumela Monastery (Monastery of the Virgin Mary) is the major tourist attraction along the Black Sea Coast. It was used to house monks in the Byzantine era but closed down in 1923. Ever since then tourists have wandered around this monastery, trying to soak in the beauty of dazzling and vibrant frescoes in its interior and connecting with the isolated lives of the monks that used to live there. Visiting this monastery will give you peace of mind. Another Great monument in Eastern Turkey, is the summit of Mount Nemrut. It almost looks like a funeral ground for the ruins of the huge statues, which surrounded it. The partially intact giant stone heads of long-forgotten gods, lying unattended on the barren land, make this a strange archaeological site. However, it is appealing to a lot of people.
The ruins of the Roman Theater of Aspendos are yet another great sightseeing location. It paints a very realistic picture of the ceremony of Marcus Aurelius' rule, and the theatre culture of the classical age. Apart from this, the valley of Antalya has a number of ruins that visitors like to see.