Travelers worldwide are choosing Turkey as their destination because of its beautiful landscapes and incomparable historical buildings. But, if you wonder, "is there any Turkey Visa for British"? Unfortunately, the answer is no; there is no Turkey Visa for British. Instead, you will need to get the Turkey Passenger Locator Form. You can apply for it online with iVisa.com. It won't take more than 10 minutes to complete.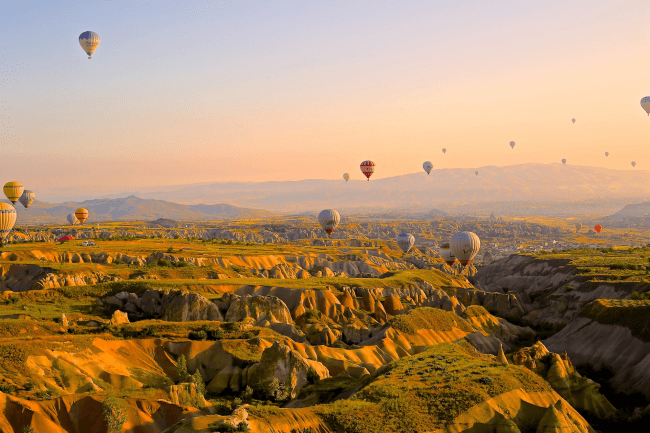 Please find out more details about why you don't need a Turkey Visa for British and learn how to get your Turkey Passenger Locator Form in our FAQS below.
Frequently Asked Questions
Do British citizens need to be fully vaccinated to enter Turkey?
Currently, the Turkish government does not require any traveler to be immunized against the Coronavirus. However, it is highly encouraged, and the government exempts vaccinated people from taking the COVID-19 PCR test.
Is it mandatory to stay in quarantine if I'm traveling to Turkey?
Quarantine requirements: There are no quarantine requirements upon arrival unless the passenger displays COVID-19 symptoms.
Do I need to take a PCR COVID-19 test to visit Turkey?
Only travelers that haven't been vaccinated yet are required to present a negative COVID-19 test which can either be a PCR test taken 3 days before their trip OR, an antigen test taken within 48 hours before their trip.
What was the Turkey Visa for British?
The Turkey Visa for British used to be an electronic travel document that is no longer a requirement since 2020. So you don't need to get it anymore.
Why do I need to obtain the Turkey Passenger Locator Form?
The Turkey Passenger Locator Form is a required travel document designed by immigration authorities in Turkey to stop the COVID-19 outbreak in the country. It collects people's health information, and they may contact them if needed.
What requirements do I need to provide for the Turkey Passenger Locator Form?
The current email address so we can send your Turkey Passenger Locator Form.
A valid debit or credit card.
Your passport.
What are the processing costs to get the Turkey Passenger Locator Form?
Standard Processing Time:

24 hours

-

USD 24.00

.
Rush Processing Time:

4 hours

-

USD 42.00

.
Super Rush Processing Time:

30 minutes

-

USD 72.00

.
What are the steps to follow to get the Turkey Passenger Locator Form?
First, you will need to complete the questionnaire with your information. Once you do so, choose the processing time service that you prefer.
Second, double-check your information and continue with the payment method.
Third, attach the required documents and submit your form.
Is iVisa.com trustworthy?
Without a doubt! iVisa.com is one of the safest alternatives for those interested in effortlessly getting the Turkey Passenger Locator Form. You will receive the service from our qualified team. As you can see, our customers are delighted with us as you can read in our reviews section.
How can I find out more information about the Turkey Visa for British?
Feel free to chat with our customer service agents to clarify all your questions about why the Turkey Visa for British is not mandatory anymore. You can also solve your inquiries about the Turkey Passenger Locator Form.
iVisa.com recommends
Turkey is not what most people would think about a country. Instead, it exceeds all expectations tourists usually have. There are plenty of places to visit and have magnificent scenarios that you must visit at least once in your lifetime. From the astounding landscapes in Antalya to the turquoise ish waters in Ölüdeniz, Turkey has everything that one adventurous traveler is looking for. If you're interested in having an unforgettable travel experience, Turkey is waiting for you! For that reason, iVisa.com will recommend some places that should be on your must-see list.
Have you ever heard of the Blue Mosque? Sultan Ahmed built it in the XVII century. It follows the same Byzantine architecture from the Hagia Sophia, an old Orthodox Christian cathedral turned into a mosque by Mehmed the Conqueror.
Another historical place with astounding iconography is the Sumela Monastery. It is an abandoned religious building left in 1923 when monks were forced to go after the Greek-Turkish war. However, most of their icons are still vibrant and colorful despite the years.
Finally, you should go to Aspendos. It was an old Roman theater that is well-preserved nowadays.