There are 40 countries right now that are authorized to have a Turkish electronic visa. Luckily citizens from these countries no longer need to go to the Turkish embassy to apply for a visa. If you are a citizen of one of these countries, you can submit an online application from the comfort of your home. Just use your PC or smartphone with an internet connection, you can get your Turkey eVisa as quickly as 30 minutes. What is more convenient than that?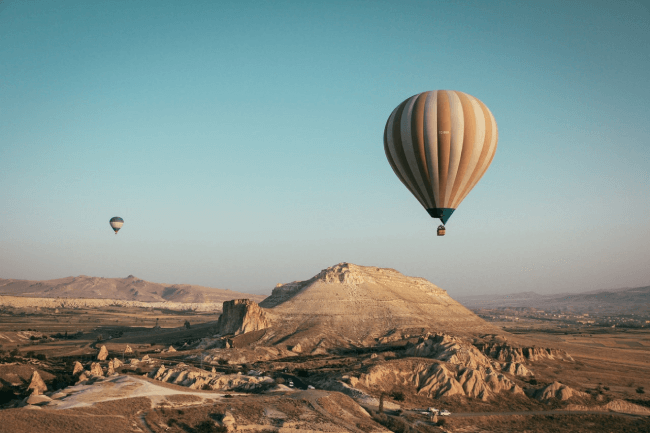 Frequently Asked Questions
I have a Filipino passport, do I need a visa to visit Turkey?
Yes, visitors with a Filipino passport are required to apply for a Tourist eVisa if they want to visit Turkey. You can check the requirements here.
What is a Turkey Tourist eVisa?
This eVisa is an authorization document that allows visitors to enter Turkey.
How long can visitors with a Filipino passport stay in Turkey with a Tourist eVisa?
For Filipino visitors with a Turkey Tourist eVisa, the maximum stay is 30 days in Total.
IMPORTANT: All visits are strictly limited to business or tourism, so you can NOT seek paid work or employment.
What are the documents required to apply?
To apply online for the Turkey eVisa with iVisa, you only need to have:
Your passport or travel document with an expiration date at least 60 days beyond the "duration of stay" of your eVisa.
Certain nationalities require a supporting documents such as a visa or residence permit from the Schengen, US, UK or Ireland. To view which nationalities, please visit our application page and enter your nationality.
How long is the Turkey Tourist eVisa valid?
The Turkey eVisa is valid for 180 days after arrival.
What are the processing times and prices?
iVisa.com offers three options for both:
Standard processing – your visa application is processed within

24 hours

, and the price is

USD $80.49

(service fees included).
Rush processing – you will receive your visa within

4 hours

, and the total price of it is

USD $122.49

(service fees included).
Super rush processing – this is the fastest option. You will [get your eVisa]() in only

30 minutes

, and you will be charged

USD $169.49

(service fees included).
Click here to start your application.
How does the Turkey Tourist eVisa work?
What iVisa.com does is to use the Turkey eVisa system to process your eVisa, like all travelers, travel agents, airlines and specialist service providers like us do. The point of our services is to make you earn time for your trip, we enter the information provided by you into the Turkey eVisa system and after they review it, we are notified of the outcome of the eVisa application.
How long does it take to apply for a Turkey Tourist eVisa?
Less than 10 minutes. We do the rest of the job and send you the eVisa by email in the timeframe you chose.
How can I apply for a Turkey Tourist eVisa?
Fill in the application form consists of three simple steps:
The first step will ask you to fill in your general information. You also need to choose the processing time from the options mentioned above.
The second step will ask you to revise step one and make the payment.
The last step consists of a questionnaire and a photo upload. At this point when you need to upload your passport scan. Other documents may be required as well, but it depends on personal circumstances.
Click here to start. After you are done, submit your form and wait for your visa to arrive. In case you need assistance to fill your application, iVisa.com has a fantastic support service that you can call 24/7.
What happens after I have applied?
Once the application is done, you will receive the eVisa by email in PDF format. No need to deal with the embassy. Then, you just need to present a printed version of your eVisa when you enter Turkey.
How many times can I enter Turkey with a Tourist eVisa?
The Turkey Tourist eVisa allows a Single Entry.
How can I apply for my family or friends?
You only need to have all the required documents (you can see them above in this article) and introduce his or her data in the application form. In case you need to apply for more than one person, you can do so by clicking on 'Add new applicant' and completing the information required.
Do I need a Tourist eVisa if I am in transit through Turkey?
If you DO NOT plan to leave the airport while in Turkey, then you DO NOT need an eVisa.
How do I know if my visa is approved?
We will notify you by email as soon as the Turkey government approves your visa.
What can I do if I make a mistake in my application?
If you made a mistake when entering your data online then please contact our customer service representatives as soon as possible via online chat to assist you.
You can NOT make any changes if you already sent your application. So you will have to apply again but we will NOT charge you another service fee.
Is it safe to use iVisa to get my Turkey Tourist eVisa?
Many people think that online information leaks and that their personal info is at risk of getting into the wrong hands. However, that is not the case with our services. We provide maximum safety for your personal data, confidentiality, and we invest a lot in the security of our database. Your personal information could not be safer. You can check what hundreds of happy customers say about us here.
I have more unresolved questions, where can I find more info?
For a faster resolution click here and start chatting with one of our customer service representatives. Alternatively, you can find more info and FAQs here.
iVisa.com Recommends
Ephesus is a colossal city of monuments and marble-columned roads. It's one of the most complete, still-standing monuments from the Roman Empire in Turkey. If you want to imagine how Romans lived centuries ago, Ephesus is the place to go. The city was built back in the 10th century BCE, but most of the monuments you can see today are from the Roman era. Visit the Library of Celsys, the terraced houses with complex frescoes, and the Great Theater. The designs show the wealth and relevance of Ephesus.
Continue to the Topkapi Palace in Istanbul, a luxurious and opulent palace built during the 15th and 16th centuries. The palace is where the Ottoman sultans planned out their conquest of Europe, the Middle East, and even Africa. The interiors feature exuberant tiling and lavish jeweled decor. Make your way to the Imperial Council building, where the Grand Vizier conducted relevant meetings. Also, you can see the arms collections in the Imperial Treasury and a miniature paintings' collection. Don't miss the Harem rooms, designed by Sinan, a famed Ottoman architect. The surrounding gardens were also a domain of the Royal Court and are now open to the public. Travel to Turkey now!