There are more than 40 countries whose citizens have access to a Turkish eVisa, and Haiti is one of them. This means that you are saved from a trip to the Turkish embassy to get an authorization to enter this country.
You can now apply online, from the comfort of your home. The best thing of this process is that you can have your Turkish eVisa in as little as 30 minutes using a laptop or smartphone and an internet connection.
Learn more by reading the FAQs below.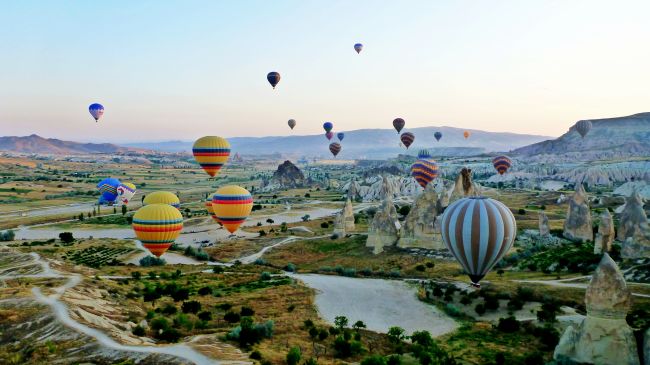 Frequently Asked Questions / FAQs
I'm from Haiti, do I need a visa to enter Turkey?
Yes, if you're from Haiti, you need a visa. However, you can apply online for an eVisa to simplify this process.
What is a Turkish e-Visa?
The Turkish e-Visa is a document that allows you to enter Turkey legally.
How long can visitors with Haitian passport stay in Turkey with an eVisa?
Once you visit Turkey, you can stay there 90 days in Total.
What documents do I need?
iVisa may handle most of the work, but you still need to provide some information to help them get started. However, there is nothing out of the ordinary, and it is most likely that you already have everything required. Here is the list:
Valid Passport – It must have at least 6 months of validity starting with the arrival date in Turkey.

Email address – your Turkish eVisa will be linked to your passport electronically, but you still need a copy to show at the immigration office in Turkey. That's why you require a valid e-mail address to receive this information properly.

Payment Options – iVisa allows you to use Paypal or credit/debit card for the online payment.
How long is the Turkish e-Visa valid?
This eVisa expires 180 days after arrival, so you must arrange your travel in any of these days. Don't forget that you can stay 90 days in Total in this country.
What are the processing times and fees?
Feel relaxed knowing that iVisa serves you as quickly as possible at competitive prices. The total price of your eVisa is determined by the processing time you select during the application process. iVisa offers three excellent choices, and they are as follows:
Standard processing – your eVisa will be ready in 24 hours and you'll have to pay USD 66.50.

Rush processing – if you need your application processed faster, you can select this option. Your eVisa will be ready in 4 hours, and you will pay USD 86.50.

Super Rush processing – this is the fastest alternative. Your document will be ready to use in just 30 minutes. However, it will cost you more. You will be charged USD 106.50.
How long does it take to apply for a Turkey eVisa?
The online form is easy to fill in, and it should take you no more than 20 minutes to complete. If you need help, you can call iVisa's support service. They are available 24/7.
How can I apply?
The application form for a Turkey eVisa has never been as simple as it is with iVisa. It should only take about 20 minutes to complete the two-step online form that you need to fill in. If you need any help, you can call iVisa's support service. They are always ready 24/7 to take your call and guide you through the process.
The first step is quite simple. You need to provide personal information like name, address, e-mail, date of arrival, passport info, and many more. Also, you must choose a processing time that best suits your needs.

The second step of the application form will require you to make a quick revision and payment. Reviewing and revision are more important than you may think. Keep in mind that corrections are no longer possible once it had started. Just double-check the spelling of every piece of information you provide.
Once you complete the last step, you can submit your application and wait for it to arrive in your selected timeframe.
How many times can I enter Turkey with an e-Visa?
Your eVisa allows you to have Multiple Entry.
Do I need to get a separate e-Visas for the people traveling with me?
Yes, they need separates eVisas too, even if they're kids.
If I am transiting through Turkey, do I need to get this e-Visa too?
No, you don't have to apply for a Turkish e-Visa as long as you don't leave the transit lounge.
How do I know if my Turkish e-Visa is ready?
Once you complete the entire application process, we'll inform you about the approval through an e-mail as fast as possible. Note that it also depends on the approval of the Turkish Government.
How does the Turkish eVisa look like?
What can I do if I made a mistake in my application?
If you made a mistake while entering your data online, then please contact our customer service agents as soon as possible online to receive proper assistance. Keep in mind that after your application form is issued, we can't change any data, and you'd have to apply for another form.
Is it safe to use iVisa to get my Turkish e-Visa?
Yes, it is. Many people often believe that online information can leak easily, but we can guarantee that this won't happen with our services thanks to our updated system and our skillful team. Your data is completely safe. You can check what thousands of happy customers say about us on this page.
Where can I find more information?
If you still have questions that need to be solved, then we suggest contacting one of our customer service representatives here. You can also check more information about this visa and Turkey on this link.
With iVisa you're closer to know the beauties hidden in Turkey. With just a single form and less than 15 minutes, you can have your Turkey eVisa faster than ever.