If you are planning a trip to Turkey, you need to know that in 2013, the Turkish government launched their online visa system that issues a paperless eVisa for citizens from over 40 nationalities. For Indian passport holders, this type of visa is also available presenting certain requirements such as having a valid visa or resident permit issued by the US/UK/Ireland/Schengen governments.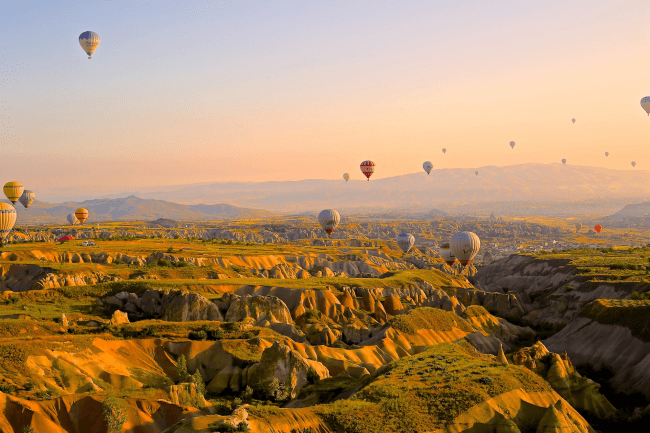 If you have a valid tourist visa, residence permit, work permit, or permanent residence in any of these countries, we encourage you to apply for the Turkey eVisa with us. All you have to do is fill out this online form and you will be ready.
Below you'll find the answers to the most frequently asked questions about this process.
Frequently Asked Questions
What is iVisa?
iVisa is a multinational corporation that provides simple online solutions to process your travel visas. We enable travelers to process visas from a computer, smartphone, or tablet with speed and simplicity, security, the minimum chance of rejection, and an awesome customer support team you can reach 24x7.
Why chose us?
Sometimes we simply can't afford to waste time. By choosing iVisa, you are choosing to leave the frustrating visa process behind you and engaging in a new, commute-free, paperless, experience. No more frustrating Government forms, endless trips to the embassies, or ugly surprises. Let our visa specialists handle your visa so you can focus on planning your trip to Turkey.
Do Indian passport holders need a visa to go to Turkey?
YES, ever since 2013 all travelers entering Turkey are required to apply for an eVisa. The process is very simple, by filling out our online application form all you will have to worry about is planning your trip. To check the requirements, click here.
Note: Indian citizens who are passengers of a cruise ship docking at Turkish ports are not required to fill in an application; HOWEVER, all Indian passport holders embarking or disembarking from a cruise vessel in Turkey, should fill out an application.
What is the maximum stay allowed in Turkey for Indian citizens
The maximum stay allowed in Turkey for Indians is 30 days in Total. Keep in mind that travelers CAN NOT engage in paid or unpaid work. If you wish to stay longer, you must apply to your local Police Station for a residence permit.
How long is the Turkey eVisa valid?
This Turkey eVisa is valid for 180 days after arrival.
What are the processing times and prices?
One of the common concerns about electronic visas is the cost. With iVisa.com, applicants have three available options when it comes to processing time and this will determine the price. The three options are:
Standard processing – your visa application is processed within 24 hours, and the price is USD 73.00 (service fees included).

Rush processing – you will receive your visa within 4 hours, and the total price of it is USD 95.00 (service fees included).

Super rush processing – this is the fastest option. You will get your eVisa in only 30 minutes, and you will be charged USD 111.00 (service fees included).
Click here to start your application.
What are the requirements for Turkish eVisa for Indian passport holders?
We require the following documents to submit your application:
Your passport or travel document with an expiration date at least 60 days beyond the "duration of stay" of your eVisa.

Certain nationalities require supporting documents such as a visa or residence permit from the Schengen, US, UK, or Ireland. To view which nationalities, please visit our application page and enter your nationality.
How difficult is the Turkish eVisa application for Indian citizens?
It is very easy. iVisa.com has developed a very simple online application you can access through our website. The eVisa document can be obtained online in 10 minutes. Once the information and payment are submitted, you will receive your visa by email and must download and print it.
How does the Turkish eVisa work?
1. Fill out the online application Complete the online application. Pay the service fee with a credit/debit card.
2. Receive your visa via email No need to deal with the embassy. We do it for you so you don't lose valuable time.
3. Entry Turkey You will be asked to present your passport and the document we provided upon arrival in Turkey. The Turkey eVisa is electronically linked to the passport and is accessible to the Department of Foreign Affairs.
TIP: Print a copy of your Turkish eVisa in case there is a problem with the computer terminals at the immigration office upon your arrival.
What can I do if I made a mistake entering my passport number on my Turkey visa application?
If you made a mistake when entering your data, please contact our customer service representatives as soon as possible via online chat so they can assist you.
IMPORTANT - Your eVisa is linked to your passport number. If we already submitted your application, then you CANNOT make any changes and you will have to apply again.
My passport expires in less than 6 months. Can I apply for a Turkish visa online?
NO. Your passport needs to have at least 6 (six) months of validity from the date of entry.
IF your passport expires within 6 months of the arrival date, then you need to renew your passport in order to get this visa.
I want to extend my stay in Turkey. What should I do?
If you are in Turkey and wish to extend your stay, you must apply at a local Police Station for a residence permit.
NOTE- If you overstay your visa, you may be fined, banned from future travel to Turkey, or deported.
What are the requirements for the validity of supporting documents?
Your documents should be still valid (check the date) at the time you enter Turkey. Previously used or unused single-entry visas are accepted as long as their validity date covers your entry date to Turkey.
Please note that eVisa from other countries are not accepted as a supporting document.
Do I need a visa if I am in transit through Turkey?
If you DON'T leave the transit lounge at the airport while in Turkey, then you are not required to have a transit visa.
If you wish to leave the airport, you HAVE TO APPLY for a Turkish visa.
View Turkish eVisa sample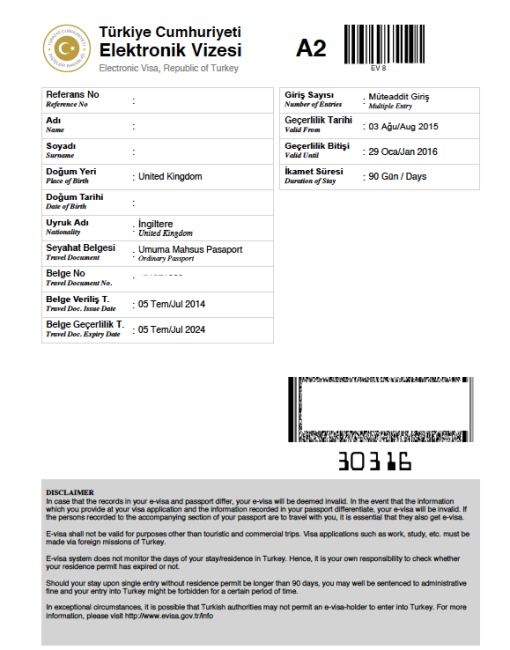 I have more unresolved questions, where can I find more info?
For a faster resolution click here and start chatting with one of our customer service representatives. Alternatively, you can find more info and FAQs here.