Turkish electronic visas are available to citizens of Mexico, replacing the traditional process of obtaining a visa via an embassy or consulate, and helping mexicans to prevent long lines at the border.
Since many countries have incorporated eVisas into their visa policies, the use of eVisas has become quite widespread. The Turkish government is currently offering eVisa to 40 countries, including the United States. If you are a Mexican citizen preparing to travel to Turkey iVisa can help you get your Turkey eVisa in no time and guide to get this required document successfully.
Mexican passport holders can apply online for a Turkey eVisa. The Turkish government recently introduced this electronic system in order to facilitate immigration to the country and enhance border security. Use iVisa to get an eVisa in a quick and easy manner. We provide you with a fast, secure, and convenient service. If you want to know how to get your visa for Turkey in a few steps and to learn about the process details, continue reading.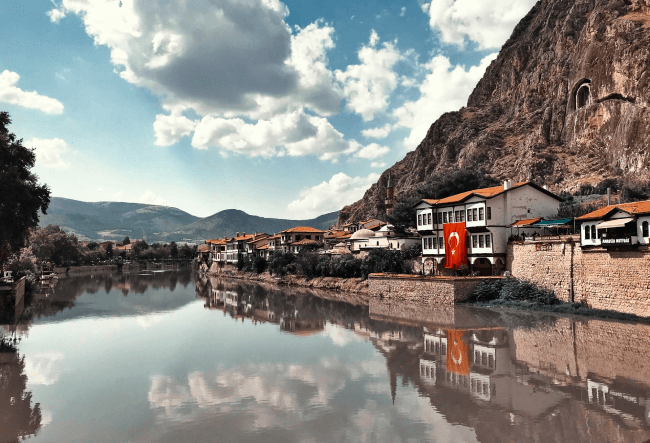 Frequently Asked Questions
IS A VISA REQUIRED FOR EVERY MEXICAN TO ENTER TURKEY?
Yes, a Turkish e-Visa is an entry permit so every Mexicans need a visa to enter Turkey. It is part of the Turkey visa policy. In addition, the Turkey Government offers the option of getting a Turkey electronic visa if you are traveling for business or tourism.
Other types of trips, such as studying or working in Turkey and staying for more than 3 months require Mexican citizens to get a specific visa for those purposes via an embassy or consulate.
Visit iVisa web page if you want to apply for an evisa. It is simple and fast!
WHAT IS THE VALIDITY OF THE TURKISH E-VISA?
Mexican citizens are allowed a Single Entry for a maximum of 30 days in Total in Turkey with the Turkey eVisa. The eVisa is valid for 180 days after arrival. Mexican passport holders can use electronic visas only for tourism and business.
If you want to go to Turkey to study or to work you'll need to go to a Turkish embassy or consulate in your country. You can apply for your single entry evisa here.
HOW LONG DOES IT TAKE TO PROCESS THE APPLICATION AND HOW MUCH DOES IT COST?
The following three options are offered by iVisa:
Standard Processing Option: A basic application fee will be charged to process your application. While the processing time is long, this is a great option for people who have enough time to prepare for their trip. USD $29.49 - 24 hours.

Rush Processing Option: faster processing, but also more expensive. USD $51.99 - 4 hours

Super Rush Processing Option: As of now, this is the fastest option. In addition, it is the most expensive option. USD $83.99 - 30 minutes
HOW CAN I GET A TURKEY VISA AS A MEXICAN?
If you are mexican, just submit these details to get a Turkey Visa when doing the application with us:
Your passport: include a copy of your valid passport to get the required details.

Email Address: you will get the travel document via email.

Payment method: Pay the application fee using one of the available payment methods. You can use a debit/credit card.
TURKEY EVISA: HOW DOES IT WORK?
As of April 2013, Turkey introduced an online visa system that issues an eVisa rather than the older "sticker visa". Travelers must download and print out the visa after submitting the information and payment online. Mexican citizens traveling by land through
Turkey's borders, need the same visa-required documents to apply as for those entering via other entry points. Turkey eVisa is implemented to control immigration and enhance border security. Choose iVisa for a quick and safe way to apply and to get your Turkey eVisa.
HOW LONG DOES IT TAKE TO GET A TURKISH EVISA?
Travelers from Mexico can expect their application to be processed within 24 hours of submitting it. To avoid last-minute delays, it is better to submit the Turkey eVisa request 48-72 hours in advance. In some cases, errors in the eVisa application can result in denial of the application and delay the application process. Get the help of iVisa to process your travel documents quickly and easily.
WHAT IS THE PROCESS FOR APPLYING FOR A TURKISH EVISA?
With iVisa you can get the Turkey visa for Mexicans without much effort. Just follow these steps.
First: Fill in your basic information. At this point, you must also choose from one of the processing times mentioned above.

Second: Check whether the information is valid and pay the application fee.

Third: Attach the required documents.
After that, all you need to do is submit the application and wait for your visa to arrive in your email inbox.
HOW SECURE IS IT TO APPLY FOR MY TURKISH E-VISA VIA IVISA?
iVisa team of experts understands the importance of privacy. Your details will be well taken care of by their well-trained staff. Your privacy is valued. The information you provide is encrypted and managed by experts using advanced software. For more clarity, check out the customer reviews.
HOW TO GET MORE DETAILS ABOUT TURKEY VISA FOR MEXICANS?
If you have specific questions about the Turkey visa for Mexicans, then contact our incredible support agents. They are available 24/7 and ready to help you with anything you need. As well, write to [email protected] for a prompt response.
iVisa Recommends
Here are some tips before visiting the beautiful country of Turkey; an vast country with a diverse topography that spans between Europe and Asia.
A Turkish summer can be scorching and dry, followed by cold and snowy winters. It is generally cooler in the north, hotter in the center, and milder in the Mediterranean region, including Istanbul. The northeast and the center (near or west of Cappadocia) have desert climates.
If you prepare adequately for the heat during the summer, summer can be very hot, reaching 100 F (38F). Don't forget to bring sunscreen and UV umbrellas. As the buds are in full bloom, the weather is cool and springtime is gorgeous. During this period (April and May) it is considered their busy season.
You can also go on vacation in the fall, but it's a high peak season (September and October). Nearly all of Turkey is experiencing a temperate climate around this time. Turkey does not have a large English-speaking population, l so if you memorize some basic Turkish words you'll have more fun and locals will really appreciate it.