If you intend to visit Turkey for business or a vacation from Namibian, you will need to apply for an online visa before traveling. A Turkish eVisa will allow you to enter the country for a maximum stay of 30 days in Total, within a window of 180 days after arrival. Below, we find out about the requirements to enter Turkey for Namibian passport holders, starting with the answers to the most frequently asked questions.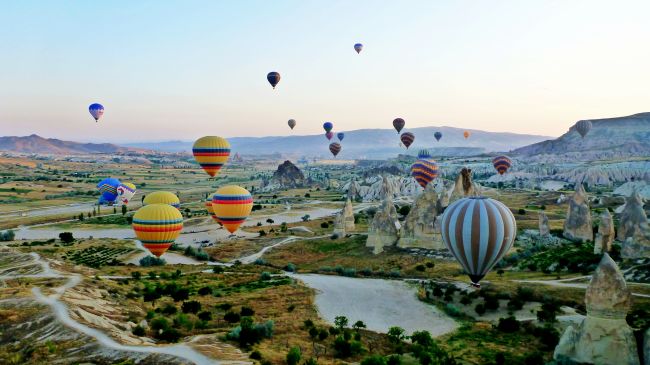 Frequently Asked Questions (FAQs)
I have Namibian passport, do I need a visa to visit Turkey?
Yes, visitors with a Namibian passport are required to apply for a Tourist eVisa.
Which Turkey visa types are there for Namibian passport holders?
There's just one, the Tourist eVisa. You can check requirements here.
What's a Tourist eVisa?
It is an authorization document that allows visitors to enter Turkey and it is electronically linked to your passport.
How long can visitors with Namibian passport stay in Turkey with a Tourist eVisa?
Visitors carrying a Tourist eVisa can enter Turkey for a maximum of 30 days in Total. All visits are strictly limited to business or tourism, so you can NOT seek paid work or employment.
What are the documents required to apply?
Prior to application, we recommend that you put together all the documents you are required to provide. This is a short list, and it is probable that you already have everything you need:
Valid passport – It's not possible for Namibian citizens to buy a port-of-entry visa upon arrival in Turkey. Therefore, we recommend in all cases for Namibian travelers to secure their eVisa before departure. Your passport or travel document with an expiration date at least 60 days beyond the "duration of stay" of your eVisa.

A passport scan – We only need the information page of your passport. Here you will find instructions on how to make the best passport scan for your application.

E-mail address – When applying with iVisa, your visa will be sent to you via e-mail, so make sure that you introduce a valid e-mail address you have access to.

Means of payment – iVisa accepts multiple methods of payment such as credit and debit cards or Paypal. Do not forget to double-check the spelling before submitting your application.
How long is the Tourist eVisa valid for?
The Tourist eVisa is valid for 180 days after arrival from the date of application.
What are the processing times and prices?
One of the common concerns about electronic visas is the cost. With iVisa, applicants have three available options when it comes to processing time and this will determine the price. The three options are:
Standard processing – your visa application is processed within 24 hours, and the price is USD 86.50 (service fees included).

Rush processing – you will receive your visa within 4 hours, and the total price of it is USD 106.50 (service fees included).

Super rush processing – this is the fastest option. You will get your Tourist eVisa in only 30 minutes, and you will be charged USD 126.50 (service fees included).
Click here to start your application.
How does the Turkey Tourist eVisa work?
Turkish eVisas are issued electronically by the Ministry of Foreign Affairs of the Republic of Turkey.
Travelers, travel agents, airlines and specialist service providers like us around the world can use the Turkey eVisa system to process an eVisa. We enter the applicant's information into the Turkey eVisa system and after they check it out, we are advised of the outcome of the Turkey eVisa application.
How long does it take to apply for a Turkey Tourist eVisa?
Less than 10 minutes. That's all you will need to send your application with iVisa. We will take care of the rest and shortly we will let you know the status of the application by email.
How can I apply for a Turkey Tourist eVisa?
The application for Turkey Tourist eVisa is really easy. It has only two steps:
The first step will ask you to fill in your general information. You also need to choose the processing time from the options mentioned above.
The second step will ask you to revise step one and make the payment.
It's advisable to purchase your Turkish eVisa in ample time before you visit, we recommend at least a week before.
Click here to start. After you are done, you submit your form and wait for your visa to arrive. In case you need assistance to fill your application, iVisa has a fantastic support service that you can call 24/7.
What happens after I have applied?
Once the application is done, you will receive the Tourist eVisa by email. No need to deal with the embassy. We do it for you so you don't lose valuable time. Next, present a printed version of your Tourist eVisa along with your passport once you enter Turkey.
How many times can I enter Turkey with a Tourist eVisa?
The Tourist eVisa allows Single Entry.
Do I need to get a Tourist eVisa for my kids too?
Yes. All foreign citizens wishing to travel to Turkey require a visa, even kids.
Do I need a Turkey Tourist eVisa if I am in transit through Turkey?
If you will NOT leave the transit lounge at the airport while in Turkey, then you are not required to have an eVisa. Otherwise, if you wish to leave the airport, then you HAVE TO apply for a Turkey Tourist eVisa.
How do I know if my Tourist eVisa is approved?
We will notify you by email as soon as the Turkish Government approves your visa.
How does the Turkey Tourist eVisa look like?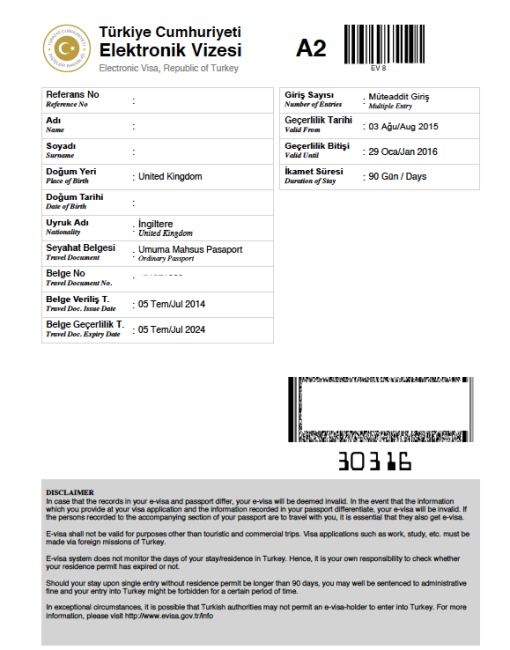 What can I do if I make a mistake in my application?
If you made a mistake when entering your data online then please contact our customer service representatives as soon as possible via online chat to assist you.
Your Tourist eVisa is linked to your passport number, if we already submitted your application, then you can NOT make any changes and you will have to apply again but we will NOT charge you another service fee.
I have more unresolved questions, where can I find more info?
For a faster resolution click here and start chatting with one of our customer service representatives. Alternatively, you can find more info and FAQs here.
In Conclusion
Click here to order your Turkish eVisa quickly and easily. iVisa makes it easy to apply for and receive your Turkish visa and comes with a has a 9.5 'Excellent' rating from 1,835 reviewers on Trustpilot.
You can get your Visa by applying for your Turkish eVisa through iVisa, visit our website today to chat online with one of our friendly staff members for more information.
Safe travels!