There are 40 countries whose citizens are lucky enough to apply for Turkish e-Visa through an online application. With this option, going to the Turkish embassy is no longer necessary.
One of these countries is Poland, so if you're a polish citizen then you can easily apply online to enter this beautiful country. But for a better understanding, we will bring you important details to consider in this blog post.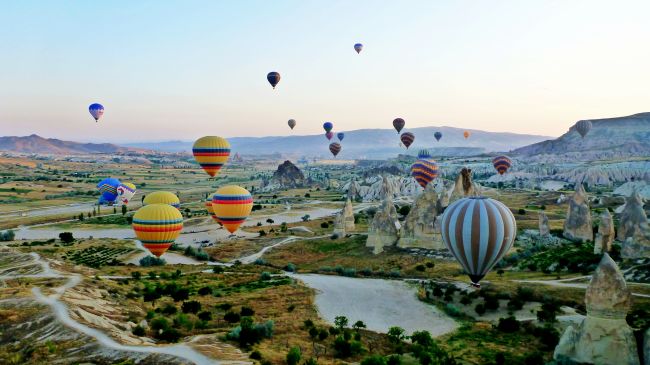 Frequently Asked Questions (FAQs)
I have a Polish passport, do I need a visa to visit Turkey?
Polish citizens just need to give some requirements and iVisa will do the heavy lifting. But in other words, yes, you need a visa to enter this country.
Which Turkey visa types are there for Polish citizens?
There's just one, the Tourist eVisa. You can check more details about it here.
What is a Turkish Tourist e-Visa?
This document is an authorization that allows certain visitors to enter Turkey. It has an electronic system that works with a link in your passport.
How long can Polish citizens stay in Turkey with a Tourist e-Visa?
Polish visitors with a Tourist e-Visa can enter Turkey for a maximum of 90 days in Total. Remember that all visits are limited to business or tourism, so you can't seek paid work or employment.
What documents do I need to apply?
Since these documents are nothing out of the ordinary, it is most likely that you already have everything at hand. Here is a list of what you need to apply online:
Passport – Getting a passport shouldn't be something hard, you should be able to acquire one fast. If you do have one, then make sure that it is valid and remains as such for the duration of your trip. Just take a quick peek at the expiration date.

E-mail address – Your Turkey e-Visa will be electronically linked to your passport, but you still need a physical copy to show at the immigration office in Turkey. iVisa will send you a copy, and it will be sent via e-mail. Make sure that you provide a valid address.

Means of payment – Before submitting the application, you need to pay for your visa and the service fee for iVisa. You can do that using a credit or a debit card. Moreover, if you have a PayPal account as many people do, you can use that as well.
Remember that some nationalities need a supporting document such as a visa or residence permit from the Schengen, US, UK or Ireland. To view which nationalities apply for this, please visit our application page and simply write down your nationality.
How long is the Turkish Tourist e-Visa for Polish valid for?
If you're from Poland, this e-Visa is valid for 180 days after arrival. However, you can stay in Turkey just 90 days in Total once you arrive.
What are the processing times and prices for the Turkish Visa?
One of the most common worries about electronic visas is the fee. With iVisa, you have three available options when it comes to processing time and this will also determine the price. The three options iVisa offers are:
Standard processing – your visa application will be proceed within 24 hours, and the price you'll have to pay is USD 25.00 (all the service fees are included).

Rush processing – It's a little bit more expensive than the first option, but that's because you'll have your visa in 4 hours. The total price you have to pay is USD 45.00 (service fees included).

Super rush processing – this is the fastest option for you to enter Turkey. You will get your e-Visa in only 30 minutes, and you will be charged USD 65.00 with all the fees included.
How long does it take to apply for this Tourist e-Visa?
You only need a few minutes to apply online. After that, you'll just have to wait for our response with the actual visa.
How do I apply for a Turkish Tourist e-Visa if I'm in Poland?
The application for this e-Visa is actually easy to finish. It has only two steps:
The first step will ask you to fill in your basic personal information. You also need to choose the processing time from the options we mentioned before.
The second step will ask you to take a look at step one and make the payment. Remember to review the spelling.
It's recommended to get your Turkish eVisa in a considerable time before you visit. However, in iVisa, we offer you 2 great options that we showed you before if you're in a rush.
Click here to start your application form now. After you finish with it, you click the submit button and wait for your visa to arrive. In case you need help to fill your application form, iVisa has a great support service that you can call anytime.
How many times can I enter Turkey if I'm from Poland?
If you're a Polish passport holder and apply for this e-Visa, you have Multiple Entry, so you can enter as many times you prefer to the country, but don't forget about the maximum stay allowed.
Do I have to get a Tourist e-Visa for my children too?
Yes, defiantly. Any nationality that requires this visa has to apply for it, regardless of the age of the applicant.
How can I apply for my family or friends if they're in Poland?
You can apply for any family member or friend as long as you have all their required documents on hand in order to properly fill in the form. If you are applying for only one friend or family member, just apply here introducing their data. In case you need to apply for more than one person, you can do so by clicking on 'Add new applicant' in the application form and completing the data required.
Do I have to apply for a Turkey Tourist e-Visa if I am just transiting?
You don't need to apply for this e-Visa if you're in the transit lounge, but remember to remain in this area. In other words, you cannot exit the airport and always keep your passport with you just in case.
How do I know if my Tourist e-Visa has been already proceeded?
We always notify you about this process via e-mail, including if your visa is already approved. Please, keep in mind that this is why is so important to have a valid e-mail.
How does the Turkey e-Visa look like?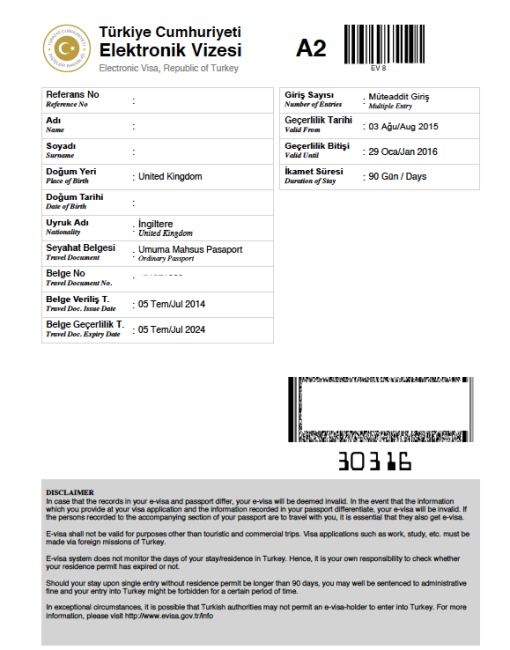 What if I commit a mistake in my application form?
If you realize you made a mistake when filling in your data online, then please contact our customer service representatives as soon as possible. Note that we cannot change any information if the form has been already proceeded.
Is it safe to use iVisa to get my Turkey Tourist e-Visa?
It is. We're a service provider that has been working with official Turkey eVisas since 2013. It's true that many people think that online information can easily get a risk, but that is not the case with our services. We offer you maximum safety for your data, and we also invest a lot in the security of our database. You can take a look at what hundreds of happy customers say about us.
I still have more questions, where can I read more info?
For a faster and also better resolution click here to talk to one of our customer service representatives quickly. But if you prefer to read more info and FAQs, you can enter here.
As you can see, getting a Turkish evisa is not tricky at all. You just need some minutes to apply online. Start your journey today with no stress leaving us this tedious work, we guarantee you just the best.