Currently, there are 40 countries whose citizens have access to a Turkish electronic visa. If you are lucky enough to belong to one of those countries, it means that you are saved from a trip to the Turkish embassy to apply for a visa. Instead, you get to apply online, from the comfort of your home. With a laptop or smartphone and an internet connection, you can have your Turkey e-Visa quite fast.
But to understand how to properly apply online for this e-Visa, we invite you to keep reading this article.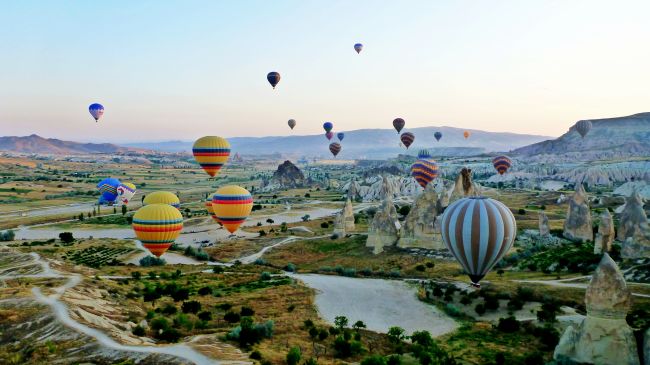 Frequently Asked Questions (FAQs)
I'm a Portuguese Citizen, do I need a visa to visit Turkey?
Yes, portuguese citizens are required to apply for a Tourist eVisa.
What's a Turkish Tourist e-Visa?
This is an special document that allows visitors to enter Turkey with an electronic system that's linked to the passport.
How long can visitors from Portugal stay in Turkey with a Tourist e-Visa?
Visitors with Portuguese passport can enter Turkey for a maximum of 90 days in Total. All visits are strictly limited to business or tourism.
What documents do Portuguese need?
iVisa may handle most of the work, but that doesn't mean Portuguese citizens won't offer anything. If you're from Portugal, you still need to provide some information to help them get started. However, there is nothing too extraordinary to find. Here is a list of what you need:
Passport – getting a passport does not present any difficulties, so you should be able to get one fast. If you do have one, however, make sure that it is valid and remains as such for the duration of your trip. Just take a quick peek at the expiry date.

E-mail address – your Turkey evisa will be liked to your passport electronically, but you still need a copy to show at the immigration office in Turkey. iVisa will send you a copy, and it will do so via e-mail. Make sure that you provide a valid address.

Means of payment – the payment for your visa and the service fee for iVisa is made before the submission of the application. You can do that using a credit or a debit card. Moreover, if you have a Paypal account like many people do, you can use that as well.

Some nationalities require another supporting document such as a visa or residence permit from the Schengen, US, UK or Ireland.
When does this e-Visa expire?
This visa is valid for 180 days after arrival from the date of application. Keep that in mind when arranging your trip.
What are the costs and processing times?
Some of the many concerns about electronic visas is the cost. With iVisa, you have three great options when it comes to processing time and this will determine the price. The three options are as shown below:
Standard processing – your visa application is processed within 24 hours, and the price is USD 61.05 (service fees included).

Rush processing – you will receive your visa sooner, within 4 hours, and the total price you have to pay is USD 81.05 (service fees included).

Super rush processing – this is the fastest option you have. You will be able to get your Tourist e-Visa in only 30 minutes, and you will be charged USD 101.05 (service fees included).
Click here if you already want to start your application.
How is the application process for Portuguese?
The application form for a Turkey e-Visa has never been as simple as it is with iVisa. Portuguese will be required to fill in a two-step online form, but it should take only about 5 minutes to complete. If you need any help, you can call iVisa's support service. Someone is ready 24/7 to take your call and guide you through the process.
The first step is pretty simple. Portuguese needs to provide personal information like name, address, e-mail, date of arrival, passport info, and many more. Also, you must choose a processing time that best suits your needs.

The second step of the application form will require you to make a quick revision and payment. The revision is more important than you may think. Since the process is so short, you will not have enough time to make corrections, and after the application is processed, that is impossible. Just double-check the spelling and accuracy of every piece of information you provide, and you should be just fine.
After you are done with the two steps, you can submit your application and wait for it to arrive in the timeframe of your choosing.
What happens after I finish my application form?
Once the application is ready, you will get the Tourist e-Visa by email. You don't need to deal with the embassy. We do it for you so you don't lose valuable time. After that, just remember to present a printed version of your Tourist e-Visa along with your passport once you arrive in Turkey.
How many times can I enter Turkey?
This Turkish Tourist e-Visa allows Multiple Entry.
Do I have to get a Tourist e-Visa for my kids ?
Yes. All foreign citizens wishing to travel to Turkey require a visa, regardless their age.
How can I apply for my family or friends?
You can perfectly apply for friends or family. Just make sure to have all the required documents (you can see above in this article). If you are applying for only one friend or family member, just apply here introducing his or her data. In case you need to apply for more than one person, you can do so by clicking on 'Add new applicant' in the application form and completing the data required.
Do I need a Turkey Tourist e-Visa if I am in transit lounge?
As long as you don't leave the transit lounge at the airport, then you are not required to have a tourist eVisa. Otherwise, then you HAVE TO apply for a Turkey e-Visa.
How does the Turkey e-Visa look like?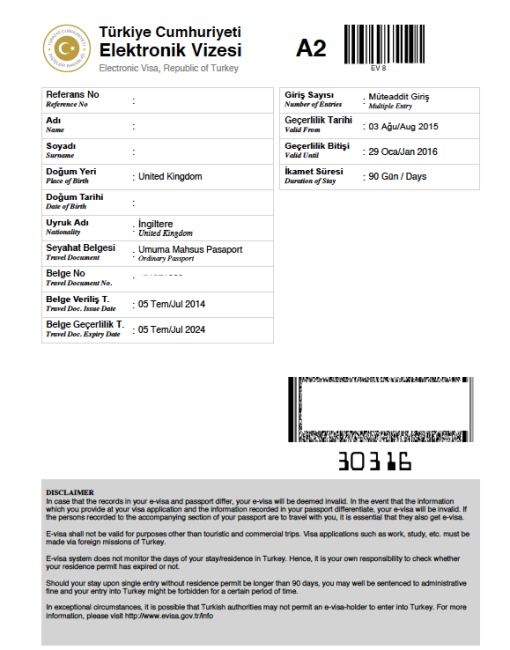 What if I make a mistake in my application?
In case you realize you made a mistake when entering your data online, then please contact our customer service representatives as soon as possible so they'll be able to help you.
Please note that if we already submitted your application, then you can NOT make any changes and you will have to apply again but we will NOT charge you another service fee.
Is it safe to use iVisa?
We've been issuing Turkey eVisas since 2013. It's true that many people think that online information leaks and that puts them in danger, but that doesn't happen with our services. We provide maximum safety for your personal data, and at the same time we invest a lot in the security of our database. You can check what our happy customers say about us.
I want to extend my stay in Turkey. What can I do?
In that case, you must apply at the closest local Police Station for a residence permit.
NOTE - If you overstay your Turkey visa, you may be fined, banned from future travel to Turkey or deported.
I have more unresolved questions, where can I find more info?
As you can see, getting a Turkish evisa is not tricky at all, but it's ok if you still have doubts. For a faster resolution click here so you'll be able to start chatting with one of our customer service representatives. On the other hand, you can find more info and FAQs here.
Click here if you feel ready to apply online. iVisa makes it easy to apply for and receive your Turkish visa and comes with a has a 9.5 'Excellent' rating from 18,000 reviewers on Trustpilot. Visit our website today to chat online with one of our friendly staff members for more information!