The use of eVisas has become popular over the years due to its practicality and speed. Among the countries that have taken advantage of this trend is Turkey, since it enabled Turkey eVisa a few years ago and it's available for many nationalities today.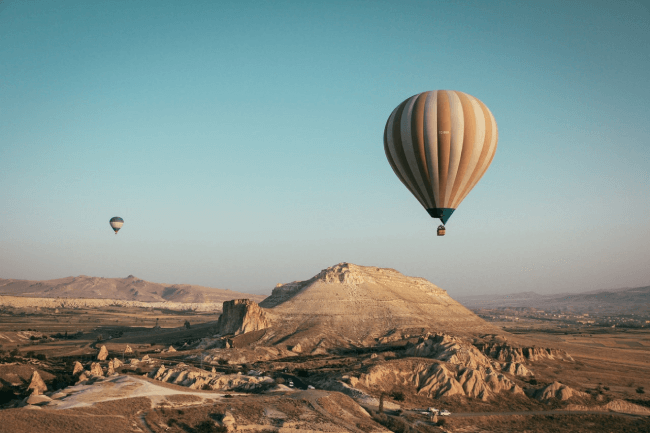 You can get the Turkey eVisa without much trouble, especially if your passport is from Rwanda. We say this because the only Turkey visa for Rwandan you need is the eVisa. You don't have to go to the consulate to obtain this document, you can obtain it by completing an online form at home.
Filling out this form is easy, especially if you have an internet connection and a mobile device or computer. You can find out other details about this document in the article below.
Remember that it's possible to apply for this document at iVisa.com, so you can read this guide and then go to our application page without any problem.
Frequently Asked Questions
What is a Turkey eVisa and why is it an important document?
The world has moved towards digital systems, and visas are no exception. The eVisas have been available since 2013, which is why it's possible to have electronic visas to visit Turkey. The Turkish government authorized an electronic system to simplify the visa process since that year, meaning that international travelers can visit Turkey with an effortless online application.
The application process is completely online, so you don't have to take a trip to the embassy to get it. This application form is available here.
I'm a Rwandan citizen, do I need a Turkey visa for Rwandan?
Yes, you do. Rwanda is one of the countries qualified to get the Turkey eVisa through an online form, which is actually great because you don't have to get a Paper Visa, only an electronic one.
You can use the Turkey eVisa for tourism and business purposes. However, you cannot use it for paid jobs in the country.
Do you want to start your online process now? Visit the application page here or read other details about the Turkey visa for Rwandan here.
What is the validity of the Turkey eVisa for Rwanda?
Before planning your trip to this exotic and beautiful country, keep in mind that the Turkey eVisa is valid for 180 days after arrival. However, once you enter Turkey, you can stay in the country for up to 30 days in Total, and you can only enter once because it has a Single Entry.
In case your eVisa expires while you stay there, you'll have to leave the country to apply for another one.
What documents or items are necessary to start the process?
The first thing you have to do is to complete an online application form, but before doing that step, we suggest you take note of the following items as you'll need it while applying:
Passport, with a validity of 6 months from the travel date (the day you arrive in Turkey).
An email address to get the [Turkey eVisa] as soon and as safely as you want.
Payment methods as this document has a price. In this part, acredit/debit card or a Paypal account is useful.
Supporting documents, as some citizens must have a residence permit or visa. These citizens must be from Schengen Countries, USA, UK, or Ireland. The e-Visas are not an option in this case because they are not valid supporting documents. Check the application page here if you want to check if other nationalities have to give these supporting documents.
As a Rwandan citizen, you must also have your return ticket, your hotel reservation, and USD 50 per day for trip charges in Turkey. As for the round-trip ticket, it can be from the following airlines: Turkish Airlines, Pegasus Airlines, Onur Air, or Atlasglobal Airlines.
What is the price of this document?
The Turkey eVisa might be an electronic document, but it still has a cost. This cost will vary depending on how fast you want your eVisa. You can check how fast you want it by reading the following processing options at iVisa.com:
Standard choice, that has a

24 hours

waiting for a

USD $100.49

fee.
Rush choice, if you want your eVisa faster. Pay

USD $142.49

to wait only

4 hours

.
Super Rush choice if you want the Turkey eVisa asap. Pay

USD $189.49

and get it in

30 minutes

.
Get more information about the Turkey visa for Rwandan here.
How is the application process?
To obtain your Turkey eVisa as soon as you want, you only have to follow these three steps:
Answer the questionnaire you see in the online application and pick a processing time according to your travel arrangements.
Review your persona details and choose a payment method, whether it is a Paypal or your valid credit/debit card.
Upload the approving documents to finish the process. Then, click the 'submit' button on the lower side of the application page and that's it!
Contact our incredible support team if you have any doubts and don't forget to check this page to see more information about the Turkey visa for Beninese.
How will I obtain the Turkey eVisa?
iVisa.com will send you the Turkey eVisa by email, which is why you have to give a valid email address while applying. Before finishing the questionnaire, review all your details carefully, including the spelling. We also recommend you print a copy of the document and carry it with you when visiting Turkey.
Do I need this eVisa if I'm just doing a connecting flight?
If you're just completing a connecting flight, you don't need a Turkey eVisa. Visitors from cruises who stopped by Turkey seaports can stay in the country for up 72 hours without needing a visa.
How safe is iVisa.com?
Amazingly secure! iVisa.com is a valued company with years of experience in travel documentation. We work with the greatest protection measures, and our teams always focus on excellence.
Our previous clients have left great reviews about iVisa.com on this link.
I have more questions, what can I do?
Check our application page for more details about the Turkey visa for Rwandan. Also, reach out to our support agents, who are available 24/7. We can answer all the questions you may have.
Get your Turkey eVisa today by using iVisa.com!