Nowadays, there are 40 countries whose lucky citizens can apply for the Turkish eVisa through the internet. Because of this, visiting the Turkish Embassy is no longer needed. As a citizen of Sierra Leone, you can enjoy this benefit. Your laptop or smartphone is the only thing you need to apply online. If that isn't convenient enough, your eVisa from Turkey will be sent to you within 30 minutes. Is there a better option than this?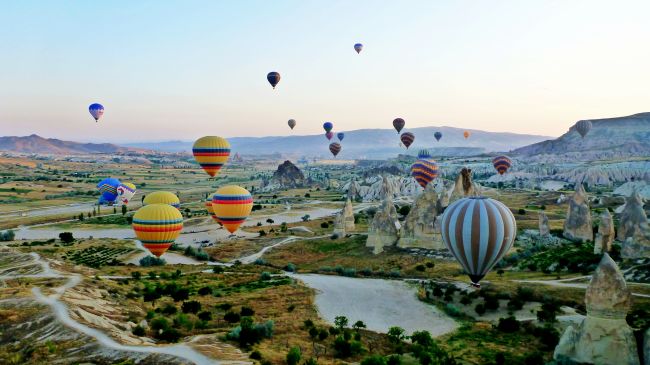 Frequently Asked Questions (FAQs)
I have a Sierra Leone passport, do I need a visa to visit Turkey?
Yes, all visitors from Sierra Leone are required to apply for a Turkish Tourist eVisa before entering Turkey. You can check the requirements here.
What is a Turkey Tourist eVisa?
This eVisa is an authorization document that allows visitors to enter Turkey. It is linked electronically to your passport.
How long can visitors stay in Turkey with a Tourist eVisa?
Visitors from Sierra Leone with a Tourist eVisa can stay in Turkey for a maximum of 30 days in Total.
IMPORTANT: With this type of visa, all your visits are strictly limited to business or tourism. This means you can NOT seek paid work or employment.
What are the documents required to apply?
iVisa will require just a few documents for you to submit your application:
Your passport or travel document with an expiration date at least 60 days beyond the "duration of stay" of your eVisa.

Certain nationalities require a supporting documentation such as a visa or residence permit from the Schengen, US, UK or Ireland. To view which nationalities, please visit our application page and enter your nationality.
How long is the Turkey Tourist eVisa valid?
Your Turkey Tourist eVisa will be valid for 180 days after arrival.
What are the processing times and prices?
With iVisa, our applicants will have three options for the processing time with different prices:
Standard processing – for travelers that plan ahead of time, this is a perfect option. For the total price of USD 66.50, your application will be processed within 24 hours.

Rush processing – if you want your application much quicker, you can select this option for USD 86.50 in total. Your visa will arrive in your e-mail inbox within 4 hours.

Super Rush processing – if you need to travel as soon as possible, this is the perfect option for USD 66.50 (total price). Your visa will be ready in just 30 minutes.
Click here to start your application.
How does the Turkey eVisa work?
Your Turkey eVisa is issued electronically by the Ministry of Foreign Affairs of the Turkish Government.
iVisa uses the Turkey eVisa system to process your eVisa entering the information provided into the system and after they review it, we are notified of the outcome of the eVisa application.
How long does it take to apply for a Turkey Tourist eVisa?
Applying online wit iVisa will take you less than 10 minutes. That's all you need to do, and we handle the rest!
How can I apply for a Turkey Tourist eVisa?
The application for the Tourist eVisa for Turkey is really simple and easy. It has only three steps:
In the first step, Sierra Leone citizens need to provide personal information like name, address, e-mail, date of arrival, passport info. Also, you must choose a processing time that caters to your needs.

A quick revision and payment in the application form's second step is required. Pay attention during this step as it is crucial. This is because corrections are no longer allowed once the application is processed. This will cause you to repeat the whole process, including payment.

The last step consists of a questionnaire. Other documents may be required as well, but it depends on individual circumstances.
Click here to start. After you are done, submit your form and wait for your visa to arrive. In case you need assistance filling out your application, iVisa has a fantastic support service that you can call 24/7.
What happens after I have applied?
Once the application is done, you will receive your Tourist eVisa for Turkey via email. No need to deal with the embassy. Next, present a printed version of your eVisa along with your passport once you enter Turkey.
How many times can I enter Turkey with a Tourist eVisa?
Your Turkey Tourist eVisa will allow you a Single Entry.
Do I need to get a Turkey eVisa for my kids too?
Yes. All foreign citizens, including minors, require a visa to travel to Turkey.
How can I apply for my family or friends?
It is possible to apply for friends or family by making sure you have all the required documents (you can see above in this article). If you are applying for only one friend or family member, just apply here introducing his or her data. In case you need to apply for more than one person, you can do so by clicking on 'Add new applicant' in the application form and completing the information required.
Do I need a Turkey eVisa if I am in transit through Turkey?
You do not have to obtain a visa as long as you do not leave the transit area.
How do I know if my visa is approved?
We will notify you by email as soon as the Turkish government approves your visa.
What can I do if I make a mistake in my application?
If this happens, please contact our customer service representatives as soon as possible via online chat to assist you.
Since your Turkey eVisa is linked to your passport number, if we already submitted your application, it will NOT be possible to make any changes and you will have to apply again but we will NOT charge you another service fee.
Is it safe to use iVisa to get my Turkey Tourist eVisa?
Many people think that online information leaks and that their personal info is at risk of getting into the wrong hands. However, that is not the case with our services. We provide maximum safety for your personal data, confidentiality, and we invest a lot in the security of our database. Your personal information could not be safer. You can check what hundreds of happy customers say about us here.
I have more unresolved questions, where can I find more info?
For a faster resolution click here and start chatting with one of our customer service representatives. Alternatively, you can find more info and FAQs here.