By having a Sudanese passport, you're lucky enough to be eligible for the Turkey eVisa, which is a mandatory document to enter Turkey if you want to explore this country for tourism. This is great news for you because you won't have to visit the embassy to get the Turkey visa for Sudanese! That makes you save much time for your trip.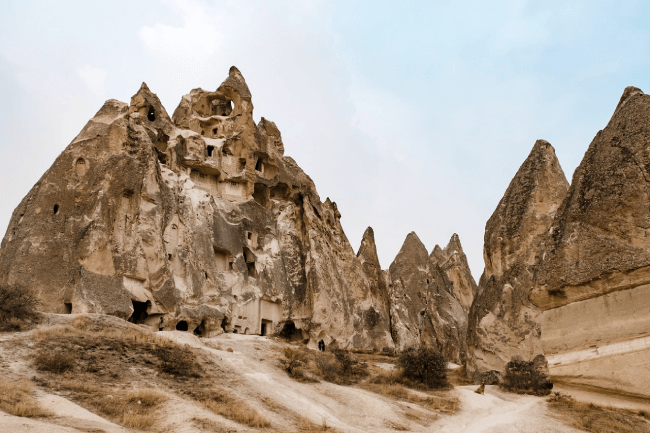 You can apply for the Turkey eVisa on iVisa.com, a professional company that provides you eVisas and other travel documents to visit different countries around the world. One of the documents available on this website is the Turkish eVisa, which is why we recommend you to use it to get this eVisa as fast and easily as possible.
You can check other useful tips about the Turkey visa for Sudanese by reading the questions we addressed below.
Frequently Asked Questions
What is a Turkey eVisa and why do I need it?
This is an authorization document that permits visitors to enter Turkey. This document is electronically linked to their passport, which is why it doesn't work with a physical stamp.
As a Sudanese citizen, you have to apply for a Turkey eVisa before entering this nation. By having this eVisa, you can stay in Turkey for a maximum of 30 days in Total. However, remember that this eVisa is valid for 180 days after arrival from the date of application.
What requirements or items do I need to apply?
iVisa.com will work out all the hassle and you only need to provide some information to help the company get started. The items and conditions are nothing extraordinary, and you probably already have everything required. Here's the shortlist:
Passport: this is always the most important document, so make sure that it remains valid once you enter Turkey
E-mail address: your Turkey eVisa will be connected to your passport electronically, but you still need a copy to show at the immigration office in Turkey. iVisa.com will send a PDF version of your visa via e-mail, so don't forget to give out a valid address.
Payment methods: the payment for your visa is made before the submission of the application. You can do that using a credit or a debit card. You can also pay through your PayPal account as many people do.
What is the price of this document?
One of the common concerns about electronic visas is the cost. With iVisa.com, you have three available options when it comes to processing time and this will determine the price. The three processing options are as follow:
Standard processing: your Turkey eVisa application is processed within

24 hours

, and the price is

USD 103.99

(service fees included).
Rush processing: you will obtain your visa within

4 hours

, and the total price of it is

USD 137.49

(service fees included).
Super rush processing: this option is the fastest, so you will get your Turkey eVisa in only

30 minutes

, and you'll be charged

USD 177.49

(service fees included).
Click here to start and get ready to prepare for the rest of your trip peacefully. You can also read more details about the Turkey visa for Sudanese here.
How does the eVisa system work?
Turkish electronic visas and travel authorizations are issued electronically by the Ministry of Foreign Affairs of the Republic of Turkey.
Companies specialized in offering travel documents (like iVisa.com) can use the Turkey eVisa system to process an eVisa. At iVisa.com, we enter the applicant's information into the Turkey eVisa system and after they check it out, we are advised of the outcome of the Turkey eVisa application.
How is the application process on iVisa.com?
iVisa.com's three-step online form has never been as simple as it is now. It'll only take you about 5 minutes to finish, so you don't need to be a computer wizard. In case you ran into any difficulty, you can call iVisa.com's support service. They are available 24/7 to receive your call and help you out with the process.
In the first step, you have to provide personal information like name, address, e-mail, arrival date, passport info, and many more. Also, you must choose the best processing time that fits your needs.

Just do a revision and payment in the second step of the application form. All corrections are not permitted once the application has been processed so reviewing and revision are super important. You can avoid the incident by making sure that words are spelled correctly and all the information was accurately provided.

In the third and last step, just upload some items required and submit your application so you can wait for the arrival of your eVisa in the timeframe you selected.
Click here to start the process. Remember that if you're in need of assistance, you can contact iVisa.com's support service.
What happens after I finish the application process?
Once the application is ready, you'll receive the Turkey eVisa by email. Therefore, you don't have to visit the embassy at any time, we'll do it for you so you don't waste time in vain. Next, present a printed version of your eVisa along with your passport once you arrive in Turkey.
Do I need a Turkey visa for Sudanese if I'm just passing through?
You shouldn't apply for a Turkey eVisa if you're just passing through, especially if you stay in the transit lounge. Just remember that if you leave the airport, then you'll have to apply for it.
How does the Turkey eVisa look like?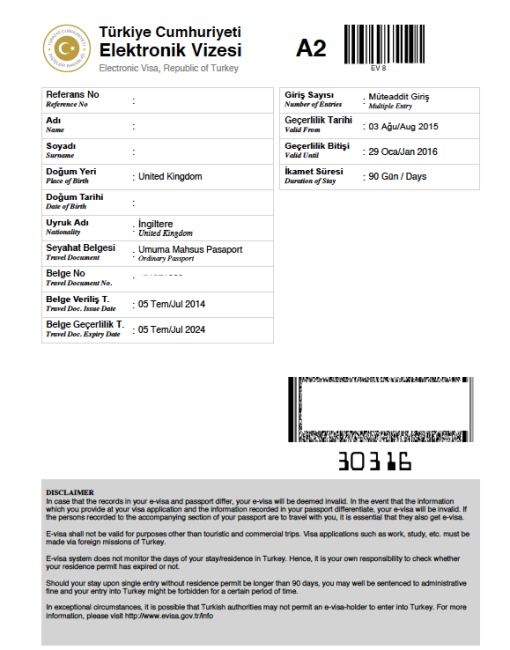 Is it safe to use iVisa.com to get my Turkey eVisa?
We are a functional service provider distributing official Turkey eVisas since 2013. Travelers often believe that their information can be easily put at risk, but we can guarantee that it's not the case with our services. We give you maximum safety to protect your data, and we also work hard to make sure that our database is always under control. However, if you're still unsure about it, you can check what thousands of happy customers say about us here.
What should I do if I want to extend my stay?
If you're in Turkey and wish to extend your stay, you must apply at a local Police Station for a residence permit.
Where do I find more information about the Turkey visa for Sudanese?
You can always chat with us if you have doubts or questions about our services. If you prefer to read other details about the Turkey visa for Sudanese, then click here.