e-Visas have become really popular in the last few years and have become part of many countries' visa policies. Tanzania is not an exception to this rule.
If you're from Tanzania, we have good news for you: you can apply for a Turkish e-Visa online, so you don't have to go to a Turkish embassy anymore. However, you probably have doubts about it, but don't worry, we're here to help you with this information.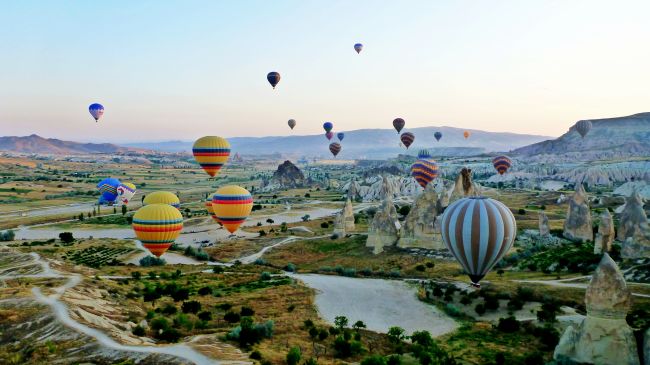 Frequently Asked Questions
Do Tanzanian citizens need a visa to visit Turkey?
Yes, if you're from Tanzania, you must get an e-Visa to enter Turkey. If you want to learn more about this, you can enter here.
What is a Turkish Electronic Visa for Tanzanians?
The Turkish e-Visa for Tanzanians is an special document that allows visitors to enter this country with an electronic link in the passport.
How long is this e-Visa valid for?
With your Tanzanian Passport, your Turkish e-Visa is valid for 180 days after arrival and it has a Single Entry for a maximum time of 30 days in Total.
What are the requirements for Tanzanians?
iVisa has made the process much easier for Tanzanian travelers. You just need to provide a few requirements so that we can start the process. Even so, you will be putting in just a little effort. Here is a list of what you need to come up with:
Passport – getting a Tanzanian passport is quite easy these days, so you should be able to obtain one fast. If you do have one, make sure that it remains valid for the duration of your trip. Just take a quick look at the expiry date.

E-mail address – your Turkey e-Visa will be linked to your passport electronically, but you still need a copy to show at the immigration office in Turkey. iVisa will send you a copy, and it will do so via e-mail. Make sure that you provide a valid address.

Mode of payment – the payment for your visa and the service fee for iVisa is made prior to submission of the application. You can do that using a credit or a debit card. Conveniently, they are also accepting PayPal payments if you have an account.
What are the processing times and costs for Tanzanians?
The common concerns of people including Tanzanian who want to avail this service are visa processing times and service fees. Well, you do not have to worry about that since iVisa provides a fast service at reasonable prices. The price of your visa is determined by the processing time you select during the application process. iVisa is offering three service options:
Standard processing – your application will be processed within 24 hours. Although the longest processing time, it is still prefect for those who have ample time to prepare for their trip. As for the cost, you will be charged USD $114.49.

Rush processing – if you want your application processed faster, you can pay USD $166.49 and choose this option. Your visa will arrive in your e-mail inbox within 4 hours.

Super Rush processing – this is the fastest available option. Your visa will be ready to use in just 30 minutes. However, this will cost you more. You will be charged USD $224.49.
How much time do I need to apply?
You just need a few minutes to complete the application form.
How can Tanzanian citizens apply?
Acquiring a Turkey evisa using iVisa's services is simpler than you may think. Honestly, it should only take 20 minutes to finish filling in an online form which is divided into two simple steps. There is also an amazing support service that is available to take your call 24/7 in case you need any assistance with your application.
The first step requires you to fill in your basic information. At this point, you must also choose from one of the processing times mentioned above.

The second step consists of payment and revision. You can make the payment using methods mentioned above. It may be taken for granted but revision of your application is more essential than you think. It is important that the information you submit is accurate and correct because iVisa will work with what you provide. A simple typo error can have your visa denied. Double-check your spelling for your peace of mind.
What happens once I complete my application form?
Once the application is ready, you will receive your Turkey e-Visa by email. you don't need to go to any embassy. We do it for you so you don't waste valuable time.
How can I apply for family members?
You can also apply for family members or also closer friends, but first of all, colect all of their required documents (you can see them above in this article).
In case you are applying just for one single friend or family member, just apply here introducing his or her data. If you want to apply for more than one person, you can do so by clicking 'Add new applicant' in the application form.
If I am transiting through Turkey, do I need this visa?
You won't require a visa while you stay in the Transit Lounge.
How does the Turkish Tourist e-Visa look like?
Can I apply for a new e-Visa if it expires while I stay there?
No, you can't do that. For this specific situation, you must leave Turkey and obtain a new e-Visa. If you need to extend your stay beyond the maximum days allowed/e-Visa validity period, you may apply for a residence permit at the Provincial Directorate Migration Management office.
Do I have to enter Turkey on the exact date specified in my application?
No, it's not necessary. The validity period of your e-Visa begins from the date specified in your application.
What should I do if I make any mistake while applying?
If you made a mistake when applying for your e-Visa, then contact our customer service representatives as soon as possible so they can help you.
But if you already submitted your application, and then you realize of a mistake, then you cannot make any changes and you will have to apply again.
Is it safe to use iVisa's services for this?
It is! It's also true that many people tend to believe that online information leaks and puts them in danger. However, that is not the case with everything we offer. We provide maximum safety for your personal info. You can check what thousands of happy customers say about us here.
I have more unresolved questions, where can I read more about it?
Click here to start chatting with one of our customer service representatives if you want a faster resolution. Another alternative is to read more info and FAQs here.
It's time for you to enjoy the magnificent things hidden in Turkey with iVisa! Start your application form now!