Besides the rich culture, Turkey offers plenty of natural beauty, gorgeous Mediterranean beaches, and delicious food. From the colorful Cappadocia to the white travertine terraces of Pamukkale, there are attractions for all kinds of tourists. Discover how to travel to Turkey as a United States Green Card holder in this article.
Foreign citizens traveling to Turkey have to apply for the Turkey e-Visa, which can be a little confusing for green card holders from the United States. Once you have the U.S. Green Card, you can apply for the tourist visa online. However, the Turkish visa requirement depends on your country of origin.
Luckily, iVisa is here to help you with all information to obtain the Turkish e-visa required by Turkish authorities to enter the country. Let our team do the hard work, so you can plan your trip without any stress. Keep reading for further information.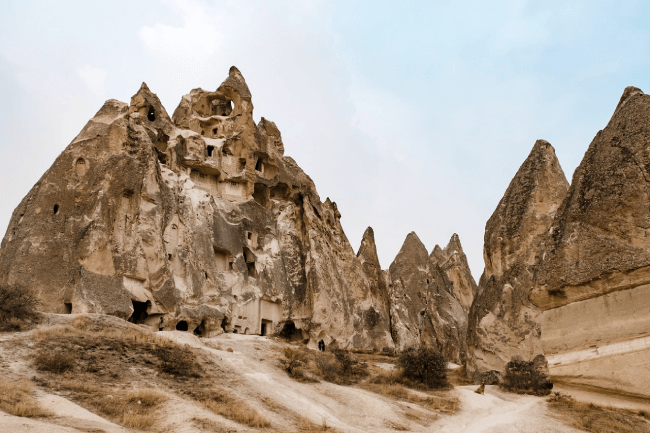 Everything you need to know about the Turkey visa for U.S. green card holders
Travelers from more than 60 countries who have a valid U.S. green card can apply online for a Turkey eVisa. United States passport holders are automatically eligible to apply for this electronic visa online, with no need to visit a Turkish embassy.
However, a U.S. green card holder can only apply if his passport origin country is also eligible for the Turkey eVisa. Additionally, depending on the nationality of the passengers, the visa process can differ a little bit. According to the country you are from, you may only be able to get a single-entry visa and the maximum length of stay can also vary.
Having a U.S. residence permit can also affect the application process. For example, citizens from Egypt, Kenya, and Zimbabwe can only get the e-visa to visit Turkey if they present residence permission from the U.S., United Kingdom, Ireland, or a Schengen Member.
Application process for the Turkey e-visa for U.S. Green Card holders
Once you're able to apply for the e-visa, the application process only takes a few minutes. Fill out all the information on the iVisa application form, such as your passport number and flight details, and submit your form.
As soon as the processing time is concluded, you'll receive the Turkish e-Visa confirmation in your email inbox.
Usually, a Turkish e-Visa is valid for 180 days after arrival in Turkey, it's a multiple-entry visa, and foreign nationals have a 90 days-stay in total. But depending on your nationality, this information may differ.
If you're going to Turkey and need a permanent residency or a work or study visa, this tourist e-visa won't suffice.
Visit Turkey: Visa requirements and documents
A visa is mandatory for Americans and Green Card holders entering Turkey. Check the following list of necessary documents to obtain the visa online for the Turkish government:
Valid passport (at least 6 months of validity from the date you intend to enter Turkey).

Valid e-mail address, to send you the confirmation or to contact you if you need to provide additional information.

Credit or Debit card for paying the visa fees.

Additional documents (if applicable), depending on your country of origin.
Steps to completing the Turkey e-Visa online application form
The process of obtaining Turkey visas is very straightforward. The application is done 100% online, and it takes just a few clicks to complete:
First, travelers have to fill out their personal information on the iVisa application page. After that, they're able to select a processing time.

Second, review all the information to check if it is correct. Then, pay the visa fee.

Third, passengers have to upload other documents and apply for the Turkey evisa. All the scans of your documents need to be legible.
As soon as your travel document is processed, the confirmation of the Turkish eVisa will be sent by email.
Turkey visa processing times and visa fees
The fee for your Turkey visa will depend on how fast you want to receive it. We offer three processing speeds that should fit all your needs:
Standard Processing option: USD $69.49 - With this low-cost option, you will get your Turkish visa in just 24 hours.
Rush Processing option: USD $85.99 - In a rush? You can get your e-Visa in just 4 hours.
Super Rush Processing option: USD $102.49 - This is our fastest option, ideal for a last-minute trip. You can get your e-Visa in just 30 minutes.
COVID-19 restrictions in Turkey
There is no restriction on tourism in Turkey. Those who meet Turkey's immigration regulations can enter the country, regardless of their nationality.
Passengers from the United States no longer need to take a COVID-19 test or quarantine to enter Turkey. As of June 2022, the PCR test requirement for Turkey has been eliminated. Visitors arriving in Turkey are also no longer required to present proof of vaccination.
Questions about the Turkey e-visa as a U.S. Green Card holder?
If you have any questions about obtaining your visa for Turkey as a U.S. Green Card holder or other nationality, please contact our expert customer service team via online chat or email: [email protected].