For the moment, there are 40 countries whose citizens have access to a Turkish electronic visa, and this includes Zambian citizens. If this is your case, you no longer require to take a trip to the Turkish embassy to apply for a visa. Nowadays it is possible for you to complete an online application from the comfort of your home.
But what are the requirements? and what is the price? how long can someone with this e-Visa stay in Turkey? These are some questions we will answer in this article.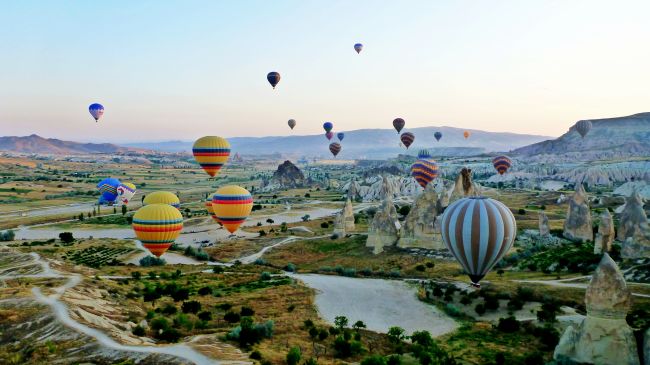 Frequently Asked Questions (FAQs)
Do Zambian citizens need a visa to visit Turkey?
Yes, Zambian citizens must get an e-Visa to enter Turkey. If you want to learn more about this, you can enter here.
What is a Turkish Electronic Visa?
The Turkish e-Visa is an special authorization document that allows visitors to enter Turkey with an electronic link in their passports.
How long is the Turkey e-Visa valid for if I'm from Zambia?
With your Zambia Passport, your Turkish e-Visa is valid for 180 days after arrival and has a Single Entry for a maximum of 30 days in Total.
What documents do I need to apply?
iVisa may handle most of the work, but Zambians have to provide some information to help them get started. However, there is nothing out of the ordinary, so don't worry about these documents. Here is a list of what you need:
Passport – getting a passport does not present any issue, so you should be able to have one fast. If you do have one, then make sure that it is valid and remains as such for the duration of your trip..

E-mail address – your Turkish e-Visa will be linked to your passport electronically, but you still need a copy to show at the immigration office in Turkey. iVisa will send you a copy via e-mail so make sure to provide one that is valid.

Means of payment – the payment for your visa and the service fee for iVisa is made before the submission of the application. You can do that using a credit or a debit card. Moreover, if you have a Paypal account like many people do, you can use that too.
What are the prices and also the processing times for this?
When completing your application form you must select a processing time that best suits your needs. With iVisa, you will find the following three excellent options:
Standard processing – while this may be the longest processing time, in reality, your application will be processed within 24 hours. That doesn't seem that long, does it? As for the cost, you will be charged USD $114.49.

Rush processing – if you want your application processed faster, you can choose this option. Your visa will arrive in your e-mail inbox within 4 hours, and you will pay USD $166.49 for it.

Super Rush processing – this is the fastest available option. Your visa will be ready to use in just 30 minutes for a higher fee of USD $224.49
Click here if you're ready to start your application.
How is the application form for Zambians?
The application form for a Turkey e-Visa has never been as simple as it is with iVisa. It should only take Zambians about 5 minutes to complete the required two-step online form. If you need any help, you can call iVisa's support service. They are always ready 24/7 to take your call and guide you through the process.
The first step is quite simple, Zambians have to provide personal information like name, address, e-mail, date of entry, passport info, and many more. It's also important to choose the processing time in this part.

The second step of the application form will require you to make a quick revision and payment. Reviewing and revision are more crucial than you may think. This is because the process is done so quickly there can't be any modifications once it starts. Always double-check the spelling and accuracy of every piece of information you provide and you should be just fine. Submit your application and wait for it to arrive in your selected timeframe once you are done with the two steps.
What happens once I finish my application?
Once the application is done, you will get your Turkey e-Visa by email. you don't need to deal with the embassy. We do it for you so you don't lose valuable time.
How can I apply for friends or family members?
You can apply for other family members or even friends, but just make sure to have all the required documents (you can see above in this article).
In case you are applying only for one friend or family member, just apply here introducing his or her data. And if you want to apply for more than one person, you can do so by clicking on 'Add new applicant' in the application form.
If I am transiting through Turkey, do I have to apply for a visa too?
You don't need a visa in this case, but remember to stay in the transit area.
How does the Turkish e-Visa look like?
Can I apply for a new e-Visa if it expires while I'm in Turkey?
No, you can't. In that case, you must leave Turkey and receive a new e-Visa. If you really want to extend your stay beyond the maximum days allowed, then you may apply for a residence permit at the Provincial Directorate Migration Management office.
What should I do if I make any mistake in my application?
If you made a mistake when entering your data online then you have to contact our customer service representatives as soon as possible so they can help you.
On the contrary, if you already submitted your application, and then you realized you made a mistake, then you cannot make any changes and you will have to apply again.
Is it safe to use iVisa?
Nowadays is very common to see people thinking that online information leaks and puts them in danger. However, that is not the case with our services. We provide maximum safety for your personal data. You can check what thousands of happy customers say about us here.
I have more unresolved questions, where can I read more info?
If you want a faster resolution, then click here and start chatting with one of our customer service representatives. As another alternative, you can find more info and FAQs here.
It's time for you to enjoy the beauties of Turkey with iVisa! Start your application form now!