There is no other country like Turkey. And for some lucky countries, it is possible to visit the country without a visa. Check out if you're one of the nationalities that can access Turkey visa-free travel.
But most travelers in the world will need to get a Turkey eVisa. This document is very easy to obtain. Below, we'll explain everything you need to know to prepare for your trip.
Turkey Visa-Free Travel - Check out our FAQs to know everything you need for your trip to Turkey.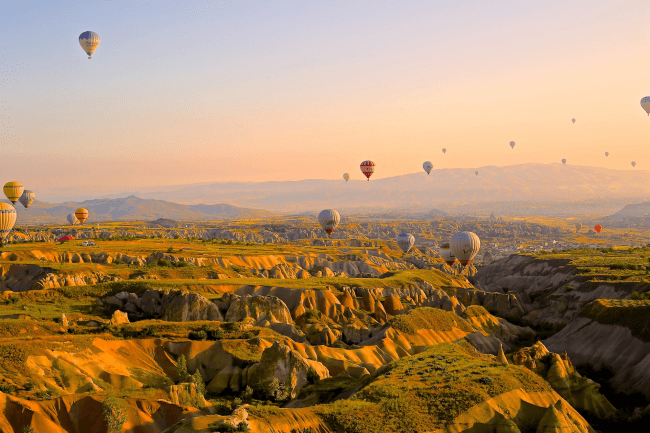 Frequently Asked Questions
What COVID-19 requirements should I consider before traveling to Turkey?
Unvaccinated or partially vaccinated visitors need to get a PCR test within 72 hours before arriving in Turkey. Children under 12 are exempt from testing, regardless of their vaccination status.
Fully vaccinated travelers only need to present a vaccination certificate to enter the country. They don't need to get a pre-arrival PCR test.
Turkey Visa-Free Travel - We prepared a product page to offer our readers the most recent changes in entry restrictions due to the pandemic.
What is the Turkey eVisa, and how do I apply?
The Turkey eVisa is an electronic travel authorization that allows you to visit the country for up to 90 days in Total. You can use it for business or tourism. Depending on your nationality, you'll be able to enter Multiple Entry.
To apply for it, you just need to complete these three simple steps:
First: Using your personal information, fill in the form at iVisa.com and select the processing time and fee that you prefer.
Second: Make sure that all the information entered is correct and pick a form of payment. We accept both credit and debit cards.
Third: Upload all the required documents and apply.
Turkey Visa-Free Travel - You can get the Turkey eVisa by filling out a form on our site.
Which documents do I need to apply for the Turkey eVisa?
A passport valid for the entirety of your visit.
An airplane ticket (Air Arrival - including the flight number).
A frequently used email address, as you will receive your documents via email.
A credit or debit card for payment.
Turkey Visa-Free Travel - Some applicants will need to add a visa or residence permit from Schengen Countries, the USA, the UK, or Ireland to their application.
What are the processing times and fees for the Turkey eVisa?
We have different prices depending on how fast you want to receive your Turkey eVisa.
Standard Processing:

24 hours

for

USD 81.50

Rush Processing:

4 hours

for

USD 103.50

Super Rush Processing:

30 minutes

for

USD 119.50
Turkey Visa-Free Travel - Are you in a hurry? Take advantage of our Super Rush Processing!
Is iVisa.com trustworthy?
Of course! We have plenty of experience processing travel documents and have served thousands of other travelers along the way. We can help you with your Turkey eVisa.
Turkey Visa-Free Travel - Head over to our user reviews section to read what our previous customers have said about our services.
I still have my doubts. Where could I find more information?
With our customer care agents. They are easily reachable through our website and are available 24/7 to answer any questions. Do you want to know more about Turkey Visa-Free Travel? Contact them!
iVisa.com Recommends
Explore the magnificent Cappadocia. Its strange, curving rock valleys are a photographer's fantasy.
Rippling vistas of wave-like rock or wacky-shaped pinnacles have been sculpted by millennia of wind and water activity on cliff ridges and hill crests. If you don't feel like hiking for the sights, this is one of the world's best hot-air balloon destinations.
The frescoed, rock-cut churches and cave-cut architecture of the Byzantine Era, when this area was home to monastic Christian communities, are nestled in this unusual lunar-like landscape.
The many cave churches of Göreme Open-Air Museum and Ihlara Valley, in particular, have some of the world's finest examples of surviving mid-Byzantine-era religious art.
Our top recommendation is the beautiful and totally restored Dark Church. It is known for its vibrant colors and the outstanding preservation of its frescoes. The church's current moniker comes from the lack of windows, which is also why the fresco colors have been preserved so beautifully. The walls and ceilings are completely painted in Biblical representations of Christ as Pantocrator, Christ on the Cross, and Judas' Betrayal.
Lastly, you cannot miss a visit to the nearby Kaymakl underground city. Only four floors are open to the public. They are filled with a complex of tunnels and rooms excavated eight levels deep into the earth. The caverns are wide and well-lit, and the tunnels aren't too steep. We recommend arriving early to avoid the crowds.