Visa Policy for Turkey
The Turkey visa policy describes the exact stipulations a non-turkey citizen requires to access the country. These stipulations vary depending on a set of factors such as the foreign citizen's nationality, the length, and the purpose of the trip.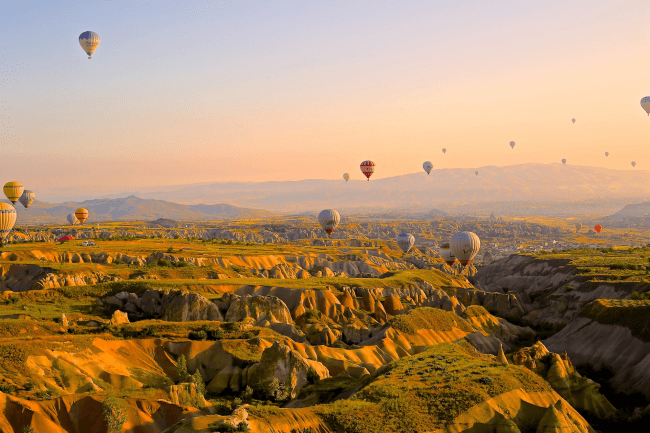 In general terms, the Turkey visa policy demands that most foreigners must obtain a visa to enter the nation. A visa is an official certificate that enables foreigners to visit other countries. Authorities often stamp the visa on one of the foreigner's passport's blank pages. There can be several types of them according to the bearer's intention to travel.
In this case, Turkey visas enable holders to enter the country for tourism, business, employment, and other activities, according to the visa type.
However, based on the turkey visa policy, travelers from more than 75 countries do not need a visa to visit the country. Other foreigners from more than 40 nations can apply online to get permission to enter Turkey. These benefits only apply for short stays for business or tourism.
Traveling to Turkey is easy and fast for these more than 110 nationalities. The remaining ones must contact a Turkish consular office or embassy to start their application.
For employment in Turkey, the foreigner must apply ​​to the closest Turkish mission to get a work permit and visa. Work permits are granted by the Ministry of Labor and Social Security and have equivalence to residence permits.
More detailed information on the sort of tourist visas and mechanisms to visit Turkey can be found in the following sections:
Tourism Visa Policy for Turkey
Turkey has an open tourism visa policy. It offers many chances to foreigners to easily travel to the country.
Firstly, there are more than 75 countries that can enter Turkey for tourism and business purposes visa-free. Some may only need their valid or even only their national ID to gain access. It is defined according to every foreigner's nationality:
Argentina
Azerbaijan
Belize
Bolivia
Bosnia and Herzegovina
Brazil
Brunei
Chile
Colombia
Costa Rica
Ecuador
El Salvador
Georgia
Guatemala
Honduras
Hong Kong
Iceland
Iran
Israel
Japan
Jordan
Kazakhstan
Kosovo
Kuwait
Kyrgyzstan
Latvia
Lebanon
Liechtenstein
Macao
Malaysia
Moldova
Monaco
Mongolia
Montenegro
Morocco
New Zealand
Nicaragua
North Macedonia
Norway
Panama
Paraguay
Peru
Qatar
Saint Kitts and Nevis
San Marino
Serbia
Seychelles
Singapore
South Korea
Thailand
Albania
Andorra
Belarus
European Union EU citizens (except Cyprus and Latvia)
Russia
Switzerland
Tajikistan
Trinidad and Tobago
Tunisia
Turkmenistan
Ukraine
United Kingdom
Uruguay
Uzbekistan
Vatican City
Venezuela
These nationals will obtain different valid times to stay inside the country based on their nationalities.
Other four countries can access turkey without a visa under exceptional circumstances:
Algerians under 15 or above 65 years old for up to 90 days in a 180 days period.
Cypriots residing in Northern Cyprus who land at the Ercan International Airport or arrive from Famagusta, Kyrenia, or Karavostasi seaports for up to 90 days in 180 days.
Libyans under 16 and above 55 years old for the same time
Palestinians who have a VIP passport.
The Turkey visa policy also brings the chance to more than 25 nationalities to apply for an electronic visa or eVisa, avoiding for them all the regular process to obtain a visa at an embassy or consulate.
Moreover, other approximately foreign nationals from more than 40 countries get the possibility to acquire a conditional eVisa under specific circumstances. The same applies to North Korean citizens who can get a visa on arrival if meeting precise criteria.
Other nationalities not listed must apply for a visa through their nearest Turkish consular body.
For further and more detailed information on the eVisa, the conditional eVisa, and other details and visa information, please read the following sections:
Turkey eVisa
As its name states, an eVisa is an electronic visa. It works the same as a regular visa. However, instead of reaching out to a consular body, the candidate can apply online for this travel document, reducing the time and energy invested in this fundamental activity.
Passport holders from more than these 25 territories can obtain their eVisa online after paying a fee. They must do this process before their landing:
Antigua and Barbuda
Armenia
Australia
Bahamas
Bahrain
Barbados
Canada
China
Cyprus
Dominica
Dominican Republic
East Timor
Fiji
Grenada
Haiti
Indonesia
Jamaica
Maldives
Mauritius
Mexico
Oman
Saint Lucia
Saint Vincent and the Grenadines
Saudi Arabia
South Africa
Suriname
Taiwan
United Arab Emirates
United States
The turkey visa policy establishes that the eVisa can be granted as a single or multiple-entry visa. It allows stays for up to 30 or 90 days, according to the foreigner's nationality.
Turkey eVisa under specific requirements
Regarding the Turkey eVisa, below there is the list of countries that can get it and the description of the specific requirements to do so:
Afghanistan
Algeria
Angola
Bangladesh
Benin
Botswana
Burkina Faso
Burundi
Cameroon
Cape Verde
The Central African Republic
Chad
Comoros
Côte d'Ivoire
The Democratic Republic of the Congo
Djibouti
Egypt
Equatorial Guinea
Eritrea
Eswatini
Ethiopia
Gabon
The Gambia
Ghana
Guinea
Guinea-Bissau
India
Iraq
Kenya
Lesotho
Liberia
Libya
Madagascar
Malawi
Mali
Mauritania
Mozambique
Namibia
Niger
Nigeria
Pakistan
Palestine
Philippines
Republic of the Congo
Rwanda
São Tomé and Príncipe
Senegal
Sierra Leone
Somalia
Sri Lanka
Sudan
Tanzania
Togo
Uganda
Vietnam
Yemen
Zambia
Zimbabwe
Providing visas for Schengen area countries, Ireland, the United Kingdom, or the United States. Citizens from Algeria must be under 18 years old or over 35 years old. Presenting a proper hotel reservation and confirmation, along with proof of having enough funds for the entire journey (minimum USD 50 per day). Afghanistan, Iraq, Zambia, and the Philippines passport holders must arrive at a different place than the Istanbul Ataturk Airport.
This specific eVisa will have a single entry and will be valid for 30 days.
Turkey Visa on Arrival
Citizens from North Korea holding a residence permit from one of the Schengen area countries' members, Ireland or the United Kingdom, may get the chance to obtain a visa on arrival.
Turkey visa Embassy and Consulate
The Turkey visa policy additionally declares that the non-listed countries have to request a tourist visa at their nearest Turkish Embassy or Consulate. Passport holders from these countries or territories need to contact these consular offices to start their visa application process.
Candidates should apply at least six weeks before their travel planned dates to avoid issues. This process may take several weeks. The visa validity and entrance allowance are determined based on every individual profile and nationality.
Other important visa information
Non-Turkey citizens who get a job in Turkey must apply for both a work visa issued by a Turkey embassy or Consulate and an employment permit issued by the Ministry of Labor and Social Security.