Turkey - Open for Tourism, here's what you'll need
Turkey - Open for Tourism
Trustpilot recommended. We lead the industry in innovation and reputation
Learn More: eVisa
Get your Turkey Visa online now!
Turkey is a beautiful and culturally rich country located at the crossroads of Europe and Asia. It is a popular tourist destination for people from all over the world, and in recent years, the process of obtaining a visa for Turkey has become much simpler.
Now, you can easily apply for a Turkish Visa online from the comfort of your own home. We can process it for you in as little as 24 hours!
Below, we'll explain everything you need to know about visa requirements for Turkey, entry requirements, and how to apply online for a Turkey eVisa with iVisa.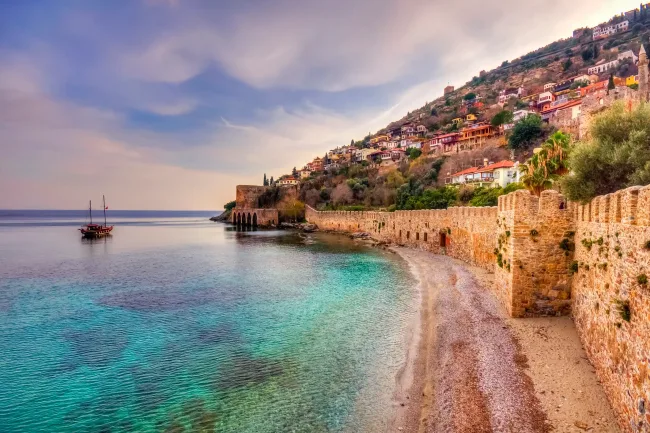 What is the Turkey eVisa?
The Turkey eVisa is an electronic visa that allows citizens from over 100 nationalities to enter the Turkish Republic for tourist or business purposes, without the need for a physical stamp or sticker on their passport. Instead, the eVisa is electronically linked to the applicant's passport.
You can use iVisa services to apply for the eVisa, and we will guide you throughout the whole process. Once approved, we'll send the confirmation of the eVisa to you via email.
If you are planning to stay in Turkey for work or study purposes, you will need to apply for a residence permit through your local embassy or consulate.
Start your application for the Turkey eVisa now!
Who is eligible for the Turkey eVisa?
Ordinary passport holders from the following countries are eligible to apply for a Turkey eVisa:
Afghanistan, Algeria, Antigua and Barbuda, Armenia, Australia, Bahamas, Bahrain, Bangladesh, Barbados, Bermuda, Bhutan, Cambodia, Canada, Cape Verde, China, Cyprus, Dominica, Dominican Republic, Egypt, Equatorial Guinea, Fiji, Grenada, Haiti, Hong Kong, India, Iraq, Jamaica, Kuwait, Maldives, Mauritius, Mexico, Nepal, Oman, Pakistan, Philippines, Saint Lucia, Saint Vincent and the Grenadines, Saudi Arabia, Senegal, Solomon Islands, South Africa, Sri Lanka, Suriname, Taiwan, United Arab Emirates, United States of America, Vanuatu, Vietnam, Yemen.
Some countries and territories such as Brazil, Denmark, and the United Kingdom, fall under the visa-exemption program to Turkey for tourism.
If you aren't sure if your nationality is exempt from the visa requirement, or if you're wondering which documents you need, use our Visa Checker Tool and apply instantly online!
If you plan to visit Turkey with minors, note that each child needs to have their own visa to enter the country. However, when applying for a visa through iVisa, you can include all of your family members in a single application, and we will process each visa separately.
Adding them is easy. All you need to do is click 'Add another person in the iVisa application process.
How long is the Turkey eVisa valid?
The Turkey Tourist Visa is valid for 180 days after arrival, and the maximum length of your stay in Turkey will depend on your nationality and can range from 30 to 90 days.
Additionally, the type of visa issued may be single- or multiple-entry, depending on your citizenship. Feel free to use our Visa Checker Tool to see how long your visa will be valid based on your nationality.
Ultimately, it's up to the Turkish authorities to decide what the validity of your visa will be.
Requirements and documents needed to apply for the Turkish Visa
To apply for the Turkish eVisa, you must have the following documents and information:
A valid passport with a minimum validity of 60 days beyond the departure date. The passport should be in good condition and have two blank pages for entry and exit stamps.

A valid email address where you can receive your eVisa.

A credit or debit card to pay the visa fee.
Once approved, you will receive a separate PDF visa confirmation via email for each member of your travel group.
How to apply for a Turkey Visa online
The application process on the Turkish government website can be confusing.iVisa allows you to complete your application in just 10 minutes and in 3 easy steps:
Step 1: Fill out the application form with your personal details, such as your name, last name, ID number, contact information, job specifications, and finances. It's important to ensure that all your personal information details match your identity document.

Step 2: After filling out the application form and verifying that all the information is correct, proceed to the payment platform. Here, you can choose from the various processing times that iVisa.com offers.

Step 3: After that, you'll be asked to attach any documents required and click submit.
Once your visa is approved, you will receive your visa confirmation via email in PDF format.
With iVisa, you also get guidance every step of the way from our customer support team. You don't need to worry about complicated jargon or forms, our application process is user-friendly!
Visa fees and processing time of the Turkey eVisa
The cost of applying for a Turkish eVisa varies depending on your nationality and the processing time you want.
At iVisa, we offer three options for processing your application:
Standard processing: Your Turkey eVisa will be ready within 24 hours, for a fee of USD $124.49.

Rush processing: If you need your eVisa sooner, you can choose this option and receive it in just 4 hours for USD $176.49.

Super Rush processing: This option is perfect for those who need their eVisa urgently. You'll receive it in just 30 minutes for USD $234.49
To find out the exact Turkish e-Visa fees for your nationality and processing time, simply select your nationality and click the 'Apply Now' button at the top of this page. This should lead you to the visa application form.
It's important to note that there is no government fee for the Turkey eVisa, the only payment required is the iVisa processing fee, which comes with numerous benefits.
An iVisa Expert will carefully review your application to make sure it meets government requirements, and we offer a short, simple, and fast application process. We do all the legwork for you!
Do I need a Turkey eVisa if I'm transiting through Turkey?
As long as you stay in the transit zone when passing through Turkey, you don't need a visa. As soon as you leave the airport transit area, you'll need a valid visa to visit Turkey.
It's important to know that cruise passengers who want to visit coastal cities or neighboring provinces for vacation purposes don't need a Turkish visa, provided that their stay doesn't exceed 72 hours.
COVID-19 requirements or restrictions in Turkey
Turkey has lifted all COVID-19 restrictions. This means that travelers coming to the country don't have to show proof of vaccination or a negative PCR test anymore.
Just keep in mind that things can change fast, so make sure to check for any updates on travel before you head out on your trip from the Turkey CDC page.
How to renew or extend your Turkey eVisa
If your current Turkish visa expires while you are outside the country, you can easily submit an online application for a new visa through iVisa.
However, if you wish to extend your stay while in Turkey, We advise that you apply for a visa extension at the local immigration office, police station, or embassy.
Officials will assess your reasons for the extension and issue you a new visa depending on your nationality and other factors. The type of Turkey visa you have and the initial purpose of your trip will also affect the duration of your stay.
What else should I know before I visit Turkey?
Travel is a great adventure, and when applying for a visa with us, you can focus on planning your trip!
We simplify travel documents for you and also give you valuable travel tips! Check our Turkey Travel Guide and discover some worth-visiting spots in Turkey below.
Visit Istanbul
Istanbul is a city that straddles both Europe and Asia, and it is one of the most vibrant and exciting cities in the world. You can explore historic landmarks such as the Blue Mosque and Hagia Sophia, take a boat tour of the Bosphorus, shop in the Grand Bazaar, and enjoy delicious Turkish cuisine.
Explore the Black Sea
The Black Sea region is a lush and green area that is home to some of Turkey's most beautiful landscapes. You can explore the quaint villages and towns, hike in the Kackar Mountains, and enjoy the stunning views of the Black Sea.
Soak up the sun in the Mediterranean
The Mediterranean coast of Turkey is home to some of the country's most beautiful beaches and resorts. You can relax on the sandy beaches, swim in crystal-clear waters, and enjoy water sports such as jet skiing and parasailing. There are also many historic sites and ruins to explore along the coast, such as the ancient city of Side and the Temple of Apollo.
Where can I get more info about the Turkey Visa?
If you need further information about the Turkey Visa, our customer support team is available via chat or email at [email protected]. They will answer all your questions regarding applying for your travel documents you might have.
Required Documents to Apply
Passport Scan (if applicable)

Visa or residence permit from one of the Schengen Countries, USA, UK or Ireland (if applicable)
Important Instructions
The maximum stay for your Turkey e-Visa ranges from 30 days in Total to 90 days in Total, depending on your nationality.

The e-Visa is valid for 180 days after the issue date (usually same-day processing). If you're applying for a date after the 180 day timeframe, we will hold your application and apply on the appropriate date to ensure that your Turkey eVisa is valid when you arrive. This means you can fill in the application on iVisa.com at any time.

The e-Visa for Turkey is a single or multiple entry visa, depending on your nationality. Please see FAQs to find out if you are eligible for a multiple entry visa.

You will need to apply for a new visa if the information provided during your visa application is different from the information on your passport.

There are certain nationalities that require supporting documents, such as a work visa or residence permit from the Schengen zone, US, UK, or Ireland. To view your requirements, please visit our application page and enter your nationality.

The date of issue of the supporting document should not be later than the date of your trip.

The Turkey e-Visa is only valid for tourism and short business trips.

Your passport must be valid for at least 60 days beyond the duration of stay of your visa.

Immigration officers at the border will stamp your passport when you enter and leave Turkey, so check you have enough pages in your passport for these stamps.

You don't need a visa if you are not going to leave the international transit area.

When your e-Visa expires, you are not allowed to apply for a new e-Visa without departing Turkey.

Travelers who arrive at sea ports and intend to visit the seaport cities or nearby provinces for tourist purposes are exempt from a visa, provided that their stay does not exceed seventy two (72) hours.