Since July 2016, the government of Uganda has allowed the release of eVisas for all eligible nationalities. As a result, you can now get an Uganda e-Visa online.
The process is straightforward and the requirements are easy to meet. Plus, this online process doesn't take much of your time, and it is affordable. For your convenience, iVisa can help you every step of the way so you don't have any trouble.
If you want to know more about the Uganda eVisa, keep reading the information below.

Frequently Asked Questions
How can I know if I need a Uganda eVisa?
You can check this information by using iVisa's Visa Checker Tool. All you have to do once you enter this page is to choose your nationality and also choose Uganda as the destination country. After that, you'll know at once if you can apply for this eVisa or not.
What is a Uganda e-Visa?
This is a document that works online with an electronic system linked to your passport. It allows you to enter Uganda legally.
What are the requirements?
To apply online for a Uganda eVisa, you need to meet some basic requirements. Even so, there is nothing out of the ordinary, and chances are that you already have part of these documents. You should also know that there are three types of visas, and while the requirements are pretty much the same, some of them may ask for additional documents. Here is what you need:
Passport – all applicants must be passport holders, and the document must maintain its validity for at least another 6 months from the date of arrival in Uganda.

A copy of the passport – the information page is what matters the most.

A recent passport-sized photo.

Vaccination certificate for Yellow Fever – in case you do not have this document once you arrive in Uganda, you may be subjected to vaccination on arrival, and some possible quarantine measures may be taken. It is best if you check this off the list before you leave.
The requirements above apply for the Uganda Tourist e-visa. If you want to apply for a Uganda Transit e-visa, you also need a letter in which you mention the reason for transit and the final destination of your trip. The East Africa Tourist Visa requires all of the bullet points above plus a travel itinerary and a return flight ticket.
What are the processing times and fees?
The total price for your Uganda eVisa will vary according to your nationality and the processing time you prefer. We can give you an average of the processing times and fees based on the US Passport:
Standard processing – your visa application is processed within 6 Business Days, and the price is USD 78.49.

Rush processing – the waiting period is only 4 Business Days, but the price goes higher to USD 141.49.

Super Rush processing – this time, your application form is processed within just 3 Business Days, but you have to pay a total of USD 183.49.
Keep in mind that the fees above apply to the Uganda Tourist Visa and the Transit e-visa if you're from the US. The price for an East Africa Visa is USD 129.99, USD 192.99, and USD 234.99 respectively, for each processing time.
If you want to check the exact prices for your nationality, then click here.
How to apply for a Uganda e-Visa?
The application process provided by iVisa could not be simpler. The application form consists of three simple steps that you can be done within just 15 minutes:
The first one will require you to fill in your basic information such as name, passport info, date of birth, address, and so on. At this point, you must also choose the visa type from the drag-down menu, and select a processing time.

The second step consists of a simple revision of step one and payment. Make sure that every piece of information you provide is 100 % accurate because corrections are impossible to make after your application form is processed. Payment can be made using multiple means such as credit/debit cards, Paypal, and more.

The last step will ask you to upload additional documents, but this step is not the same for everyone. It is on a case by case basis. Even so, you will be notified of everything you need to upload. After you are done, just send the application form and wait for your visa to arrive via e-mail.
How long is the Uganda Tourist eVisa valid for?
The Uganda Tourist eVisa allows you a maximum stay of 45 days in Total, and you have a Single Entry.
If you apply for the East Africa Visa, you'll get Multiple Entry.
As you can see, iVisa has a simple but efficient application process that is meant to make your life easier.
If the e-Visa is approved, does it guarantee my total admission to Uganda?
No, it doesn't. The final admission is confirmed at the selected point of entry or the Immigration Office.
Do I need to present a printed version of my Uganda e-Visa?
It's not necessary since this e-Visa is electronically linked to your passport. However, we heavily recommend you to have a printed version just to avoid any inconvenience.
How does the Uganda eVisa look like?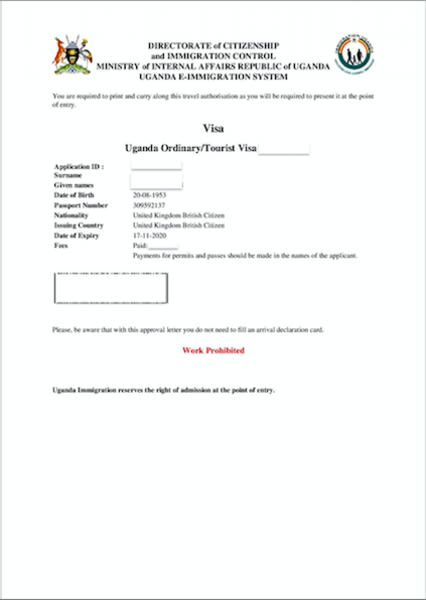 Where can I find more information?
If you want a faster resolution, then click here to talk to any of our customer service representatives. If you prefer to read more tips or FAQs, you can enter here.
As you can see, getting a Uganda eVisa has never been easier. You don't have to go to an embassy, you can apply from home day or night, and there is no hassle whatsoever. Get ready for your journey today with iVisa!