Australia is one of the many countries whose citizens are no longer required to visit the Ugandan embassy to acquire their visa. Instead, you get to apply online, and all you need are a few documents and 15 minutes of your time to fill in an application. iVisa will help you every step of the way, and after you are done, they will start working on your behalf. The Uganda visa for Australian citizens is more accessible than ever, and you can have it in your e-mail inbox in no more than 3 Business Days. We will answer some of your questions in this article.

Frequently Asked Questions
What is an eVisa?
The Tourist eVisa is an authorization document that allows travelers to enter Uganda.
What are the requirements?
Before moving on to the application form, you need to make sure that you meet all the requirements to obtain a Uganda visa for Australian citizens. Luckily, the requirements are pretty much the same for everyone, and you should have no trouble meeting them. All you need to do is provide iVisa with the necessary information and documents, and then they will do all the hard work for you. Here is what you need:
Valid passport – all travelers must have a passport, and the document must keep its validity for at least another 6 months from your date of arrival in Uganda.

Copy of your passport's information page.

A passport-sized photo.

Vaccination certificate for Yellow fever – if you are not vaccinated against Yellow fever, you will be subjected to vaccination when you arrive in Uganda. Some quarantine measures may be taken too.
Those are the requirements if you apply for a Uganda tourist visa, but if you need a visa for transit, you also need a letter that contains your reason for transit and the country of destination. For an East Africa visa, you need an itinerary and a return flight ticket as well.
What are the processing time and fees?
The cost of your visa is determined by two factors: the processing time and the visa type. The processing time is chosen by you when you fill in the application form. iVisa gives you something that no embassy does, and that is the opportunity to choose between three processing times depending on your necessities and budget. They are as follows:
Standard processing– your application is processed within 6 Business Days, and the price is USD 93.50.

Rush processing–your visa will be ready within 4 Business Days, and you need to pay USD 126.50.

Super Rush processing– this is the fastest option you have. It costs you USD 155.25, and your visa application is processed within just 3 Business Days.
The visa type affects the price, it takes it higher, only if you apply for the East Africa visa. The tourist and the transit visas come at the same rates, the ones mentioned above, but the East Africa visa costs USD 152.50, USD 184.00, and USD 230.50 respectively for each processing time.
How's the application form?
The application form designed by iVisa will cause no stresses whatsoever. There are three simple steps you need to follow and complete. It should take you about just 15 minutes, and you can contact iVisa 24/7 and it's free of charge!
The first step will ask for your personal information, and you must also choose the visa type (Tourist, Transit or East Africa) and the processing time mention above.

The second step consists of revision, any mistake could lead to an invalid visa. In this step we will also ask you to handle the payment. iVisa accepts multiple payment methods. You can use credit or debit cards, Paypal, WeChat, or Alipay.

The last step will ask you to upload additional documents. It depends on your case, but iVisa will tell you what you need.
After you are done, you just hit the submit button and then wait for your eVisa to arrive via e-mail in PDF format.
How long is this eVisa valid for?
The tourist eVisa is valid for 90 days after issued, the transit one for 2 days after arrival and the East Africa eVisa for 90 days after arrival.
How many entries am I allowed and how long can I stay in Uganda?
The tourist and the transit eVisa are a Single Entry, you can only enter once. While the East Africa eVisa is a Multiple Entry.
With the tourist eVisa you can stay 45 days in Total in that stay, with the transit one 2 days in Total max, and with the East Africa 90 days in Total.
Do I need to print out this eVisa?
We recommend so, but it's not necessary because it will be linked electronically to your passport.
How does a Uganda eVisa look like?
Here is a sample: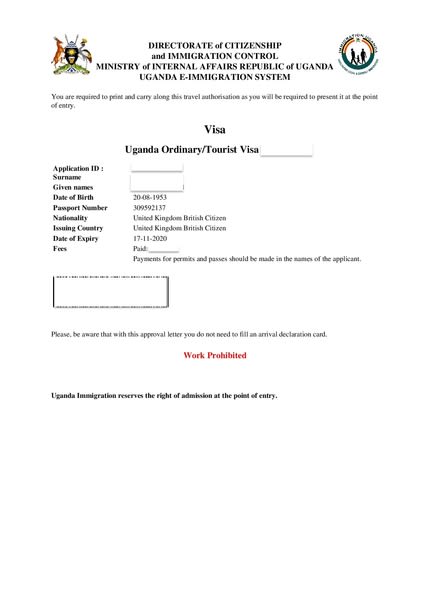 If I have more questions, where can I look up more information?
For any doubts on this inquiry, you can always contact us, anytime, any day! You can also click here for more answered questions.
All in all, a Uganda visa for Australian citizens is very accessible these days. iVisa will do all the hard work. The 3-step application form is comprehensible and easy to go through, the fees are affordable, and your effort overall is close to a minimum. The visa arrives in PDF format via e-mail. iVisa will help you get rid of all that heavy lifting and make you focus on your adventure.