If you live in Cameroon, but you want to explore Uganda, there's a program that makes this easier than ever: The e-Visa Program.
Since July of 2016, the Republic of Uganda has made these digital visas available to travelers from Cameroon, and many other countries. Whether you're vacationing, visiting loved ones, or just taking in the sights while you wait for your next flight, an Uganda e-Visa can get you there. You also have the option to get the East Africa e-Visa, a document that will allow you to visit Rwanda and Kenya.
Learn more about both eVisas with the information below.

Frequently Asked Questions & FAQs
I'm from Cameroon, do I need a visa to travel to Uganda?
Yes, citizens from Cameroon require an Uganda eVisa. To check the requirements, click here.
How many Uganda eVisa types are there?
There are 3 types of eVisas for Cameroon Citizens: The tourist eVisa, which is the most popular, the transit eVisa and the East Africa Visa.
What is a Uganda Transit e-Visa?
Not looking to spend much time in Uganda? Then Transit e-Visa is the simplest option for busy travelers. With this e-Visa, travelers from Cameroon have up to 2 days in Total to spend in Uganda. A Transit e-Visa makes the long layovers enjoyable.
Travelers who are only in the airport for a connecting flight don't have to get a visa, but it's worth it to experience Uganda for a few days.
What is a Uganda Tourist e-Visa?
If you're ready to spend a lot more time in Uganda than just three days, the Tourist e-Visa is a great option. Travelers from Cameroon can use this e-Visa to unwind, see loved ones in the area, or just explore the beauty and culture of Uganda. With a Tourist e-Visa, you'll have a relaxing trip with plenty of time to spare.
What is an East Africa e-Visa?
This is the e-Visa choice for travelers who want the best experience of East Africa. With the East Africa e-Visa you'll have the same amount of time to spend in Uganda, but during this time, you'll have access to Rwanda and Kenya, which you can enter and exit whenever you wish.
How long can I stay in Uganda?
It depends on the type of eVisa. If you get a Tourist eVisa, you can stay un Uganda for 45 days in Total. With the East Africa eVisa you can stay 90 days in Total in Uganda, Rwanda and Kenya.
What requirements do I need for these eVisas?
Your travel plans don't have to include embassy paperwork. Instead, you can use our [secure online application] (/apply-online/uganda?nationality=CM&selectedVisaCategory=37) and enjoy a quick verification process.
You only need:
Applicant Photo

Passport Personal Details Scan

Last Page of Passport (if applicable)

Yellow Fever Vaccination

Travel Itinerary

Return Ticket
When you apply, be sure to give us the right email address, because that's where we'll send your e-Visa confirmation to. Once you have your e-Visa, you can print it off and bring it with you to Uganda.
Keep in mind that it's easy to pay for your e-Visa, whether you prefer to use PayPal, Visa, Mastercard, or American Express. Have one of these ready when you apply.
How long is the Uganda Tourist eVisa valid for?
The Uganda Tourist e-Visa is valid for 90 days after issued. Remember that the East African eVisa is also valid for the same amount of time.
What are the processing times and prices?
One of the main concerns about eVisas is the price. iVisa offers you three available options when it comes to processing time and the price will depend on how soon you want your eVisa. These are the three options with the prices for the Tourist eVisa:
Standard processing – your eVisa will be ready in

7 Business Days

and you'll have to pay

USD 93.50

(service fees included).
Rush processing – you will obtain your eVisa in

4 Business Days

, and the total price will be

USD 126.50

(all service fees included).
Super rush processing – this is the fastest alternative you can choose, that's why you'll get your Tourist eVisa in

3 Business Days

, and you'll have to pay

USD 155.25

(service fees included).
If you decide to apply for an East African eVisa the prices will vary. This time, you'll have to pay USD 152.50, USD 184.00 and USD 230.50. The processing times remain the same.
How long does it take to apply for these eVisas?
You'll only need 20 minutes to complete the online form.
How can I apply?
The application for an Uganda eVisa is very easy. It only has three steps:
The first step will require you to fill in your general information. You also have to choose the processing time from the options mentioned before (standard, rush, or super rush).
In the second step you'll have to revise step one and make the payment.
The last step consists of a questionnaire and photo upload. Other documents may be required as well, but it depends on personal factors.
Click here to start.
What happens after I have applied?
After you are done with the online form, you click the submit button and wait for your eVisa to arrive. In case you need assistance to fill the online application, iVisa has a fantastic support service that you can call 24/7.
How many times can I enter to Uganda with an eVisa?
The Uganda t Tourist eVisa allows a Single Entry, while the East African eVisa allows Multiple Entry.
Do I need to get a Uganda eVisa for my children too?
Yes. All foreign travelers wishing to travel to Uganda require this visa, including children.
How Do I know if my visa is approved?
We will inform you via email as soon as the Uganda government approves your visa.
How does the Uganda Tourist eVisa look like?
How does the East African eVisa look like?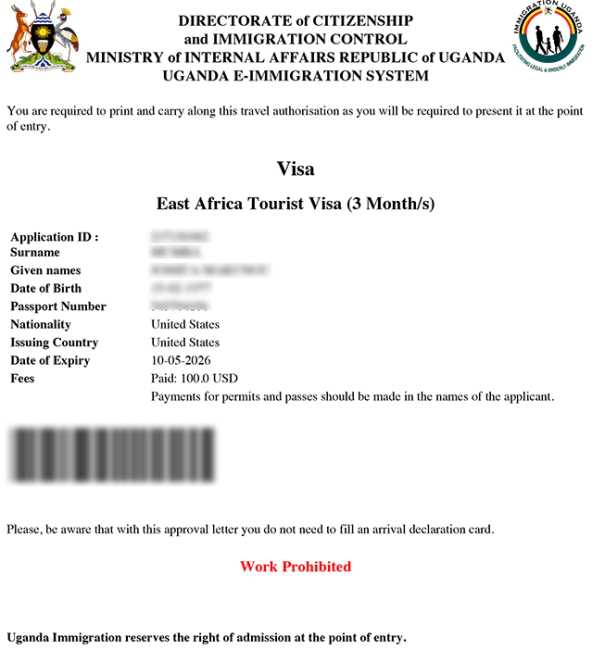 Where can I find more information?
If you still have questions about this eVisa, we can help you with our customer service. You can click here and start talking to one of our customer service agents. You can also find more information and FAQs here.
We strive to make your travel experience as smooth as stress-free as possible. We hope you enjoy your trip!