Are you traveling from Qatar to Ukraine for vacation or just for a few days? Then, you will need to apply for a visa online before you go to the airport. The type of visa Qatar travelers can get for Ukraine is a Tourist e-Visa.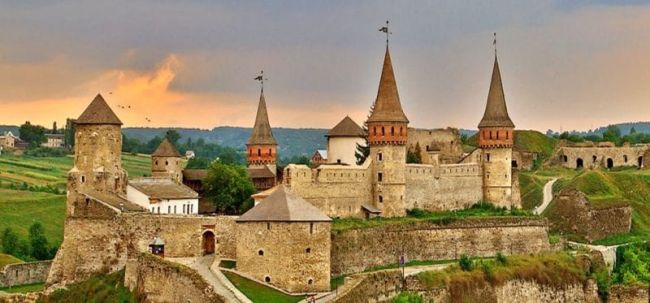 In April 2018, Ukraine started issuing e-Visas so that you can save time and money while discovering the beautiful sights of Ukraine.
Frequently Asked Questions for Qatar Nationals Needing a Ukraine Visa
Do I need a valid passport to enter Ukraine?
Yes. All Qatar citizens must have a valid Qatar passport that will not expire for at least six months from the time you exit Ukraine to get a Tourist e-Visa.
How long can I stay in Ukraine with an e-Visa?
For Qatar citizens, whether you apply for a Tourist e-Visa or a Business visa, the maximum stay is 30 days Per Entry.
How many times can I enter Ukraine with a visa?
Our Tourist e-Visa allows Single Entry. You must always keep your visa on you.
What is the cost and processing time of a visa application?
iVisa.com understands you may need an e-Visa quickly, so skip the embassy or consulate, and get your e-Visa online now. We offer three different processing times and rates for Qatar tourists. The three options are:
Standard processing - Your e-Visa will arrive by email within

19 Business Days

, and the e-Visa cost will be

USD 55.00

.
Rush processing - Your e-Visa will arrive by email within

17 Business Days

, and the e-Visa cost will be

USD 80.00

.
Super Rush processing - Your e-Visa will arrive by email within

15 Business Days

, and the e-Visa cost will be

USD 105.00

.
What documents do I need to apply for an e-Visa online?
The application process for Qatar travelers to Ukraine is easy. Please, have the following documents and information ready for when you apply for your Tourist e-Visa online:
Valid Passport - Your Qatar passport must be valid for at least six months from the date of departure from Ukraine.
Flight Itinerary - You must be able to prove you will be departing Ukraine by having a ticket of departure that falls within the

30 days Per Entry

you are allowed in the country.
Passport Scan - You will need to upload one for your e-Visa application, and you will need two recent passport photos to enter Ukraine.
Email Address - Once processed, your Tourist e-Visa will be sent to the valid email address you provide. Please, print and carry your visa as it is always required to be on your person.
Proof of Funds - To ensure Ukraine Immigration you can survive in Ukraine; you need proof of funds while staying in Ukraine. Three ways you can ensure this is:

Hotel Reservation or Accommodation Payment and enough dining money/pre-booked registrations for eating in Ukraine.
Vouchers for Tourism such as a pre-paid tourist package program.
Letter of Guarantee from a resident of Ukraine stating they will cover any living costs for you while you are staying in Ukraine.

Travel Insurance - This must show your full name, that it is valid for Ukraine or Europe, and the coverage must be at least 30000 euro or the equivalent to that amount in another currency.
Payment Method - We accept multiple credit and debit cards like Visa and American Express. iVisa.com also accepts PayPal as a valid payment method.
How long is my Tourist e-Visa valid for?
From the date of your application, your e-Visa will be valid for 30 days after arrival.
Fast and Secure Ukraine Visa Application for Qatar nationals
In today's fast-paced world, iVisa.com recognizes the need for a fast and secure visa application process that will help you visit Ukraine with fewer worries. We hope you enjoy your trip and thank you for choosing iVisa.com!