To get all the information required about the Ukraine Vaccine Requirements, we recommend you to read this article as it might be very helpful for your upcoming trip.
Let us at iVisa.com direct your path.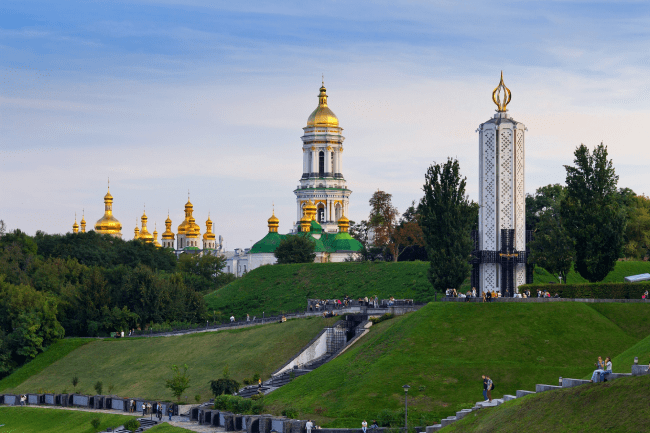 Get your documents with us
Firstly, go to iVisa.com's page.
Secondly, fill out the online form and select processing speed.
Thirdly, check all the information you offered to ensure it is 100% correct, and select a processing speed.
Fourthly, for your fees and attach the items necessary to process the request.
Lastly, wait for your travel document by email!
Frequently Asked Questions
Do I need a vaccine to travel into Ukraine as a visitor?
No, you don't. As of today, COVID vaccination passports or certificates are not a mandatory to enter Ukraine. Now if you are a Covid vaccine certificate holder, you won't need to present a negative PCR test nor to follow a quarantine.
Approved vaccines are Pfizer / BioNTech, Janssen, AstraZeneca / Vaxzevria, AstraZeneca / Covishield (India), AstraZeneca / SKBio (South Korea), Moderna / Spikevax, Sinopharm, CoronaVac (Sinovac).
Since information may change quickly, we advise you to follow up on the latest Ukraine travel updates and/or contact your local embassy.
Make sure to keep checking back on the iVisa.com page for any new updates about Ukraine entry requirements. We will update these articles as the changes happen.
Is iVisa.com able to assist me with entry requirements into Ukraine?
Absolutely! This is basically why we are here! Have a good time searching with our Visa Checker tool on the iVisa.com website. You can use it to find out whether you need a tourist e-Visa to enter Ukraine and learn about any additional entry requirements for Ukraine and any other country combination. iVisa.com can help you apply for your tourist e-Visa using three easy steps:
Complete the application When doing this step make sure to double-check your answers for accuracy. This is important as a mistake will cause you to have to repeat the process.
Select your processing time and pay the fee required using your credit/debit card or PayPal account.
Upload any requested documents then submit.
iVisa.com makes it as simple. We can answer more than just the Ukraine Vaccine Requirements and are happy to assist you.
Do I need to quarantine once I get to Ukraine?
There are no quarantine requirements for fully vaccinated travelers. Unvaccinated travelers must quarantine for 10 days, which can be shortened with a negative result from a PCR or rapid antigen test no more than 72 hours after arrival. Unvaccinated travelers arriving from Russia and India are required to quarantine for 14 days and cannot reduce this time with testing.
Quarantine is not required if the traveler leaves the country within 72 hours.
Children from 12 to 18 years old are exempt from self-isolation but still require a negative PCR or antigen test or proof of COVID-19 vaccination. Children under 12 are exempt from all requirements.
Approved vaccines are Pfizer / BioNTech, Janssen, AstraZeneca / Vaxzevria, AstraZeneca / Covishield (India), AstraZeneca / SKBio (South Korea), Moderna / Spikevax, Sinopharm, CoronaVac (Sinovac).
What are the processing speeds for document retrieval using iVisa.com?
iVisa.com provides three different processing options for you to get the Ukraine eVisa in the time that you need. The available options to select from are:
Standard processing: Here the processing is completed at a regular pace and includes our most cost efficient rate for receipt.

USD 55.00

-

19 Business Days

.
Rush processing: Choose this processing speed when you need your documents back a bit faster than the standard. It would cost a little bit more than the standard.

USD 80.00

-

17 Business Days

.
Super Rush processing: Do you want to get it back quickly? With Super Rush processing you'll get your document back super quickly!

USD 105.00

-

15 Business Days

.
When we have updated answers to Do I need a vaccine to travel to Ukraine you will be able to find all the information you need here at iVisa.com.
What documentation is needed for my iVisa.com application?
When you apply for at Ukraine e-Visa with iVisa.com, you'll only need the following:
Passport, the personal information page (that's the page with your picture and personal info on it)
A credit or debit card to pay the processing fee. We even allow PayPal for processing fees.
An email address, as we will communicate with you electronically after submission.
Will iVisa.com keep me updated when the answers change to the question about the Ukraine Vaccine Requirements.
You can trust us to provide the most current information about travel planning no matter where you are going. While we aren't able to alert you to these changes as they happen, we keep our site up to date and wish that you are free to reach out to our team.
The information concerning the Ukraine Vaccine Requirements. will change and we will make sure to change with it so that you are always updated!
Is iVisa.com's online platform safe to use?
It is very safe to use iVisa.com's online platform. Safety matters to us as we are travelers as well who utilize our services! When you are on our website there is no need to be concerned about information safety. You can get verbal confirmation of this by viewing our customer reviews. These are unsolicited and unedited yet still all wonderful!
I have more questions, how can I connect with iVisa.com?
If you have additional questions then visit our iVisa.com website to read more informative blogs on this topic and many others. You can use the chat feature for instant help with an agent or send us an email.
iVisa.com recommends
Ukraine is the largest state in Europe (slightly smaller than Texas). Ukrainian is the official language of Ukraine. Russian is spoken in the eastern and southern parts of the country. The third most visited McDonald's in the world is located in Kyiv, near the train station, and is considered to be in the top five most crowded McDonald's in the world. Ukraine is the 4th educated nation in the world. 99.4% literacy in Ukrainians aged 15 and over. 70% of adult Ukrainians have secondary or higher education. The country has about 150 colleges and universities and 80 research institutes.
Kyiv, the capital city, features the Saint Sophia Cathedral with its golden domes, mosaics, and frescoes from the 11th century. High up by the river the Dnieper is the Kyiv Cave Monastery complex, a Christian pilgrimage site that houses relics of Scythian tombs and catacombs of mummified Orthodox monks.
Find out more about this country on our FAQ page!