Are you planning a trip to Ukraine? You should know that you can obtain an Ukrainian eVisa online through iVisa.com with minimal effort. However, keep in mind that if you have visited the regions of Crimea and/or Sevastopol, you do not qualify for an eVisa and you'll have to ontact the nearest Ukrainian embassy for more details.
If you want to know more about the Ukrainian eVisa, read the FAQs below.

Frequently Asked Questions / FAQs
I own a Cambodian travel document, do I need a visa to travel to visit this country?
Based on the Visa requirements for Cambodian nationals, you need a Visa to travel to Ukraine.
I don't know about the Ukraine Tourist eVisa, what is it exactly?
This Tourist eVisa is a travel document issued by the government that allows travelers the right to enter Ukraine.
How many days does this eVisa allow me to remain in Ukraine?
This document allows you a maximum stay of 30 days Per Entry.
How many types of Ukrainian eVisas are there?
There are only two types:
What documents do you need from me?
As you can imagine, you cannot obtain a Ukraine eVisa if you do not fulfill all the requirements. Fortunately, these requirements are easy to obtain. Here is what you will need:
Passport Personal Details Scan

Proof of Travel Medical Insurance

Airline Confirmation

Proof of Accommodation

Applicant Photo

Cover Letter (if applicable)

Bank Statement (if applicable)

Invitation Letter (if applicable)

Selfie holding the physical credit card used for the transaction is needed to verify payment. Only the last 4 digits of the credit card must be visible in the picture. Only one image is needed per order. (if applicable)
How long is the Ukrainian eVisa valid for?
Your Ukrainian eVisa is valid for 30 days after arrival. This is also the maximum stay allowed.
What are the processing times and costs for this document?
Below we explain this in detail:
Standard processing – On this level, you'll pay USD 55.00 and it will take 19 Business Days to process your eVisa.

Rush processing – Here, it takes 17 Business Days and the cost to pay is USD 80.00.

Super Rush processing – Our fastest one! It takes only 15 Business Days. The cost here is USD 105.00.
How much time would it take me to apply?
You'll need at least 20-30 minutes to complete your online form, depending on how skilled you're with online forms. However, iVisa.com's form is quite easy to understand.
How can I apply?
After you manage to gather the items on the list above, you can proceed to fill in the application form. It's not a hard task, but if you have any questions or concerns, do not hesitate to contact iVisa.com's customer support, it is available 24/7 and it is free of charge.
What you will notice once you access the application page is that the form you must complete hast three easy steps to follow:
The first one asks for your personal information, as well as passport info and some details about your trip. You also need to choose a processing time for your application.

The second step of the form requires you to make the payment and review your form so that it does not include any inaccuracies.

The third step asks you to provide iVisa.com with the necessary documents that support your application. As soon as you are done with these steps, you can send your form, and iVisa.com will take it from there.
As you can see, getting a Ukraine eVisa doesn't involve too much effort. You can start your online application on this link.
When will my eVisa be ready to use?
We will inform by e-mail once it has been granted by the issuing authorities.
There's an error in my application, how can I fix it?
We can do it for you! Just contact one of our agents and we'll help you immediately.
How does this eVisa look like?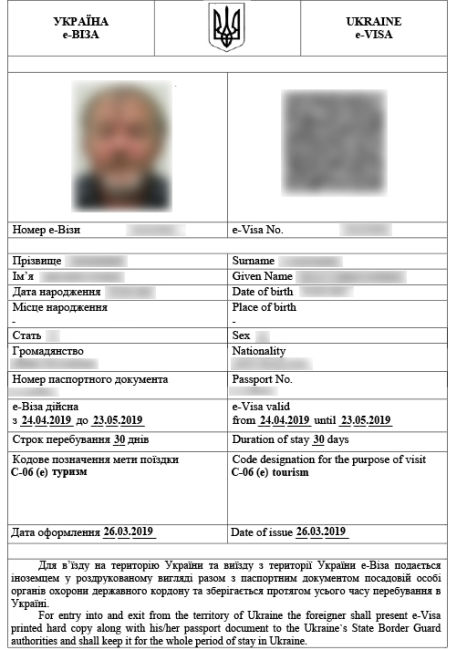 Can I put my trust in iVisa.com to obtain this eVisa?
Totally! . Help customers to get their travel documents in the shortest period of time is our main goal. Not just that, our forms are the easiest to fill, which guarantee your order is processed according to the government's regulations to assure they grant your Tourist eVisa.
How can I contact you if I have more queries?
You can do it through our live chat or by e-mail to help@ivisa.com.