In 2018, Ukraine adopted the eVisa system, which means that citizens of 52 states qualify for the Ukranian eVisa. Costa Rica is one of these countries, so if you are a Costa Rican, you can apply for the Ukraine eVisa online. However, you will not be eligible if you have traveled to Crimea or Sevastopol's regions.
In this post, you'll receive all the information required to apply for your eVisa, starting with the frequent questions searched over the Internet.

Frequently Asked Questions (FAQs)
I'm a Costa Rica national, do I need a visa to enter this country?
You need it but don't worry about that. It can easily be obtained online through our website.
What's this Ukraine Tourist eVisa exactly?
This Tourist eVisa is a document required to foreigners citizens who wish to enter Ukraine.
What about the duration of stay this document offers?
If you're from Costa Rica, you can stay in Ukraine for 30 days Per Entry.
Which are the Ukraine eVisas you process?
We process the following:
Is there any document I need to provide in order to apply?
iVisa.com can help you with the online application process, but you still have to provide some documents. Fortunately for you, you don't need much to get your Ukraine e-Visa. In fact, you will only require the following:
Passport Personal Details Scan

Proof of Travel Medical Insurance

Airline Confirmation

Proof of Accommodation

Applicant Photo

Cover Letter (if applicable)

Bank Statement (if applicable)

Invitation Letter (if applicable)

Selfie holding the physical credit card used for the transaction is needed to verify payment. Only the last 4 digits of the credit card must be visible in the picture. Only one image is needed per order. (if applicable)
How long is this eVisa valid for?
Your tourist eVisa expires 30 days after arrival. If you apply for a Business eVisa, you'll be able to use it for 30 days after arrival as well.
Can you tell me more about the processing time and cost for this eVisa?
Sure! Below you will find in detail the time and cost based on our three processing speeds:
Standard processing – This speed costs USD 55.00. Moreover, you will receive your eVisa in 19 Business Days.

Rush processing – Here it'll be a little faster: 17 Business Days. The Visa total increases to USD 80.00.

Super Rush processing – You will have your eVisa in just 15 Business Days. The price is a little high, USD 105.00, but you won't regret paying this.
How can I apply?
Now that you know what you need, let's discuss the online application form. It is generally perceived as an easy task but just in case you need some help along the way, iVisa.com's customer support is at your disposal 24/7 and free of charge.
When you are ready to access the application page, you will see that the form is broken down into three steps:
The first one requires you to provide iVisa.com with some general information about yourself and your trip and to choose your processing speed. What you choose determines the cost of your Ukraine eVisa.

The second step wants you to check if your application does not contain any mistakes and make the payment.

Finally, requires you to upload some documents. We are talking about the documentation that supports your application. When you are done, just submit your form, and iVisa.com will process it in the timeframe of your choosing.
When my eVisa will be ready?
As soon as the government approves it, we'll let you know via e-mail.
How can I correct my application if I've made an error on it?
Start a chat with one of our representatives and we'll help you ASAP.
Are you a reliable company to get my Ukraine Tourist eVisa?
For sure! Since our foundation, back in 2013, we've helped thousands of travelers to reach their destinations without having to worry about the tedious process of visa applications.
How does the Ukrainian eVisa look like?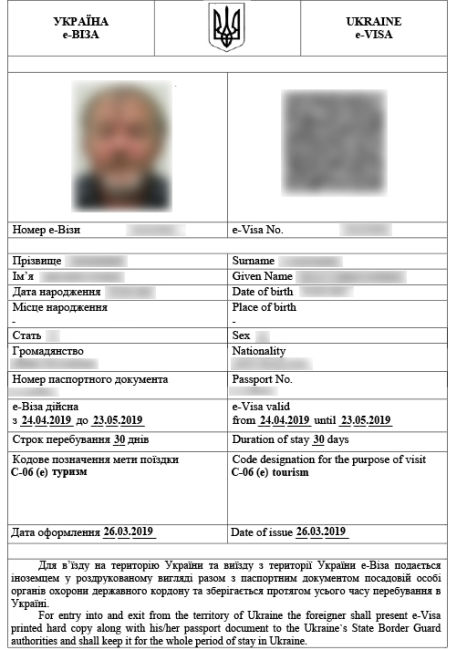 I still have doubts about the Ukraine e-Visa, where can I find more information about it?
Should you have any other doubts, you can give a call 📞 to one of our live agents so you can get all the answers you need. This is our number +1 (786) 460-2707 (8am-8pm EST).