The citizens of Dominica, like many other nationalities from all around the world, are eligible for an Ukraine e-Visa if they plan to travel to Ukraine. It means that you can apply online for your travel document and iVisa.com can help you with the process. However, if you have ever visited the regions of Crimea or/and Sevastopol, you do not qualify for this document.
In this article, we'll give you more valuable information about this eVisa, including what requirements you need to apply and also the price and processing times.

Frequently Asked Questions / FAQs
Will they ask me for a Visa when I arrive to Ukraine?
Based on your nationality, you'll require a Visa to visit this country.
Do you offer just one type of eVisa for Ukraine?
Actually, we offer two:
As a Dominica citizen, what document must I provide?
For a faster process, we recommend you to put together everything you need first and then fill in the application. Fortunately, a Ukraine eVisa does not ask for much. You only need the following:
Passport Personal Details Scan

Proof of Travel Medical Insurance

Airline Confirmation

Proof of Accommodation

Applicant Photo

Cover Letter (if applicable)

Bank Statement (if applicable)

Invitation Letter (if applicable)

Selfie holding the physical credit card used for the transaction is needed to verify payment. Only the last 4 digits of the credit card must be visible in the picture. Only one image is needed per order. (if applicable)
How many days can I stay in Ukraine with this eVisa?
The Tourist eVisa gives you 30 days Per Entry of stay and it's valid for 30 days after arrival.
On the contrary, the Business eVisa expires 30 days after arrival and allows you a stay of 30 days Per Entry.
When will I receive my eVisa and how much will I pay for it?
Delivery times and prices depend on the type of service you hired (standard, rush or super rush):
Standard processing time – Here you'll pay

USD 55.00

and the delivery time will take

19 Business Days

.
Rush processing – Here the delivery will be faster: Just

17 Business Days

. Plus, now the cost will be

USD 80.00

.
Super Rush processing – Big star time! Here it only takes

15 Business Days

to process your order. The price will increase to

USD 105.00

but it worth it.
How long would I spend submitting my application?
Approximately, just 15 minutes is enough to have your order ready.
I want to apply, how can I do it?
Once you gather all of the above, you can proceed to handle the application form which is divided in these steps:
During the first step, fill your basic information and select the speed of your preference.

Then, review your pre-order and pay the fee.

*Finally, it asks you to provide the necessary documents that support your application. You need to upload them as instructed.
As you can see, getting an Ukraine eVisa is an easy task when you have iVisa.com as your visa service. You can apply here for your eVisa.
Can I use this Ukraine eVisa more than once?
This eVisa is valid for a Single Entry only.
Can I see a sample of this eVisa?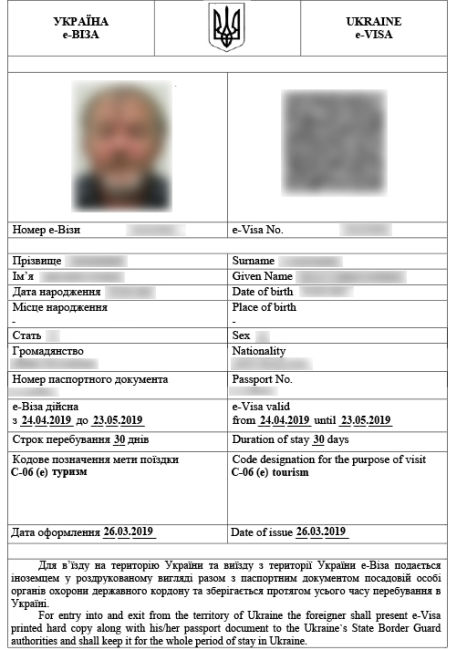 I want to check if my eVisa is ready, how can I do it?
You can track your application's status logging into your iVisa.com account.
If I choose to apply through you, will you assure me I will get my eVisa?
While the final decision is taken by the Ukrainian government, a detailed review of your information and documents done by one of our team of experts increases the rate of acceptance up to 95 %. Be calm and apply with iVisa.com.
I have some concerns, how can I speak with an agent?
Say no more! Just chat with one here or by e-mail to help@ivisa.com.